Thistle & Leek Reimagines the Gastro Pub for American Diners and Shares How to Make Butternut Squash and Potato Gratin
Watch it again
Thistle & Leek Reimagines the Gastro Pub for American Diners
Food
Thistle & Leek Reimagines the Gastro Pub for American Diners
Chefs Trevor and Kate Smith have cooked in some of the country's most innovative and well-known restaurants, from Boston's Toro to Napa Valley's French Laundry. They met on the job. And given that they are die-hard foodies, it's no surprise they spent their honeymoon eating their way through ridiculously extravagant Michelin-starred restaurants across Europe. But when they thought about what kind of place they wanted to open back home in Boston, they opted to emulate the British gastropubs they're so fond of.
These neighborhood joints serve a menu vastly different from the Buffalo wings–Michelob Lite offerings that come to mind when many Americans hear the word "pub."
"Gastropubs are cozy, comforting, they're the neighborhood spot," Kate Smith (Pardee'06) says. "Their chefs have done serious cooking, they are locally driven, but pull from all over Europe. It's this great mix of comfort and innovation and high-quality food, and we wanted to create that here."
In September 2020 the couple realized their dream when they opened Thistle & Leek, an elegant-yet-welcoming restaurant in Newton Centre, Mass., with a menu of locally sourced small plates with a European influence, as well as some takes on decades-old family recipes.
The Boston Globe gave the restaurant a stellar review the very next month, lauding how it made diners feel "normal" after the pandemic had wreaked havoc on the restaurant industry: "A meal isn't just a meal, but a reassuring break from change and complication, anxiety and loss," the reviewer wrote. Thistle & Leek has also been featured in Eater and on the local TV show Chronicle.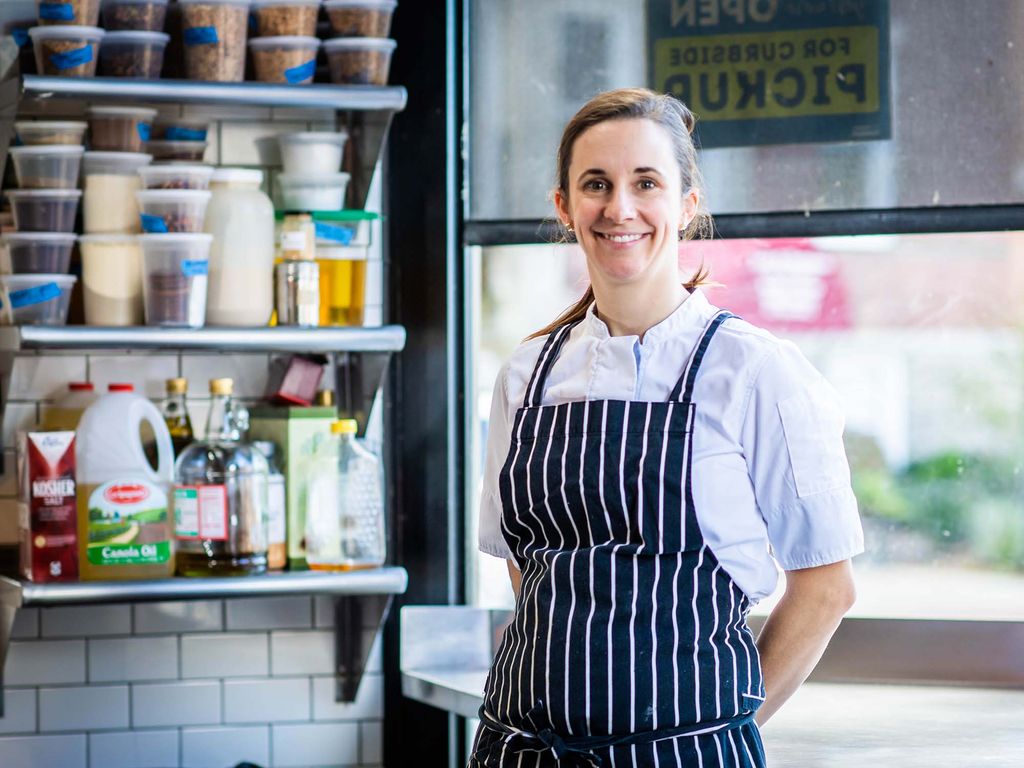 In fact, COVID plays a big part in the restaurant's journey. In February 2020, Kate and Trevor signed the building's lease, just weeks before everything shut down. "The options were basically to go forward or just walk away from the whole thing," Kate recalls. "If we walked away, it would have been a major financial hit. We spoke with our investors and decided to just go for it."
To make the restaurant work during a pandemic, the couple had to make some adjustments. They took their time opening and redesigned their original menu to be takeout-friendly, with dishes that would travel well. They also sold frozen meal kits as well as prepared Thanksgiving and holiday dinners. "No one knew who we were, so it helped introduce us to the neighborhood," Kate says.
The husband and wife team put a lot of thought into designing the light-filled space, which features an open chef's kitchen and a dining room seating 16 (and two dozen outside in the warmer months). The walls are a muted shade of green and decorated with vintage prints featuring produce and game. A large bookcase, which Trevor designed with an architect, is stacked with cookbooks and separates dining booths from the bar.
Today, Thistle & Leek serves both lunch and dinner, as well as weekend brunch. The cuisine is inspired by "what we can get around here, locally driven, seasonally driven," Kate says, "and definitely pulling from our experiences traveling and cooking at many different restaurants."
The dinner menu is divided into five sections: snacks, veg, fish, meat, and puds. Customers often start with the clam dip, under the snacks section, which is adapted from Kate's grandmother's 1950s recipe (like the cookie bars on the dessert menu). The lamb meatballs drenched in a tomato and ginger curry are a big crowd-pleaser.
From there, diners might choose the roasted carrot salad, with crispy garbanzo beans, a harissa vinaigrette, and mint, or the charred brussels sprouts in a lemongrass curry sauce. Entrées range from octopus a la plancha, with new potatoes, red wine–poached pears, and fried shallots, to duck rillettes, served with a cranberry mostarda (a Northern Italian condiment made of candied fruit and mustard-flavored syrup) and toast.
The European influence is reflected in Thistle & Leek's chicken dish: on the plate a young chicken is alongside chanterelles, rapini, and an oat risotto. That last may sound unusual, but in "Scotland they use oats in everything," Kate says. To create a dish that's usually made with rice, the chefs start with chicken fat and use that to sweat out the onions, shallots, and garlic. "We kind of toast the oats in this, and then stir in chicken stock as we're cooking it. And you end up with a rich, savory porridge. It's hearty and savory. And the oats give a really nice nutty component."
Kate grew up loving to cook, and when she arrived at BU, was on the fence about whether she wanted to enroll in the Frederick S. Pardee School of Global Studies or the School of Hospitality Administration. Ultimately choosing Pardee, she attended classes full time while working up to 30 hours a week at local coffee shops and restaurants.
After graduation, she started applying for jobs in her field—then it hit her that none of them were what she wanted to do. "I had this 'ah-ha!' moment," Kate says, "when I realized I wanted to work in restaurants and I wanted to cook."
She enrolled in Johnson & Wales' weekend commuter culinary program and worked in the kitchen at Craigie Street Bistro (later Craigie on Main) in Cambridge, where she met Trevor. "I quickly realized that I was learning far more working at the restaurant than I was in the culinary program," she says. "So I stopped going and just cooked, and haven't turned back since."
She trained under Nadsa de Monteiro, longtime executive chef at Elephant Walk, the Boston eatery renowned for its Cambodian-French cuisine. De Monteiro says Kate stood out because of her willingness and enthusiasm to learn all that she could about cooking. "She has the temperament to remain calm and cool in the often chaotic atmosphere of a restaurant kitchen; in this business, this quality is crucial and a big plus," De Monteiro says. "Most of all, she is adventurous, and fearlessly so. She has the drive, the talent, and smarts that makes her the exceptional chef that she is today."
Trevor says his wife is a great student, that she researches to the "nth degree" whatever challenge or baking recipe or project they undertake. "Every day is a new table to be set," he says.
By way of example, Trevor talks about how Kate came up with her puff pastry recipe: "It's a combo of three recipes she found online. She did trials and combined the three to make her own. Absolutely, there is a level of study and practice that goes into that. She's super analytical."
The two have a three-year-old daughter, and they trade off working in the restaurant and being home nights with her.
The name Thistle & Leek has special meaning for them, and again, it plays into the restaurant's European influences, as well as their love of family: the thistle is the national flower of Scotland, and both sides of Kate's family are Scottish. Trevor's family is Welsh, and the leek is the symbol of Wales.
"It came together kind of naturally," Kate says. That thought could be applied to both the restaurant's name and its journey to a successful and sought-after neighborhood spot.
Butternut Squash and Potato Gratin
Serves 4-6 people as a side dish
This squash and potato gratin dish is a way to elevate standard holiday vegetable side dishes into something more elegant and fun.
Ingredients
2 yellow onions, peeled
1 tbsp. olive oil
Nonstick cooking spray
½ pound Gruyère cheese, grated
1 butternut squash, peeled
4 russet potatoes, peeled
1 cup heavy cream, in a squeeze bottle
¼ cup fresh thyme, picked
Salt and pepper
1 cup hazelnuts
Instructions
Preheat the oven to 350 degrees.
Spread hazelnuts on a baking sheet. Bake for 5 to 10 minutes or until just golden brown. When cool enough to handle, coarsely chop.
Increase oven temperature to 400 degrees. Spray a shallow 10-inch by 10-inch baking dish with nonstick cooking spray.
Thinly slice the onions and put in a shallow pan with 1 tbl. of olive oil and 1 tsp. of salt. Cook over medium heat, stirring often until onions are soft and have caramelized to a dark golden brown color.
Cut the butternut squash in half where it starts to narrow and save the wide part for a different use. Cut the thinner part in half the long way and then across to make several rectangles. Use a mandoline to slice each rectangle of the squash into slices thick enough to not droop when held by one side, roughly ⅛" thick.
Slice the potatoes in the mandoline the long way, slicing only one at a time as you layer since they oxidize very quickly.
Place one layer of potatoes neatly in the prepared baking dish, overlapping slightly. Once they are all laid out, season with salt and pepper.
Sprinkle just enough cream evenly over the potatoes to moisten and spread some of the caramelized onions. Sprinkle with Gruyère cheese and fresh thyme.
Layer the sliced squash the same way, topping again with seasonings, cream, caramelized onions, cheese, and thyme.
Repeat alternating layers, ending with potatoes. There should be a total of four layers of potatoes and three layers of squash. Sprinkle the cheese slightly more heavily on the top layer, and leave off the thyme and onions.
Spray a sheet of aluminum foil with nonstick spray and cover the baking dish. Bake for 45 minutes. Rotate, and bake for an additional 30 minutes. Remove foil and bake uncovered for 15 minutes more.
Let sit for 5 to 10 minutes, top with toasted hazelnuts, and serve.