[Video]: Roast Duck Breast with Onion Tarte Tatin
Watch it again
Impress Your Guests with Duck Breast and Onion Tarte Tatin
Recipe
Impress Your Guests with Duck Breast and Onion Tarte Tatin
In September 2020 chefs Kate Smith (Pardee'06) and Trevor Smith realized their dream when they opened Thistle & Leek, an elegant-yet-welcoming restaurant in Newton Centre, Mass., with a menu of locally sourced small plates with a European influence, as well as some takes on decades-old family recipes.
See our recent profile of Kate here.
For the holidays, Kate shares two recipes to create a full meal: a roasted duck breast with crispy skin and a spiced honey sauce, and on the side, a rich, buttery onion tarte tatin. Enjoy!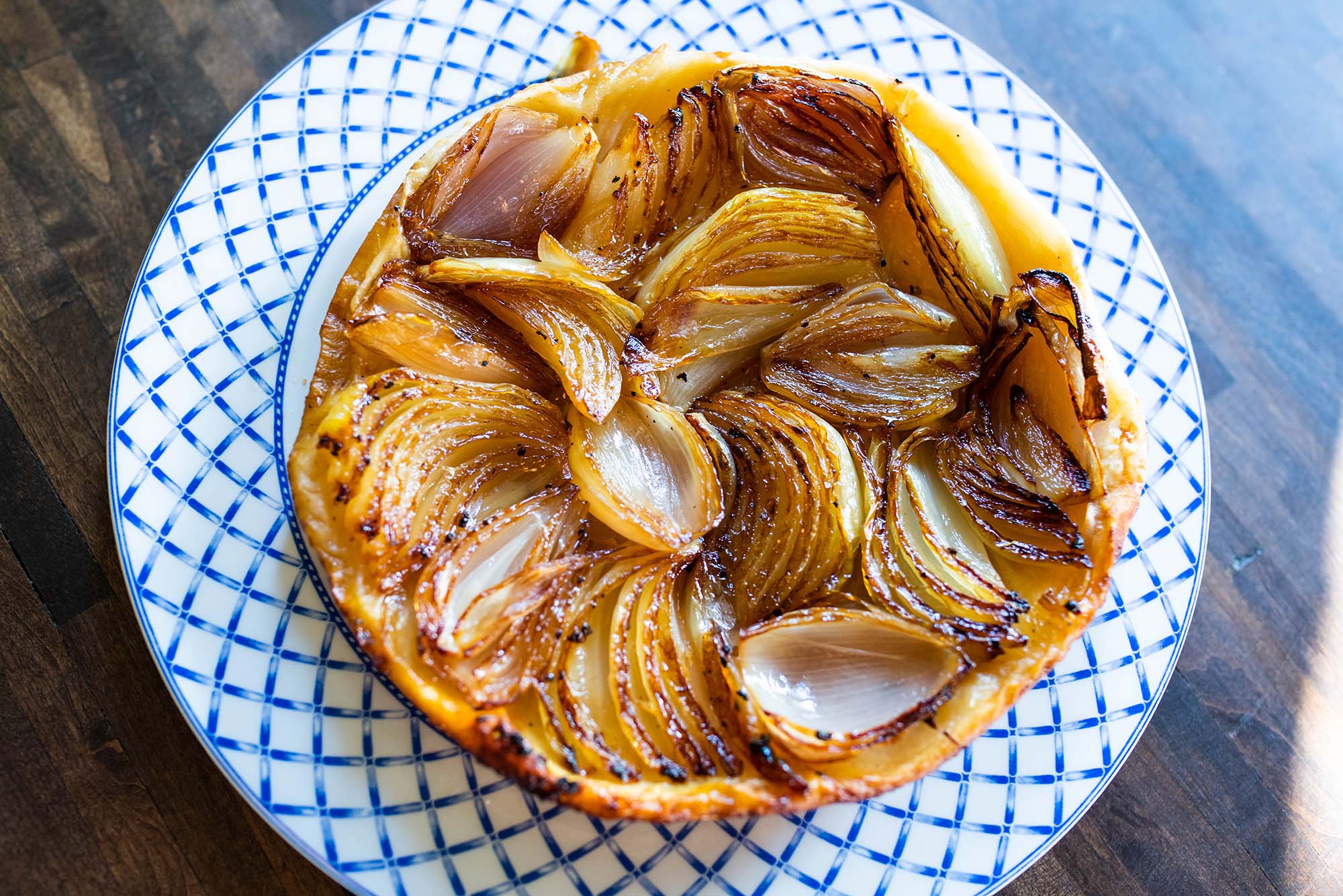 Onion Tarte Tatin
Serves 4-6 people as a side dish
Ingredients
1 sheet puff pastry, thawed in the refrigerator overnight
3 tbsp. butter
1 large yellow onion, peeled
4 shallots, peeled
¼ cup Amontillado sherry
1 tsp. kosher salt
Black pepper
Instructions
Preheat the oven to 350 degrees.
Slice the onion into eight wedges and cut each of the shallots in half.
Heat a 10-inch cast iron skillet over medium low heat and add butter. Alternate onions and shallots in a circular pattern in the skillet and season with salt and pepper. Cook without stirring until vegetables are golden brown on the bottom.
Pour the sherry evenly over the onion and shallots. Cover with aluminum foil and bake for 25 to 30 minutes, until onions are tender.
Next, prepare the (store-bought) puff pastry. Lightly flour a surface and roll puff pastry out, cutting to a 10.5-inch round.
When onion and shallots are done, remove the aluminum foil from the skillet and top onions with the puff pastry. Tuck in the edges of the pastry. Increase oven temperature to 375 degrees.
Bake the tarte for 20 to 25 minutes, rotating the skillet halfway through the cooking time. The dish is done when the pastry has puffed up and is golden brown and crispy.
Let sit for 5 minutes, place a large plate over the cast iron pan, and flip tarte upside down. Let sit for a few more minutes before serving. The tarte tatin can be served warm or at room temperature.
Roast Duck Breast with Spiced Honey
Serves 4 people as a main dish
Ingredients
4 duck breasts
1 tbsp. vegetable oil
Salt to taste
Black pepper
1½ cups honey
1 tsp. chili flakes
4 sprigs thyme
Zest from 1 orange
1 cinnamon stick
Instructions
Score the duck breast. Using a sharp knife, slide the blade along the skin to make a crosshatch pattern, being careful not to cut into the flesh. Let the duck breasts temper while making the honey.
Put honey, chili flakes, thyme, orange zest, and the cinnamon stick into a small saucepot. Bring just to a simmer and then turn off the heat. Steep for about 5 minutes and then strain and reserve honey.
Put a cast iron skillet over medium low heat until it is just starting to get hot. Season duck breasts on both sides with salt and pepper. Place skin side down in the skillet. Continue to cook over medium low heat, allowing fat to just barely sizzle in the pan, 10 to 15 minutes.
Once some of the fat has cooked out of the skin and it has turned a golden brown color, flip the duck over to the flesh side and cook an additional 2 minutes or so. A thermometer inserted into the center of the breast should read 130 degrees for a medium rare duck breast. Remove from the pan and let rest, skin side up, for 5 to 10 minutes.
Place the duck skin side down on a cutting board and use a sharp knife to carve into slices. Transfer to your serving dish and drizzle the meat with the spiced honey before serving.