The Toll on Children's Health during COVID-19
Child Health & Development
The Toll on Children's Health during COVID-19
Kids faced a dizzying array of disruptions in the pandemic. BU experts say they're resilient, and they see hope.
Near the end of the strangest school year of her life, Julia, a Newton North High School freshman, found herself scrolling an Instagram feed full of her friends posting COVID-vaccine selfies. Some boasted that they felt like superheroes, newly powerful. One said she could finally exhale, calling it her "first deep breath" in over a year. Neither captured what Julia was feeling as she worked up the nerve to get her first shot.
"I was really nervous that I was going to, like, fall out of the chair and die on the spot," says Julia, a thoughtful 15-year-old who is a client in the Child and Adolescent Fear and Anxiety Treatment Program, part of BU's Center for Anxiety & Related Disorders (CARD).
When Julia did get vaccinated, she used some CARD strategies she'd learned, like "detective thinking"—reflecting on the evidence and the more likely outcomes—to tame those worries that she might keel over during the 15-minute observation period.
The array of responses to the vaccine from Julia and her friends—exultation, exhalation, alarm—hints at the vaster range of experiences and emotions among children and teens throughout the pandemic, after more than a year of virtual school, hybrid learning, and ever-changing schedules; of social distancing and sanitizing; of mask-wearing and mask breaks; of toddler meltdowns and homebound adolescents chafing at their lack of independence.
I've lived a slice of that as a parent of two young children, newly five and two, through a dizzying array of configurations—trying to hunker down at home in New York City's Washington Heights neighborhood, which lasted about as long as it took for my older son to lick all the elevator buttons; sheltering with the grandparents for several months of childcare help and a yard to run in; and resuming life as a family of four on our own, initially without childcare.
The early months come back to me as a haze of highs and lows, of random notes jotted on my phone: my older son asking daily when the virus would be gone, lamenting taped-off playgrounds, and fashioning a pretend gun "that makes people healthy and also kills ants," amid a brief kitchen infestation. He spotted what looked like the magnified coronavirus shape in abstract clothing prints and pictures of fireworks; he picked up on the news about police violence against Black people, talking about it at the sound of sirens or on random bleak mornings. His occasional night terrors, a fugue state of shrieking and thrashing, spiked from one every few months to several a week—until I happened to buy him a pop-up Paw Patrol tent for his bed, and the night terrors suddenly waned.
There were joys—discovering that ice cream trucks also visit the suburbs, taking family hikes, watching him play with my old He-Man toys, building elaborate blanket forts—but also full-body tantrums, whenever the chip clips holding those forts together would give way. And where he started off thriving with extra adult attention, he went off the rails without the structure of daycare routines.
Our younger son—who started crawling the month the world shut down and grew into a toddler who surprises me sometimes by jamming a cotton swab into my nose, playing "COVID test"—flourished with the highly concentrated family time, and grew far more attached to me than his brother was at the same age, an aspect of an exhausting year for which I'm grateful. But our older son continued to exhibit the turn-on-a-dime tantrums that left us asking whether it was the pandemic, his makeup, his age, or other stress.
Through it all, we've been undeniably lucky, emerging with our health and a certain stability from a time that our younger son won't remember and our older son will remember only in snatches.
While almost no one was untouched by the pandemic, the short- and longer-term effects on kids will likely vary widely, BU experts say, based on a host of factors: age, socioeconomic status, race, learning and developmental needs, family stability, parent and teacher involvement, internet access, and, especially, whether they were directly affected by COVID, with its unequal toll of casualties. All of these will contribute to determining whether the pandemic recedes as an exhausting interruption—or lingers as an indelible trauma.
The mental health impacts of the pandemic seemed to ripple along the fault lines of inequality, says BU psychologist Donna Pincus, leaving many children who were already at a disadvantage suffering the most. Pincus has lived the pandemic through her work and through motherhood. A College of Arts & Sciences Feld Family Professor of Teaching Excellence and the director of CARD's Child and Adolescent Fear and Anxiety Treatment Program, Pincus is also a parent of two high schoolers and a middle schooler. "The pandemic was a stressor that affected everyone, but differentially," she says.
Pincus' team is part of multiple studies seeking to gauge those effects. One is a longitudinal look at child adjustment and family functioning among 2,000 families from across the United States and Canada; another is investigating the impact of the pandemic and its related disruptions on the functioning, well-being, and treatment of a smaller pool of young people already being seen in anxiety clinics. Tracking mental health in the pandemic and beyond, the two studies will explore connections between pandemic experiences (including whether kids had in-person, remote, or hybrid schooling) and related risk factors, such as family illness and financial distress. Initial results are expected this fall, but broadly, Pincus anticipates that "the kids who have the hardest time might be the ones where there are more layers of their life that have been disrupted, or where they've experienced more trauma."
Slammed by Twin Pandemics
For caregivers at the Grow Clinic at Boston Medical Center (BMC) treating children identified as "failure to thrive" for lack of adequate nutrition, the pandemic has been a wrenching period without precedent. The clinic's caseload soared 40 percent, with new referrals arriving in a more dire state than usual—some requiring emergency hospitalization—and with many "graduated" patients returning after falling off the growth curve again.
"During COVID more so than ever, it was like the kids who came to us were so sick that it brought us to tears," says clinic codirector Soukaina Adolphe, a School of Medicine clinical associate professor of pediatrics. Parents were trying so hard to sustain their young children but were slammed by the "twin pandemics" of COVID and entrenched racism and inequality, says Adolphe's codirector, Megan Sandel, a MED associate professor of pediatrics.
Early on, with supermarkets ransacked and supply chains upended, even families who were able to get out to stores had to visit four or five of them to find prescribed items, like high-fat yogurt and cheese, rendering tested solutions—gift cards to stretch family budgets, for example—inadequate. Many parents lost their jobs, through layoffs of in-person service workers and the closure of childcare centers, which left parents whose lower-wage jobs couldn't be done remotely with no choice but to stay home. ("Childcare is infrastructure," Sandel says.)
Deborah Frank, the Grow Clinic's semiretired founder, says public policy "is written on the bodies of babies," in a country with the resources, but not the political will, to end child hunger. Frank, a MED professor of pediatrics, and her colleagues were heartened by certain state and federal measures—P-EBT (pandemic electronic benefits transfer) cards to replace lost school meals, extended unemployment benefits, eviction moratoria, stimulus checks. But they found even well-meaning programs could miss the mark, with families trapped in the margins struggling to access them or unaware of their eligibility. Temporary measures merely delay the pain, they warn, like a feared eviction crisis for families in arrears when that protection lifts.
Amid the policy fluctuations, Sandel describes one mother whose child first began to thrive, climbing toward the healthy curve with their household budget augmented by expanded unemployment benefits. But that same income boost caused the mom to lose her eligibility for SNAP food-stamp aid the following month. She was hit by a "double whammy" when the expanded unemployment soon expired, with a several-month lag before Congress reauthorized it last fall. In the interim, she struggled to put food on the table;
her child's weight plunged.
That's more than a matter of anguish—for developing bodies and brains, even brief episodes of food deprivation can contribute to emotional-
behavioral problems, learning loss, and a host of later physical ailments. Frank likens it to a union construction job: "If you don't deliver the bricks when the crew is on site, under contract, you can deliver them all you like two years later; you're not going to get the same building."
For the donation-sustained Grow Clinic, whose team of pediatricians, dieticians, social workers, and multilingual outreach workers were already serving families far beyond the limitations of insurance-reimbursable medical care, even that multifaceted approach fell short amid the new pandemic urgencies. Where home visits had been kitchen-focused—making sure families had high chairs and booster seats, as well as food—the staff was scrambling to procure desks, school supplies, and internet connections in a world where "home became everything," Sandel says. The clinic team became bilingual advocates, negotiating with landlords, teachers, and school administrators, addressing macro problems at the micro level, family by family.
At the same time, BMC-affiliated pediatricians—and peers at lower-income clinics in Baltimore, Little Rock, Philadelphia, and Minneapolis—continued to gather family surveys for Children's HealthWatch, the data and policy network that Frank cofounded in the 1990s and Sandel helps oversee today. Food insecurity among those families jumped from 21 percent to 35 percent during the pandemic, and housing instability, a measure of the struggle to keep up with rent, spiked from 27 percent to 43 percent, although the moratorium drove the actual eviction rate down for those patients from 4.6 percent to 1.5 percent for the time being.
Still, it wasn't all bleak, Adolphe says. Telehealth made it easier for families to keep appointments. Socialized, gamified online groups to encourage healthy eating among older patients—sending out food kits, then having 5 or 10 kids log on to try placing new foods near their plates, then on their plates, then on their tongues—started as a flash of pandemic-Zoom-life inspiration, but took off, becoming a permanent part of the Grow Clinic's arsenal. Adolphe beams describing one five-year-old, a notoriously picky eater, who bounded in for a recent in-person visit describing all the foods he'd tried after watching others do the same.
More Backsliding into Old Behaviors
For children from families with stable incomes and sustained physical health, the disruptions of the pandemic may have been of lesser magnitude, but they were hardly without stress. Nicholas Wagner, a CAS assistant professor of psychological and brain sciences, whose lab gathered Boston-area survey data for a 6-continent, 20-university study on the pandemic's effects on young children and families, found the early results to be what most parents might expect: more tantrums, more outbursts, more backsliding into old behaviors like biting or hitting.
Natick, Mass., parents Deb and Dustin Worthington, who participated in a past study through Wagner's Biobehavioral and Social-Emotional Development Lab (BASE), say their three high-energy kids—now six, four and a half, and two and a half—weathered the pandemic better than they did. "They're just baseline crazy," Deb says with a laugh, reporting no major changes. Sometimes people would ask if their behavior was COVID-related. "I'm like, 'No…I think they're just out of their minds.'"
As a nurse practitioner, Deb continued going to work three days a week. That left Dustin, a project engineer for a large contractor, balancing their year-old daughter on his lap for Zoom meetings when daycare closed, while he and his dad—who moved in from the Midwest for six months—took turns running their older boys around and occupying them with phones and Legos.
After months of emotional scenes every morning at daycare drop-off, their youngest had finally grown excited about daycare; she adjusted to being home, but her parents felt a pang of loss. Their oldest was crestfallen over the cancellation of the bowling birthday party he'd been buzzing about for months, though his parents were buoyed by the drive-by parade that replaced it.
Kindergarten this past year—the only version their son knew—seemed a pale substitute to the Worthingtons, watching their oldest child alternate between in-person and at-home weeks most of the year. At home, he chafed at logging on while his younger siblings played; in school, his teacher recognized him as one of the bright but antsy children she would normally let blow off steam riding up and down the hall on a PlasmaCar scooter, a reward for finishing assignments; now she had to keep him masked and seated.
"This is kindergarten," Deb says. "It should have been the most fun year for him."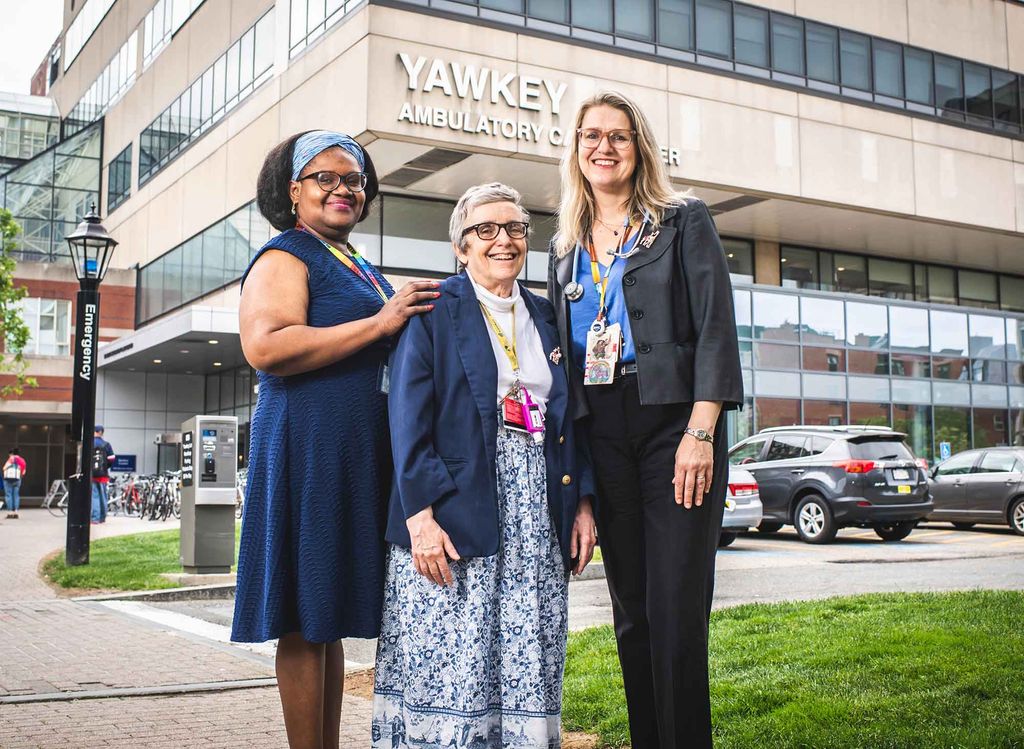 Kids Will Bounce Back
For Newton North student Julia, navigating the high school transition in a pandemic brought complex emotions. Feelings of loss at the end of eighth grade—the school musical called off hours before opening night, the scuttled graduation ceremony and class harbor cruise—gave way to a certain comfort in ninth-grade Zoom school, sitting in her family's cozy sunroom near her eighth-grade sister. Julia was grateful that her parents were healthy, and that she had a peer at home. Her family made a game of excursions, like sampling every doughnut shop in the area.
She also made new friends in a Zoom breakout group rehearsing for a hybrid Freshman Cabaret last December, with the singing prerecorded from bedrooms and kitchen tables, the socially distanced dancing and skits done live in masks at the school and streamed to an audience at home. The school's drama teacher was a prime example of what Julia's mom, Krista, calls the "people who have been so creative and thoughtful" in trying to make the most of this year. (As opposed to those who "just hit the pause button" or those who retreated—Julia's cousin calls the latter group "antisocial gremlins," peers who gamed online until 3 am, slept in, and either skipped school or logged on with cameras off.)
But she also endured stretches where she struggled to find joy. When school reopened in February—two days a week, then four, then five—she feared getting sick, or worse, getting her parents sick. The cafeteria was chilling, eating silently at desks six feet apart, logging your location with a QR code for contact tracing. But as the weather warmed, Julia discovered the pleasure of eating on the football field. And she was reminded of the wider network that had receded during a year at home.
"All of the people and things that we think of as protective forces in kids' lives, like peer support, extended family, teachers, coaches—they all take on increasingly greater roles as kids grow. They help kids know that they're supported, and they help with confidence, self-esteem, and competence," Pincus says. "So many kids experienced this social isolation, and that was definitely a big stressor."
The good news: Pincus thinks most kids will bounce back. But at a time when many vaccinated adults seemingly flipped a switch and resumed their old lives, it's important to remember that many kids remain unvaccinated and that school in the fall could mean more masks and distancing, especially for younger ones. For parents, establishing consistency and predictability at home, like ensuring their children get enough sleep, is good advice for reducing stress; so is modeling flexibility—that it's OK to go with Plan B—and speaking in a developmentally appropriate way with children about what's going on in the world, while monitoring and limiting their media use.
Wagner agrees. And we should rightly be concerned about families and children who were already most at risk. But, he adds, a little perspective is important, too. "If there's one big theme from child development research over the past 50 years," he says, "it's that kids—and families—are really resilient."