Stephanie Curenton
Executive Director, Center on the Ecology of Early Development (CEED)
Program Director, Child & Youth Policy Certificate
Professor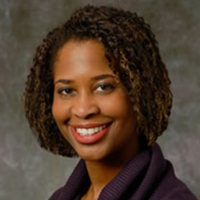 Dr. Stephanie M. Curenton is a professor at Boston University Wheelock College of Education & Human Development and the executive director of the Center on the Ecology of Early Development (CEED). She is a developmental and community psychologist who studies the social, cognitive, and language and literacy development of racially marginalized children within various ecological contexts, such as parent-child interactions, early childhood care and education, professional development interventions for the early childhood workforce, and related state and federal policies designed to promote the positive development and health of young children.
Dr. Curenton has received national policy fellowships from several organizations, including the Society for Research on Child Development (SRCD)/American Association for the Advancement of Science (AAAS), and the National Black Child Development Institute. She has worked as a research policy fellow in the US Department of Health and Human Services, Office of Child Care. She is a board member for the Massachusetts Board of Early Education and Care, and previously served on the boards of National Association for the Education of Young Children (NAEYC) and local Head Start programs
Dr. Curenton's research has been funded by the HHS Office of Program Research and Evaluation (OPRE), the National Academy of Science Ford Predoctoral Fellowship, American Education Research Association (AERA), Imaginable Futures, the Doris Duke Charitable Trust, the Foundation for Child Development, the W.K. Kellogg Foundation, and the Robert Wood Johnson Foundation. She is an associate editor for Early Education and Development and previously served as associate editor for Early Childhood Research Quarterly. 
Recent News
Education
PhD, Developmental and Community Psychology, University of Virginia
MA, Developmental Psychology, University of Virginia
BA, Psychology, Wittenberg University
Selected Publications
Iruka, I.U., Curenton, S.M., Durden, T., & Escayg, K. (2019). Don't Look Away: Embracing Anti-Bias Classrooms. Lewisville, NC: Gryphon House.
Schilder, D., Curenton, S.M., & Broadstone, M. (2019). Special Issue: Early Care and Education Collaboration. D. Schilder, S. M. Curenton, & M. Broadstone (Eds.), Early Education and Development, 30(8).
Iruka, I.U., Curenton, S.M., Sims, J., Blithe, K., & Gardner, S. (2019). Factors associated with early school readiness profiles for Black girls. Early Childhood Research Quarterly, 51, 215-228.
Curenton, S.M., Iruka, I.U., Humphries, M., Jensen, M., Durden, T., Rochester, S.E.*, Sims, J*., Whittaker, J., & Kinzie, M. (2019). Validity for the Assessing Classroom Sociocultural Equity Scale (ACSES) in Early Childhood Classrooms. Early Education and Development, DOI: 10.1080/10409289.2019.1611331
Curenton, S. M., Sims, J.*, Rochster*, S. E., & Gardner, S. L*. (2019). The Conversation Compass Communication Screener-Revised. Early Childhood Research Quarterly, 47, 182-193. DOI: 10.1016/j.ecresq.2018.10.013