Stephanie Curenton
Director, Center on the Ecology of Early Development (CEED)
Program Director, Child & Youth Policy Certificate
Associate Professor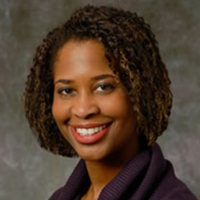 Dr. Stephanie M. Curenton is an associate professor at BU Wheelock College of Education & Human Development and the director of the Center for the Ecology of Early Childhood Development (CEED). She studies the social, cognitive, and language development of low-income and minority children within various ecological contexts, such as parent-child interactions, early childhood education programs, early childhood workforce programs, and related state and federal policies. 
Dr. Curenton's research has been funded by the U.S. Department of Health and Human Services in the Office of Program Research and Evaluation (OPRE), the National Academy of Science Ford Pre-doctoral Fellowship, American Education Research Association (AERA), the Foundation for Child Development, and the W.K. Kellogg Foundation. She was awarded a research policy fellowship from the Society for Research on Child Development (SRCD)/American Association for the Advancement of Science (AAAS) and worked in Office of Child Care. She previously served as associate editor for Early Childhood Research Quarterly and Early Education and Development. She has also served on education nonprofit boards for National Association for the Education of Young Children (NAEYC) and local Head Start programs. 
Recent News
Education
PhD, Developmental & Community Psychology, University of Virginia

MA, University of Virginia
BA, Wittenberg University
Selected Publications
Iruka, I., Curenton, S. M., & Gardner, S. (2015). How change in home and neighborhood factors are related to change in Black children's academic and social development from kindergarten to third grade. Journal of Negro Education, 84, 282–297.
Curenton, S. M., Dong, N., & Shen, X. (2015). Does aggregate school-side achievement mediate fifth grade outcomes for former early childhood education participants? Developmental Psychology, 51, 921–934.
Curenton, S. M., & Zucker, T. (2013). Instructional conversations in early childhood classrooms: Policy suggestions for curriculum standards and professional development. Creative Education, 14, 60–68. [Special issue on preschool].
Curenton, S. M., & Kennedy, S. S. (2013). Comparison of shared reading versus emergent reading: How the two provide distinct opportunities for early literacy. ISRN Education. Retrieved from doi.org/10.1155/2013/936191

Piasta, S. B., Justice, L. M., Cabell, S. Q., Wiggins, A. K., Pence Turnbull, K., & Curenton, S. M. (2012). Impact of professional development on preschool teachers' conversational responsivity and children's linguistic productivity and complexity. Early Childhood Research Quarterly, 27, 387–400.
Cabell, S. Q., Justice, L. M., Piasta, S. P., Curenton, S. M., Wiggins, A., Pence Turnbull, K., & Petscher, Y. (2011). The impact of teacher responsivity education on preschoolers' language and literacy skills. American Journal of Speech–Language Pathology, 20, 315–330.
Crowley, J., & Curenton, S. M. (2011). Organizational social support and parenting challenges among mocha moms. Family Relations, 60, 1–14.
Iruka, I. U., Curenton, S. M., & Durden, T. (2016). African American children in early childhood education: Making the case for policy investments in families, schools, and communities. In C. W. Lewis & J. L. Moore III (Series Eds.), Advances in race and ethnicity in education. Manuscript in progress.
Curenton, S. M. (2016). The conversation compass: A teacher's guide to high quality language. St. Paul, MN: RedLeaf Press.
Iruka, I. U., Curenton, S. M., & Eke, W. A. I. (2014). The CRAF–E4 Family Engagement Model: Building practitioners' competence to work with diverse families. Boston, MA: Elsevier/Academic Press.
Curenton, S. M., & Iruka, I. (2013). Cultural competence in early childhood education. San Diego, CA: Bridgepoint Education.