Three Key Takeaways from President Biden's Rapid Movement on Climate Policy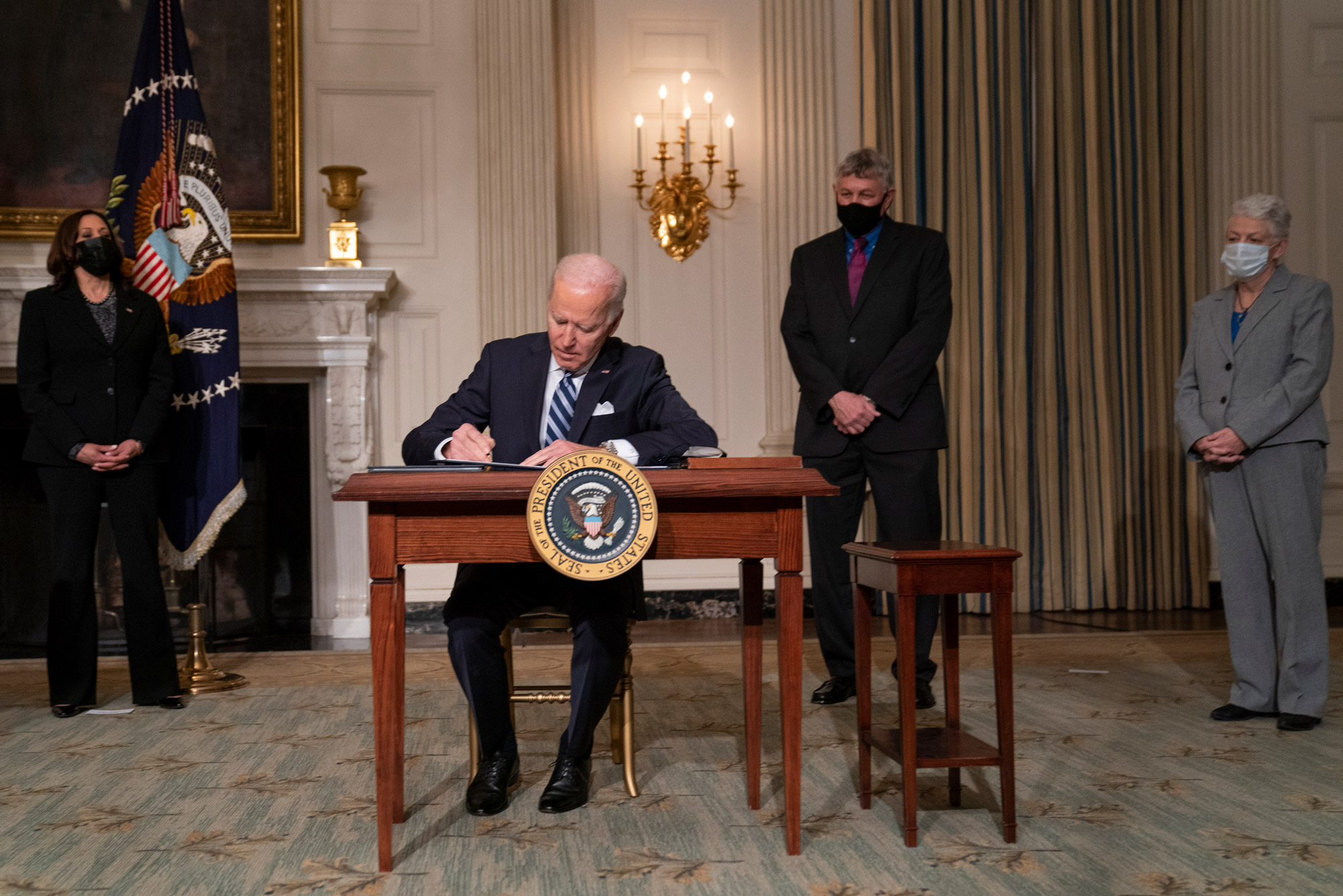 Environmental Policy
Three Key Takeaways from President Biden's Rapid Movement on Climate Policy
BU international relations and environmental policy expert reflects on whirlwind of climate action issued from the Oval Office
With just over a week in office, President Joe Biden has moved quickly to reinstate the United States into multiple international agreements and agencies through new executive actions that undo moves by the Trump administration—including rejoining the Paris Agreement and halting US withdrawal from the World Health Organization.
"There's not a single person in the international climate change arena who was sad to see Trump leave office," says Henrik Selin, a BU Frederick S. Pardee School of Global Studies associate professor of international relations and associate dean for studies, who specializes in researching international environmental politics and policies. "I do think most are fairly happy that it is Joe Biden [in office] in particular since he has a long-standing history of valuing international cooperation more broadly."
On January 27, Biden set a number of climate-focused initiatives in motion. The three executive orders committed the United States to setting up a plan to fulfill emissions requirements under the Paris Agreement, pledged to an international agreement to protect 30 percent of national lands and oceans by 2030, created an interagency group to address communities that face disproportionate harm from pollution, elevated climate change to a national security priority, and more. But to international onlookers, how does the whiplash of pivoting away from Trump-era policies affect the reputation of the US stance on climate change policies? Selin believes that there is much to be hopeful for in restoring the nation's international climate leadership—especially with Congress in Democratic control—but there is still much to look out for on the road ahead as the United States works to regain its image as a world leader in climate action. Here is what Selin expects to see and hopes for over the next four years.
The United States may struggle to restore trust internationally
"The difference between Obama and Trump and Biden illustrates that it can be extremely important for the rest of the world—specifically about climate change—who is in the White House," Selin says. "What the rest of the world saw when Trump took office was this enormous backslide in terms of taking climate change seriously. If you're sitting in a different region of the world, you are at least partially going to say, 'This happened once, why can't it happen again?'"
According to Selin, it's too simple to think governments and citizens from other climate-conscious counties will say, "Oh, the United States is back again and now we can trust them and everything can be like it was before." Other countries have not struggled with making climate change policies a priority. For example, Selin says, "over the last 20 years in the United Kingdom, there have been many governmental shifts from right to left, labor government, conservative government, and their climate policy has stayed fairly consistent—not the kind of fundamental shifts we saw here. Those enormous government swings [between polarized parties] are not uniquely American," but the United States stands out for its flip-flopping stance on climate. "It matters especially because the United States is the world's second largest emitter of greenhouse gases. When [this fundamental shift] happens to a major economy like the United States, to the perspective of a lot of other countries, that's problematic," Selin says.
As America rebuilds its economy, climate must stay top of mind
"Climate policy isn't the end goal in itself…it is a way to support human well-being, today and in the future, and point the country toward a sustainable path," Selin says. "Policymakers can pass climate-specific legislation that sets emission targets, regulates coal power plants, but I would be much more excited if climate issues were integrated into broader issues—like energy policy, transportation, or urban planning. With the COVID-19 pandemic, how we start rebuilding society over the next couple of years is where climate change concerns should be integrated. Rather than seeing it as a niche area, it should be part of the overall plan for the country over the next coming decades. [That integrated approach] could then be a way of reducing some of the humongous polarization around climate change we see in the United States—polarization we don't see in many other countries in Europe. Now, with so many people working on climate change issues across a whole range of areas in [the Biden] administration, we have the potential to see that happen."
Democrats need to get on the same page
"If you look back at the Obama administration, most of the big policy ideas on climate change were from his second term," Selin says. "The Biden administration so far is taking a much more serious approach from day one. The president has brought back many big names [for climate policymaking] like Gina McCarthy and John Kerry [Hon.'05]. [Having this] strong domestic team is important because the only way to get a more comprehensive federal-level approach is when both the White House and Congress are on the same page."
Overall, Selin says, there is much more support for climate action with Democrats than Republicans. But although Democrats are now holding leadership positions in Congress and the White House, "that still doesn't mean every elected member on the Democrat side wants exactly the same thing," he cautions. "Any climate package is going to require a lot of negotiations. There is tension between the left and centrist parts of the [Democratic] party and disagreement on what appropriate climate change policy will look like. I hope that members of the Democratic Party find a way to collaborate and get something [passed through Congress]."