BU Experts Weigh In on Wednesday's Historic Vice Presidential Debate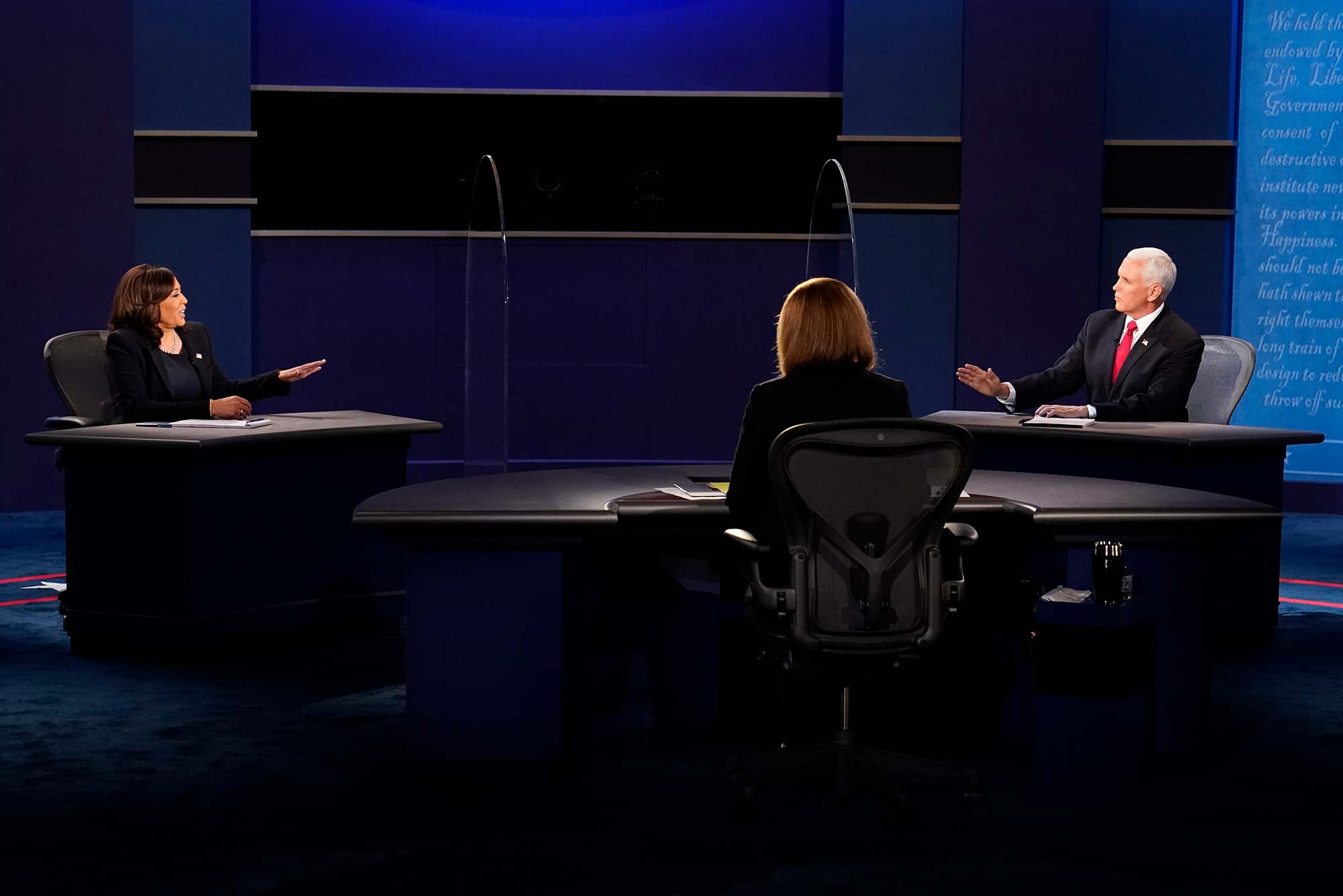 Politics
BU Experts Weigh In on Wednesday's Historic Vice Presidential Debate
They assess the highs and lows of Kamala Harris', Mike Pence's performance
In most election cycles, the televised vice presidential debate is a sideshow to the presidential candidates' encounters. This year is different. Democrat Kamala Harris, a US senator from California, is just the third woman to be named a vice presidential nominee, and the first woman of color. Vice President Mike Pence is second-in-command in a controversial administration that's facing criticism for its handling of multiple crises—the coronavirus pandemic, economic turmoil, racial protests amid violence against Black Americans, and unfounded criticisms of mail-in voting.
Both VP candidates have drawn more scrutiny than usual given the ages of their running mates—President Trump, who was diagnosed with COVID-19 last week, is 74, and former vice president Joe Biden is 77. The question of whether they'd discussed with their ticket-mates the possibility of having to take over presidential duties came up at the University of Utah debate Wednesday night. Neither answered.
They did, however, answer questions about other issues, and showed they live in different realities. Harris recounted a four-year record of failure by the Trump administration, while Pence said the Trump administration corrected bungles by the Obama-Biden administration and prevented hundreds of thousands more pandemic deaths.
The debate avoided the verbal pyrotechnics of last week's angry Trump-Biden encounter, even though Harris attacked President Trump's racist comments, Pence attacked Harris' record as a California DA, and moderator Susan Page, USA Today Washington bureau chief, repeatedly asked both candidates to desist when they exceeded their speaking time. Voters were left to decide whether Harris and Pence helped or hurt their ticket in the run-up to November 3, and whether each was adept at defending their running mate.
BU asked for a postmortem from Joyce Hope Scott (Wheelock'80), a College of Arts & Sciences clinical professor of African American studies, whose expertise includes reparations and African American women's experience; David Shorten (GRS'20), a CAS lecturer in history, who specializes in the intersection of politics and business and foreign relations; and Tammy Vigil, a College of Communication associate professor of communication and an expert on women as political communicators. 
The remaining two presidential debates between Donald Trump and Joe Biden are scheduled to be televised by the major networks on October 15 and October 22, from 9 to 10:30 pm.