We Know Repeated Head Hits Contribute to CTE—but What about Alzheimer's Disease?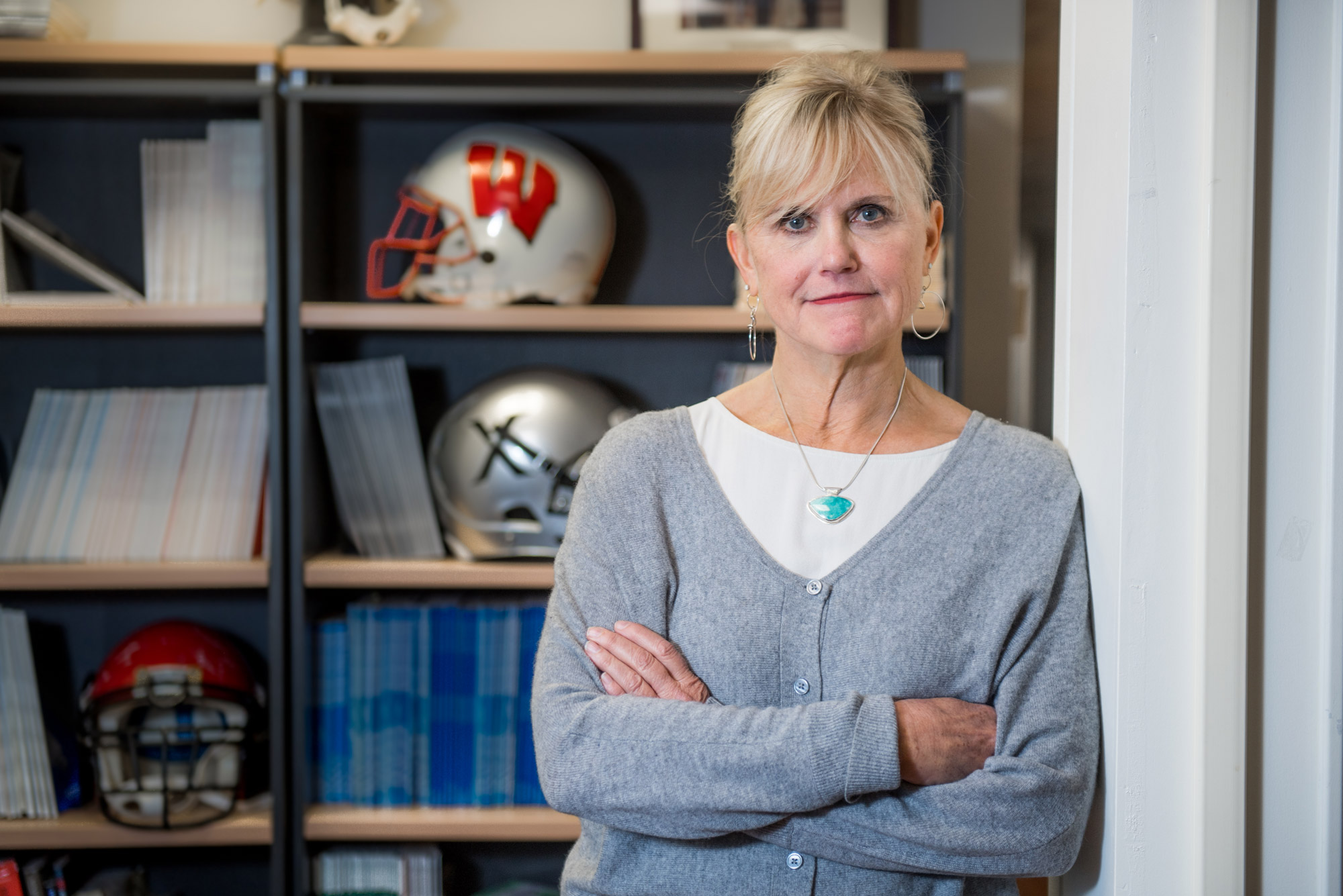 CTE and Alzheimer's Disease
We Know Repeated Head Hits Contribute to CTE—but What about Alzheimer's Disease?
BU CTE expert Ann McKee receives $10 million grant for comprehensive study of how repetitive head impacts, traumatic brain injuries contribute to different types of dementias
The first time Ann Mckee diagnosed the brain of a football player with chronic traumatic encephalopathy, the neurodegenerative disease known as CTE, she was stunned at the implications it had for the millions of people who play the game. Since that initial look through the microscope, McKee has analyzed over 700 brains donated to Boston University's CTE Center to better understand how repetitive hits to the head from contact sports cause long-term damage to the brain.

At BU and the VA Boston Healthcare System, McKee's research focuses on the long-term effects of traumatic brain injury (TBI) and repetitive head impacts (RHI) in veterans and former football players. Now, with a new $10 million grant awarded from the National Institutes of Health, McKee—a William Fairfield Warren Distinguished Professor, a BU School of Medicine professor of neurology and pathology, director of BU's CTE Center, and chief of the Neuropathology Service at the VA Boston Healthcare System—will lead a five-year study to investigate how a number of trauma-related neurodegenerative diseases like CTE are interrelated.

McKee and researchers from BU's Alzheimer's Disease Center will focus on identifying the risks of developing Alzheimer's disease, Alzheimer's-related dementias, CTE, Parkinson's disease, and other related conditions caused by abnormal buildup of tau proteins in the brain, as a result of repetitive head impacts and traumatic brain injury. It's a novel approach to investigating how these diseases are interrelated.

Traumatic brain injury is known to increase the risk for developing dementia and parkinsonism—conditions like tremor, slow movement, impaired speech, or muscle stiffness—later in life. Likewise, exposure to repetitive head impacts from contact sports and military service is also associated with a tau protein–based type of neurodegeneration, CTE. But traumatic brain injury and repetitive head impacts have not been well studied holistically to comprehensively understand how they relate to all tau protein–related neurodegenerative diseases.

"We are going to identify the neuropathological features of TBI-related neurodegeneration and the association of post-RHI and TBI neuropathologies with the clinical phenotypes of dementia and parkinsonism," McKee says.

She was the creator of the Veterans Affairs-Boston University-Concussion Legacy Foundation (VA-BU-CLF) Brain Bank, the world's largest repository of brains from individuals exposed to traumatic brain injuries (over 850), of which more than 450 individuals are confirmed to have had CTE. McKee and her team have published over 70 percent of the world's cases of CTE and have led the field in research on post-traumatic neurodegeneration with multiple high-profile publications in major journals.

Her work has already demonstrated that mild but repetitive head impacts could trigger CTE, a disease that currently can only be diagnosed after death. Last year, McKee was part of the research team that found that for every 2.6 years of playing football, the risk of developing CTE doubles, the first study to quantify the relationship between the amount of time someone plays tackle football and their likelihood of developing CTE.

Alzheimer's disease has become an epidemic in the United States, affecting more than five million people over 65 years old. Alzheimer's causes memory loss, behavioral changes, confusion, and deterioration of language skills.

In this new study, McKee and her team will collaborate with Icahn School of Medicine at Mount Sinai, and together they will conduct the largest study yet of the neurological risks associated with TBI and RHI. Researchers are hopeful that when the five years are up, their work will lay the foundation for developing strategies to intervene, prevent, and treat trauma-related neurodegeneration diseases.

This work is supported by the National Institutes of Health.