A New Leader on Diversity, with Deep BU Roots: Andrea Taylor iIs an Alum, a Longtime Trustee — and a Civil Rights Veteran
Diversity
BU Creates Senior Diversity Post, Taps Longtime Trustee
Andrea Taylor, alum and a civil rights veteran, says "the time has come" for meaningful change at BU and beyond
Andrea Taylor's parents came to Boston University because they were not allowed to attend graduate school in segregated West Virginia. Later Taylor attended BU herself, and in a 1968 protest she joined other African American students who occupied the administration building at 147 Bay State Road. By 2009 she was a Microsoft executive—and a University trustee. And now Taylor (COM'68) will lead BU's drive for fairness and inclusion as its first senior diversity officer.
"In many ways, it's a kind of homecoming," says Taylor, who was born in Boston and is one of nine BU alumni in her family. "I know the community, and I'm aware of some of its history and also its challenges. And clearly, at this particular moment in the history of humankind, we are at an inflection point in that, maybe, this time we might get it right, in terms of how we need to engage in self-examination and self-reflection."
The coronavirus pandemic has brought a broad exposure "to the inequities and disparities that people of color and poor people across the planet are facing," Taylor says. "I think there's a real sense that this time we can make substantive and meaningful commitments and changes in policy and practice that will improve the common good. It's a tall order."
BU President Robert A. Brown announced on Monday that Taylor will relinquish her seat on the Board of Trustees and start her new post on August 17. It is a senior leadership position, reporting directly to the president, who, in collaboration with other University leaders, will advance an agenda of diversity, equity, and inclusion.
---

And clearly, at this particular moment in the history of humankind, we are at an inflection point in that, maybe, this time we might get it right.

---
The move comes amid a number of important diversity and inclusion initiatives underway across different parts of BU. In addition to steps being taken by the deans leading individual schools and colleges, the Dean of Students office, led by Kenneth Elmore (Wheelock'87), associate provost and dean of students, Enrollment and Student Administration, led by Christine McGuire, vice president and associate provost for enrollment and student administration, and the Office of Diversity & Inclusion in the Provost's Office, led by Crystal Williams, vice president and associate provost for community and inclusion, have all devoted attention to these issues. (No organizational reporting relationships will change with Taylor's appointment.) "We believe that their work, and the University's commitment to it, can be amplified by having one person, Andrea Taylor, connect and support all of these pieces at the most senior level of the University," Brown wrote in his announcement.
In her role, Taylor's first task will be to form and chair an Antiracism Working Group, comprising leaders from across BU. The group will examine processes and policies that may inhibit diversity, equity, and inclusion within the student body, faculty, and staff, make recommendations for modifying those policies and practices, and develop metrics for monitoring progress. More broadly, Taylor will work with unit leaders to help reform policies and practices at all levels of the institution, with an aim toward removing systemic racism and bias from the University. She will also work with University leadership to develop a plan focused on increasing the diversity of staff and students, as well as metrics to help measure the progress BU makes.
Taylor "cares deeply about two things," Brown says. "One is, she cares about diversity and inclusion, and she's demonstrated that throughout her career and her term as a board member. And the other is, she cares deeply about Boston University, and she knows us, which at this moment is very important to gather momentum."
Taylor says the agenda of her role will not only demand real change, but also will cause some difficult moments and conversations, and even confrontations. "It's not easy to bring about such a shift as is being proposed in Boston University and the greater society," she says. "But I think the time has come and there seems to be a willingness and a recognition that there's no time like the present, that we really need to get on this."
Of course, like everyone, BU is also wrestling with the enormous challenges posed by COVID-19. But Brown says the struggle for diversity, and the issues around racism and antiracism, must be just as important.
"We've seen these moments in our history pass before, and we haven't taken enough action to actually reverse the racism that's embedded in our institutions and all around us. And I think we see that now," he says.
Always connected to civil rights—and BU
For Taylor, the appointment resonates with her life story in countless ways.
She's one of nine family members who attended BU, among them her mother, Della Brown Taylor Hardman (CFA'45), a writer and professor of art; her father, Francis Taylor, Sr. (CFA'56), a violinist and teacher who earned a master's in music, majoring in music education; and her uncle, Willard Brown (LAW'35,'36), who was the first Black judge in West Virginia and a longtime president of the state's NAACP chapter.
Consider Taylor's connection to the late longtime US Congressman John Lewis (D-Ga.) (Hon.'18), who died July 17. Willard Brown brought his teenaged niece Andrea along on a 1963 bus trip to the fabled March on Washington, where Martin Luther King, Jr. (GRS'55, Hon.'59) and Lewis spoke. Recently she spent five years as president and CEO of the Birmingham Civil Rights Institute in Alabama, where the Selma-to-Montgomery march during which Lewis was beaten by police in 1965 is commemorated among the exhibits. At the 2018 BU Commencement where Lewis spoke, Taylor, as a BU trustee, stood with him at his Hooding Ceremony.
"I was a teenager attending the March and had been active in civil rights through my church and the local efforts with NAACP, UNICEF, and other social justice initiatives," Taylor says. "My grandfather also filed legal action with leadership from Willard Brown, his son, to open public libraries and restaurants to African Americans. There was a great sense of urgency then, as now."
Now, just weeks after Lewis' death, she invokes his signature phrase in describing her new mission: "I see this in the spirit of 'good trouble!'"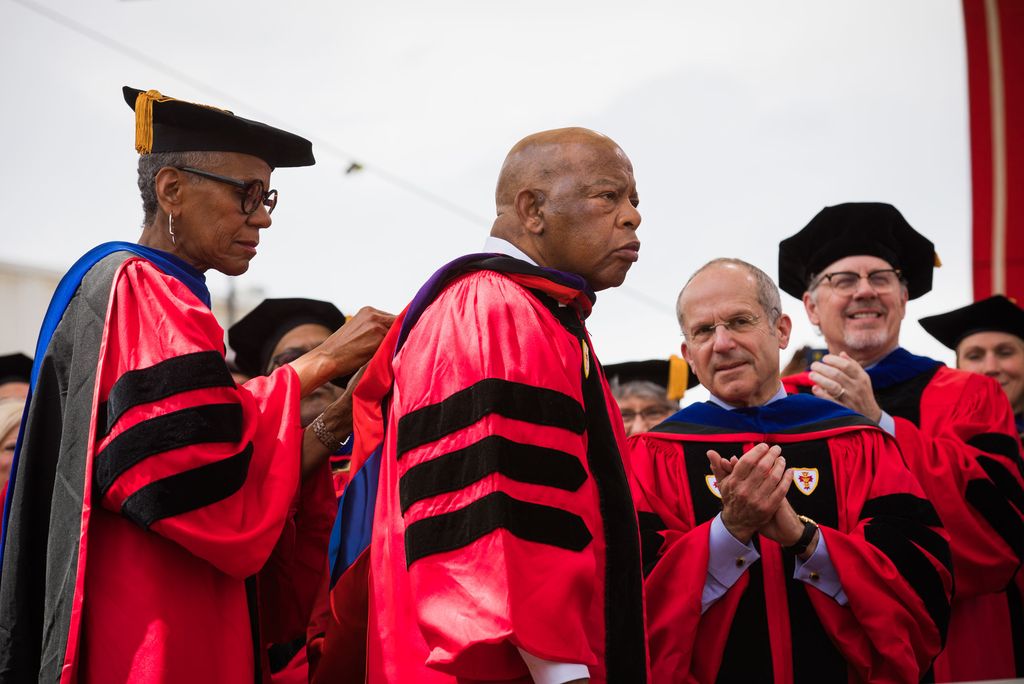 Taylor lived by that same creed as a BU student. The budding journalist skipped her first job interview at the Boston Globe on April 24, 1968, so she could join members of Umoja, BU's Black student union, in taking over the administration building in the wake of King's assassination earlier that month. "I called them up and said, 'I can't come because I'm protesting,'" she recalls with a chuckle. 
But she rescheduled the interview and eventually got a job as a Globe reporter after Commencement, which led to posts at WGBH and the Ford Foundation, and eventually a job as director of citizenship and public affairs for Microsoft from 2006 to 2014, before joining the Birmingham organization, which she left in April this year. "She knows institutions," Brown says, "and will work well within Boston University and all of its parts to help us move much more quickly than would be possible otherwise."
BU has continued to guide her through her career, Taylor says, notably through the words of the late Howard Thurman (Hon.'67), dean of Marsh Chapel from 1953 to 1965, the first Black dean of a predominantly white US university. She heard him speak when she was a student. Her well-thumbed copies of his books are always nearby, she says.
"There's something special about BU" because of that history with Thurman and King, she says, "and I think BU is well-positioned to move this ball forward and set an example not only for the institution internally, but for the academic community."
(One place that will help move the conversation forward nationally is the new BU Center for Antiracist Research, which was more than a year in the making before it opened in July with noted scholar Ibram X. Kendi at the helm.)
Taylor knows it is "not easy work" ahead, but she is determined.
"It's been striking to me how much the issues have remained the same," since she was a student, both on campus and in society, she says. "Increasing the number of students of color, or increasing the faculty presence, or the staff presence. These are not new issues. The kinds of conversations that have been taking place on the BU campus over the last couple of months really resonate with the conversations we were having when I was a coed."
The difference, she says, may be a greater willingness to engage them now. And Brown says the challenge for BU is to sustain the effort that has been started.
"If we put in place all the right systems and processes and policies, it still is going to take a time for BU to be the kind of fully diverse, inclusive, antiracist community we would like to be," he says. "But you have to start, and you have to put in place the processes and the leadership to sustain that progress."
Brown says he believes the appointment of Taylor, as well as last week's promotion of Crystal Williams to a new role, as vice president and associate provost for community and inclusion, provides BU with leadership to sustain a commitment to these critical issues over time. Williams was promoted after three years as associate provost for diversity and inclusion and after leading BU's recent campuswide Day of Engagement: Racism and Antiracism, Our Realities and Our Roles. 
"What we have to do in this moment is to make sure we don't let this moment pass," Brown says. "We need to make this a turning point in the history of the institution, and that means really gathering momentum to begin the work."
Full support from trustees
"I really thought it was a brilliant appointment for President Brown to make," says Kenneth Feld (Questrom'70), chair of the BU Board of Trustees. "Because she understands Boston University, she has a passion for Boston University, and because of her background, she really understands what it's going to take, moving into the future.
"She is going to have the absolute full support of the trustees, because they know her so well," Feld says. Taylor chaired the board's Academic Affairs Committee for years, "and when she spoke, everyone listened. She had the experience, she had the knowledge, and she really was a voice of conscience with the trustees. She said what was on her mind and what she felt was right for the University. And I think that's where all of us want to be."
"Andrea has deep and long ties to the institution," says Jean Morrison, BU's provost and chief academic officer. "She was a board member for 11 years, and so she is uniquely qualified to engage the board in these efforts.
"I worked closely with Andrea while she was on the Board of Trustees, and I am eager to continue working with her," Morrison says. "I look forward to her helping us with a full range of efforts to get us to where we want to be. I know we're in for good things with Andrea joining the team."
Taylor says she has begun the process of relocating from her longtime home in Manhattan to the Boston area, where she was born. She has remained connected to Massachusetts through a longtime family home on Martha's Vineyard.
Brown says Taylor's appointment is one more step in a march of progress. A focus on transparency will be part of all of the University's efforts, he says, but ultimately, change has to come from inside each member of the BU community.
"You can have all the policy and process in the world, but in the end you have to have individual commitment to diversity and inclusion," he says, "and I think what we see in this moment is a transition going on in which our community, and I hope the community at large, says that we cannot continue the way we are. We have to really push ourselves to be antiracist in what we do as individuals and as institutions."