Alums Share Memories of Dark Days of April 1968
Vivid recollections of grief and turmoil five decades later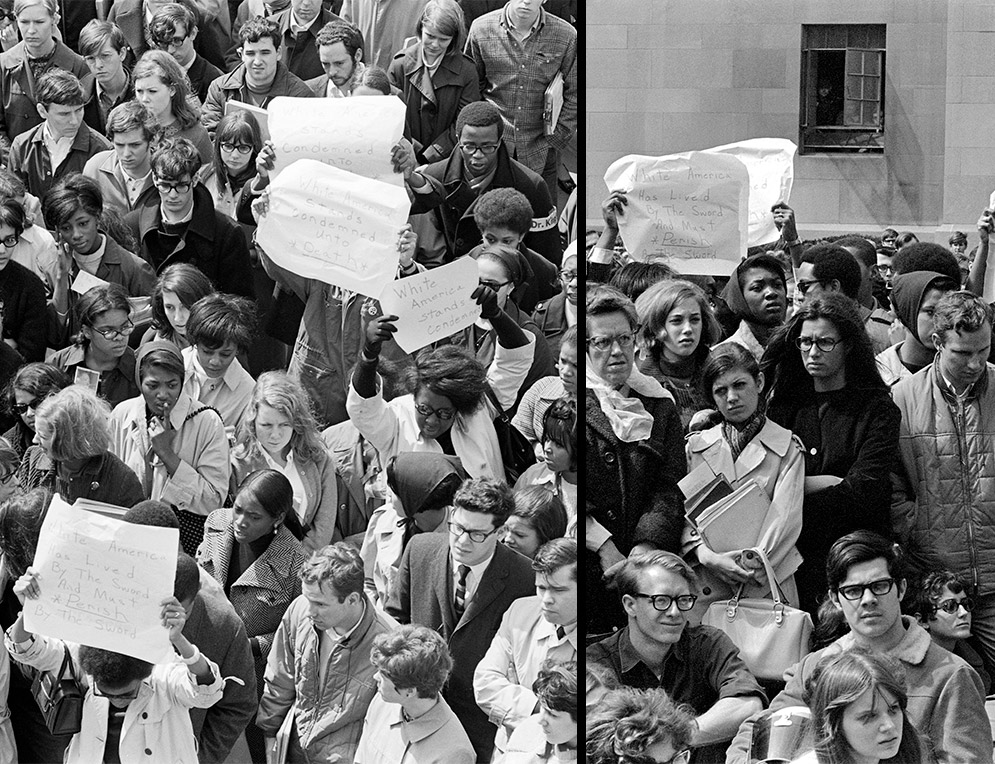 John Bryant (STH'70) was standing on the corner outside the School of Theology on the night of April 4, 1968, exactly 50 years ago, when a car full of young white men pulled up in front of him. "They rolled down their windows and yelled, 'We got your Martin Luther Coon,'" he recalls. Bryant knew instantly that Martin Luther King, Jr. (GRS'55, Hon.'59) had been assassinated, and he rushed to Mugar Memorial Library to tell his girlfriend (now his wife), Cecelia Williams (CAS'68, GRS'70).
Bryant was among dozens of BU alumni who answered when the Alumni Association reached out to the classes of 1968, 1969, 1970, 1971, and 1972, asking them to share their memories of where they were the night of April 4, 1968. Many responded with vivid recollections of how and where they heard the news of the civil rights leader's murder and the unrest that shook Boston in the days that followed.
Read some of their stories below.
April 4, 1968
Laura Moorhead (DGE'68) was at a meeting of the Audubon Court Dormitory Council with her roommate, Elissa (Conger) Armstrong (DGE'68), when someone ran in to report that King had been shot in Memphis. "It was as if the world stopped for me," says Moorhead, who today lives in Long Beach, Calif. "Dr. King was my lifelong hero—a symbol of firm resolve and eloquence in the face of oftentimes vicious treatment at the hands of mobs, Southern elected officials, and police authorities alike. He was the reason I wanted to attend BU."
Moorhead, the only nonwhite representative on the council, immediately asked that the dorm meeting be canceled, but the organizers refused. "I thought, if this had happened to President Johnson, they would have stopped the meeting," she says.
That evening, remembers Arline Gertzoff (SED'68,'69), then a student teacher at the Meadowbrook School in Weston, Mass., the campus and the city of Boston were absolute mayhem. Students took to the streets, although they were told to return to their dorms and stay there. "I was at Towers and we filled the lounge," she recalls. "We saw on TV that there were riots and looting all over and many cars were trashed. It really was bedlam. It was even worse in Roxbury. Anything that could be lifted was a projectile."
James Seymour (CFA'71) was at Myles Standish Hall when he heard about King's death. He went searching for his best friend, Irving Lee (CFA'71), who was black (Seymour is white), but Lee had already left for his home in Harlem. "Everything stopped for black folks everywhere, those rioting in the streets and others huddled together trying to find a reason, I'm sure, to believe that any justice still existed in their country," says Seymour, who had marched with King and thousands of others the previous year in New York City at the National Mobilization Committee to End the War in Vietnam march.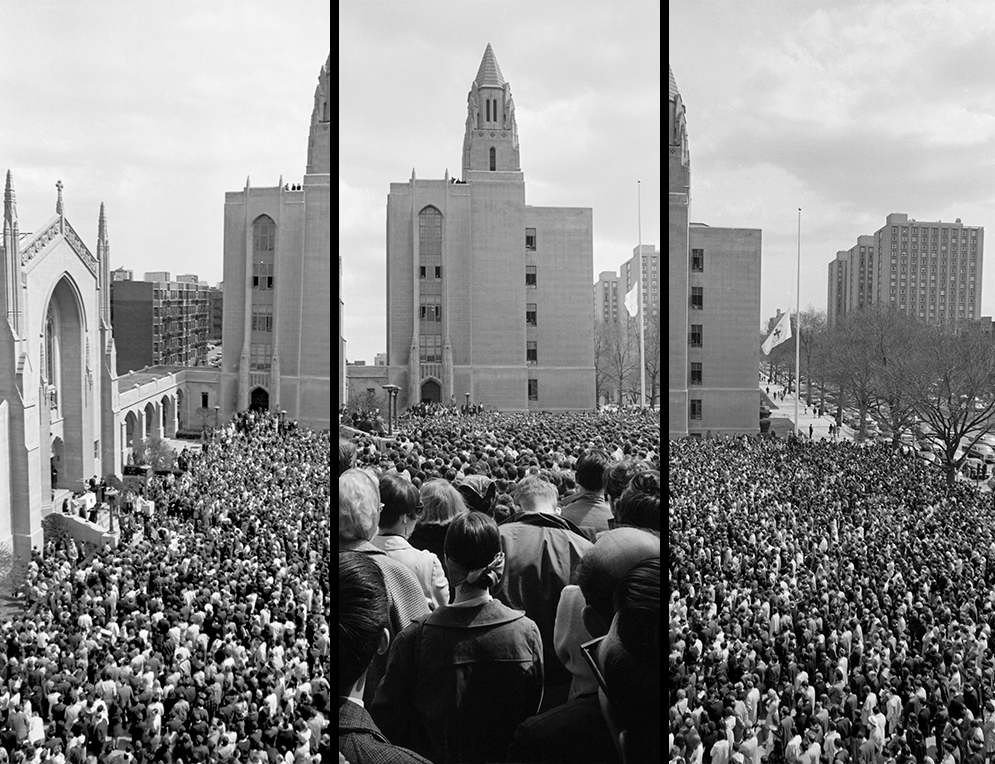 April 5, 1968
The following day, the University held a service of penitence that drew thousands of faculty, staff, and students to Marsh Plaza, and the same day announced the creation of the Martin Luther King, Jr., Professorship of Social Ethics at the School of Theology, according to Transformations: a History of Boston University, by Kathleen Kilgore.
Micaela Amateau-Amato (CFA'68) writes that "we were all on Marsh Plaza feeling defiance, fear, grief; preparing how to move forward so that his death would not be in vain." Jayne Barnes (SED'71,'72) remembers thinking how important it was that the campus be a model for social justice and compassion, "knowing how tense the situation could become."
The singer James Brown was scheduled to perform at Boston Garden the evening of April 5. At the last minute, city officials negotiated to televise the concert and broadcast it live on WGBH, Boston's public television station, in hopes of keeping people off the streets and returning calm to the city, an event that remains fresh in the memory of many of those who were at BU then.
"It is to this day one of the more memorable moments of my life, both for the music and its significance in history," says Peter Burchard (DGE'69, CAS'72). "James was credited with handling the danger of violence right where it might have begun, in such a way as to save Boston from going up in flames."
Moorhead doesn't see it that way. "I remember feeling that James Brown was being used to pacify Roxbury—as if a televised music concert, a piece of entertainment, was an appropriate response to what had happened, instead of say, a town hall meeting to discuss the issues," she says. "I remember seeing Mayor Kevin White introduce James Brown, smiling as if to say, 'Watch this and please don't lash out in the streets.'"
April 9, 1968
The day of MLK's funeral, more than 10,000 people marched from Boston Common to Post Office Square to attend a memorial service. An article in the Boston College newspaper The Heights estimated that another 5,000 marched from Marsh Chapel. The crowd was young, mostly students, and "the grief was overwhelming," Kilgore notes in her BU history, "and so was the anger."
"You, white America, have been condemned by God Almighty for murder in the first degree," said Bryant, speaking at the event. "You are always saying you are a sorry bunch of people. Don't give us your tears and your words of sympathy, because we don't believe in them anymore. We don't believe you when you say that those who live by the sword shall die by the sword. You, white America, have been living by the sword. Is there no repentance?"
April 24, 1968
In the days after King's death, members of Umoja, BU's black student union, "discouraged with what they perceived as lack of progress," called an emergency meeting for all black students, where they decided to take over the administration building at 147 Bay State Road, according to Kilgore's book.
Moorhead was among the students who occupied the building. The Umoja officers read Arland Christ-Janer, then BU's president, a list of demands that included adding books on black history to Mugar Memorial Library. "We were asked by the then school president if there existed enough books to fill a library shelf," she recalls. Among other proposals were recruiting 100 additional black high school students to the University, extending the admissions deadline for black students (the deadline had already closed for the next academic year), and renaming STH for King, the only demand that wasn't met.
Aftermath
Richard Olson (STH'72) says that his classes after King died focused almost exclusively on the slain civil rights leader, his teachings, and his philosophy. He recalls that one particular day during the Models and Methods of Christian Ethics seminar his professor initiated a discussion of how King's nonviolent philosophy impacted America. Everyone participated except the only African American student in the class, Olson says, and the professor eventually asked for his thoughts. "He was silent for a few moments, and then blurted, 'What's the use of talking? Nothing's going to change anyway.'"
The African American student stayed silent, as did the rest of the class. Shortly, though, he started talking about what he had admired and all he had hoped for. Inspired by King, he said, he had chosen to attend BU specifically because it was the civil rights leader's alma mater. Now he wasn't so sure. Olson remembers him saying that he wanted to believe that change could come, but there seemed to be little reason to believe it. "For a time, he collapsed into sobs, then went on, still sad but a little calmer. When he again fell into silence and seemed to be through, the class was dismissed."
Moorhead was a 17-year-old sophomore in 1968. King's death, along with Robert F. Kennedy's assassination in June and the riots that erupted during the Democratic National Convention in Chicago in August, led to a fundamental change in the way she and members of her generation saw the world.
"Beginning with King's assassination, my worldview, my trust in the nation's leadership, and my ideas about what I could do with my life were permanently altered," she says.