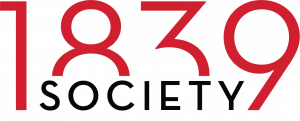 BU's exclusive leadership giving community
The members of the 1839 Society are Boston University's philanthropic leaders. The impact of their generosity is evident every single day in benefits to the University, its students, and those touched around the world by our graduates' work and our faculty's groundbreaking research.
Donors are welcomed into the 1839 Society when they give a cumulative amount of at least $1,000 within a fiscal year. And there are special introductory rates for BU's most recent graduates.
As one of the largest private universities in the country and a leading global research and teaching institution, BU relies on the generous support of 1839 Society members to transform the lives of our faculty and students. Their giving strengthens programs, provides new opportunities, helps attract outstanding students and faculty, and upgrades critical facilities.
A virtuous circle results: Those students go on to become the leaders of tomorrow, pushing the boundaries of scholarship and addressing some of the greatest challenges facing our society today.