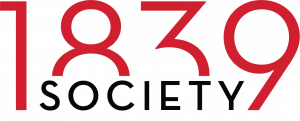 Announcing an exclusive new giving community at BU
Membership in this new leadership society is reserved for those who give generously to Boston University every fiscal year.
While the 1839 Society is new, the tradition of giving to Boston University is well established. The generosity of thousands of donors has already yielded tremendous benefits for the University, its students, and the many people who benefit from the work of our graduates and the discoveries of our faculty.
Your leadership support of BU does so much: it advances knowledge, opens doors, builds community, and changes the world—one gift at a time. Thanks to you, Boston University students and faculty can address some of the greatest challenges facing society, push the boundaries of knowledge, and develop the leaders of tomorrow.
The members of the new 1839 Society will carry forward this culture of philanthropy, and play a key role in shaping the future of BU. Along the way, we hope, a true community will form: one of alumni, parents, and friends who want to do more than just give.
Benefits
When you join* the 1839 Society, you become an active part of BU's pursuit of excellence by providing resources that create opportunity for students, faculty, and programs. And we want to thank you for that! As a society member, you will enjoy:
Invitations to free members-only webinars with notable BU alumni and professors
Discounted tickets to top Alumni Weekend events and exclusive recent-grad gatherings
Early registration for BU's most popular events
Opportunities to have your story featured in University publications, online, and in printed donor rosters
*Corporate matching gifts received by June 30 will apply toward the 1839 Society Membership.