Top twelve Terriers of 2019
What a year it has been for the Boston University community. We closed our first-ever comprehensive fundraising campaign with a total of $1.85 billion. Our alumni, faculty, friends and students have achieved some pretty amazing things and we're taking the time to highlight them here—on our "Terriers of 2019" countdown to the new year.

Peter Del Vecho (CFA'80)
The Quincy, Mass. native Peter Del Vecho, the producer of Frozen (2013) and Frozen II, noted that he didn't anticipate the franchise becoming the mega phenomenon it has. His hope was that the second movie would be embraced by the world the same way. And it has. Read on.

Reshma Kewalramani (MED'98, CAS'98)
In the summer of 2019,Vertex Pharmaceuticals announced that Kewalramani, the chief medical officer, will become the company's president and chief executive officer in April 2020. This will make her the first female CEO of a large biotech company. She highlighted the "research engine" at Vertex that has created a pipeline of drugs in various clinical stages, aimed at helping people with cystic fibrosis, as well as alpha-1 antitrypsin deficiency, pain, sickle cell disease, beta thalassemia, and kidney disease. Read on.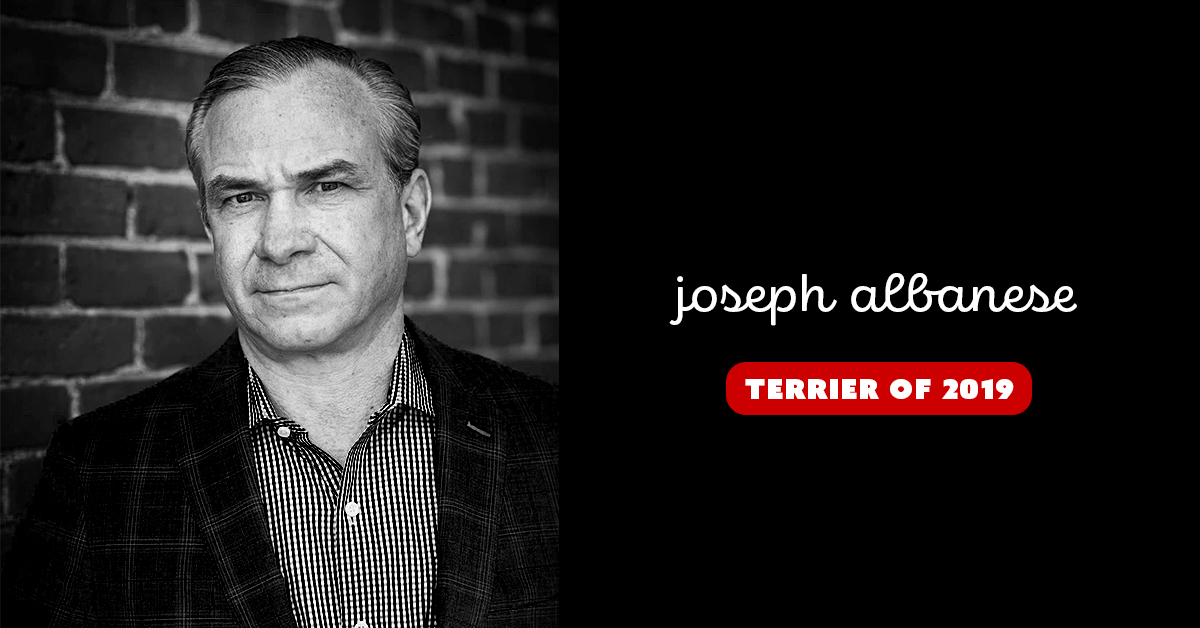 Joseph Albanese (Questrom'92)
In his 25-year career as an officer in the US Navy's Construction Force, Albanese did tours in tough places, including Iraq and Afghanistan. He led battalions with hundreds of people who built bases, airfields, schools, and roads before going on to run an entire construction regiment in the Middle East. But none of those war zone operations, he says, proved to be as difficult as the one he led north of Boston in 2018. Albanese was tapped to oversee the cleanup after a series of overpressurized gas lines exploded in Merrimack Valley last September. Read on.

Dr. Edward R Damiano
Ed Damiano's journey to help the millions of people who suffer from type 1 diabetes—which began nearly 20 years ago, when his infant son, David, was diagnosed with the disease—took a huge leap forward this year. The BU biomedical engineering professor announced that the company he formed to commercialize a portable, wearable device that automatically controls blood sugar levels has raised $126 million—enough to get the device, known as a bionic pancreas, through the last stages of development, final clinical trials, regulatory approval by the US Food and Drug Administration, and into the hands of people with the disease. Read on.

The 175,000 Campaign Donors
Forget about the numbers. Think about their impact. Donations large and small, from more than 175,000 people, top $1.85 billion, almost double the original target of $1 billion when the fundraising effort launched in 2012. Because of the campaign's success, the University has been able to widen its margin of excellence—erecting new buildings, creating new interdisciplinary research efforts, remaking entire schools, and boosting financial aid with the goal of increasing student diversity and access to a world-class education. Read on.

Siobhán Monaghan (Wheelock'18)
Siobhán Monaghan graduated in May 2018 with a BS in Elementary Education. She taught 2nd grade the summer after graduating in NYC and moved to Dublin, Ireland that fall to earn her Master's Degree of Education at Trinity College Dublin. Siobhán had one of the most successful #TerrierTuesdays Instagram takeovers of the year. She took the time to answer questions from fellow alums about her work at Real Nation, an educational consulting firm, her masters degree, and the difficulties of living abroad. Take part in our series.

Marc Maron (CAS'86)
Maron's podcast, WTF with Marc Maron has more than six million listeners worldwide, and thanks to his audacious conversational style and ability to connect with his show's guests, it features interviews with some of the biggest names in Hollywood, comedy, and politics. Maron also stars in the hit Netflix show GLOW, which was just signed for a fourth season after receiving five major award nominations this year. And this Maron moment isn't slowing down. The 56-year-old New Jersey native is starring in three films this year: Joker, opposite Robert DeNiro and Joaquin Phoenix, the crime drama Wonderland with Mark Wahlberg, and Sword of Trust, which premiered at SXSW. Read on.

Lisa Taback (COM'89)
A lot of talent goes into making an Academy Award–winning film. When a best picture winner's name is dramatically pulled from an envelope and announced, directors, producers, actors, editors and cinematographers all share in the glory. But behind the scenes, another effort has likely helped the film reach that stage: a focused PR campaign to generate awards-season buzz. In this niche field, Taback has spent nearly three decades distinguishing herself as one of Hollywood's most successful strategists. Her successes stretch from 1990s best picture honorees The English Patient and Shakespeare in Love to recent winners Spotlight and Moonlight. Read on.
Alex Gitungano (SPH'19)
In 2014, Alex was 25 and living in the war-torn African nation of Burundi when missionaries came to him with an almost unthinkable request: Would he accompany a little boy to America? Leo Ikoribitangaza had suffered horrific facial burns in a cooking fire when he was two, and because he was at risk of infection, he desperately needed life-saving surgeries that American doctors would perform free. Today, the lives of both Leo, now nine years old, and Alex are forever changed—and eternally entwined. At the 2019 SPH Convocation, he and Leo, holding hands, walked across the stage in matching scarlet robes, and earned a standing ovation. Gitungano recently accepted a job as a planning and program implementation manager at the Massachusetts Executive Office of Health and Human Services. He's also appealing the US Citizenship and Immigration Services' decision denying his request for asylum (Leo has a green card). "God has been generous to us," Gitungano says. "Now I need to get on my feet." Read on.

Sarah Silbiger (COM'18)
On the eve of the 2016 election, Silbiger began plotting a postcollege move to Washington, D.C. in She applied for about 50 internships, she says, before landing at Roll Call, the Washington newspaper and website covering Capitol Hill, in 2018. She moved to the New York Times a few months later and soon found herself in the Oval Office. Now a freelancer with a steady flow of work from the Times, the Washington Post, the Getty, Reuters, and other major news outlets, Silbiger is photographing D.C.'s biggest names—Trump, Pelosi, Mueller—on a daily basis. Read on.
Reza Ghaffarivardavagh, Stephan Anderson, Xin Zhang & Jacob Nikolajczyk
"Today's sound barriers are literally thick heavy walls," says Reza Ghaffarivardavagh. Although noise-mitigating barricades, called sound baffles, can help drown out the whoosh of rush hour traffic or contain the symphony of music within concert hall walls, they are a clunky approach not well suited to situations where airflow is also critical. Xin Zhang and Ghaffarivardavagh were enticed by an alluring question: "Can we design a structure that can block noise but preserve air passage?" Leaning on their mathematical prowess and the technology of 3D printing, it turns out they can. In a January 2019 Physical Review paper, the researchers argue that it's quite possible to silence noise using an open, ringlike structure, created to mathematically perfect specifications, for cutting out sounds while maintaining airflow. Read on.
Women's Beanpot Champions
After 38 years of waiting, the BU women's ice hockey team finally reclaimed the Beanpot trophy. It marks the Terriers' first Beanpot win as a varsity program and only their second title ever. BU had to overcome Northeastern, then the third-ranked team in the country, and host team Harvard along the way. Read on to see 11 memorable highlights of the year in sports for Boston University.