2019 Asian Alumni Business Forum
The Asian Alumni Business Forum 2019 and two dinners were held November 1–2 in Bangkok, Thailand.
More than 260 registrants hailed from 16 different countries. Each of the weekend's three events was sold out a month in advance, breaking records for the fastest sellout in the Forum's history.
The weekend kicked off with a Welcome Dinner at the Siam Society. Alumni and fellow guests had a great time enjoying a re-creation of a traditional open-air temple fair. A marching drum band led guests into the main hall for a welcome toast, after which guests enjoyed local street food at food stations in the garden.
The evening featured three speakers. First, Khachit Chatchawanit, Deputy Permanent Secretary of the Bangkok Metropolitan Administration, delivered welcome remarks geared especially to out-of-town guests.
Next, Steve Hall, BU's Vice President for Alumni Relations, took the floor and presented updates from BU, including a wrap-up of the University's first comprehensive campaign, Choose to Be Great: The Campaign for Boston University.
Chutinant Bhirombhakdi (CAS'80) was the final speaker of the night. He shared his experience with and perspective on the sustainability of successful family-owned businesses. His full talk can be seen in this video.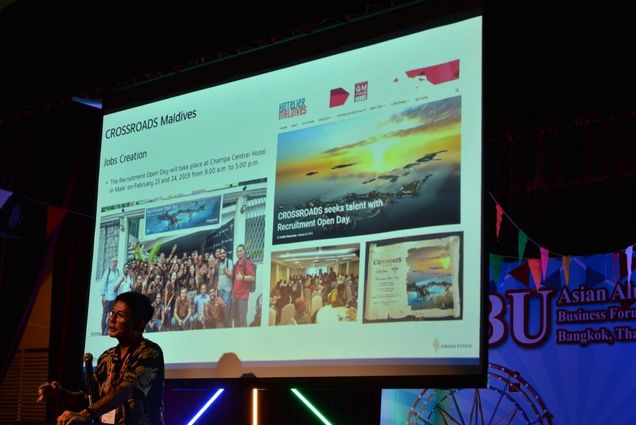 A performance of Ramwong dance brought the evening to a close. Highlights from the Welcome Dinner can be seen in this video.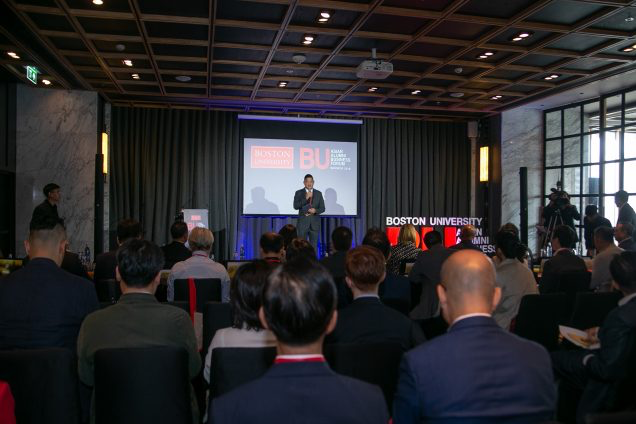 The Business Forum was held the next day, November 2, at the Bangkok Marriott Marquis Queen's Park. Attendees learned about "Social Innovation & Global Leadership for a Sustainable Future."
The morning session featured three alumni speakers and BU Questrom School of Business Professor Nalin Kulatilaka.
Areepong Bhoocha-Oom (Questrom'78) talked about Sustainable Energy and Society; Masahito Namiki (Questrom'99) shared his expertise in How to Infuse Sustainability Initiatives into Your Brand; Pakorn Peetathawatchai (Questrom'96) shared his insights on the Thai Capital Market in Transition; Tanavich Chindapradist (MET '92) talked about Moving toward Sustainable Development Goals with Gig Economy Phenomena.
Nalin Kulatilaka, Wing Tat Lee Family Professor of Management and Professor of Finance at BU, talked about socially responsible investments, and provided examples from the Susilo Institute for Ethics in the Global Economy at the Questrom School of Business.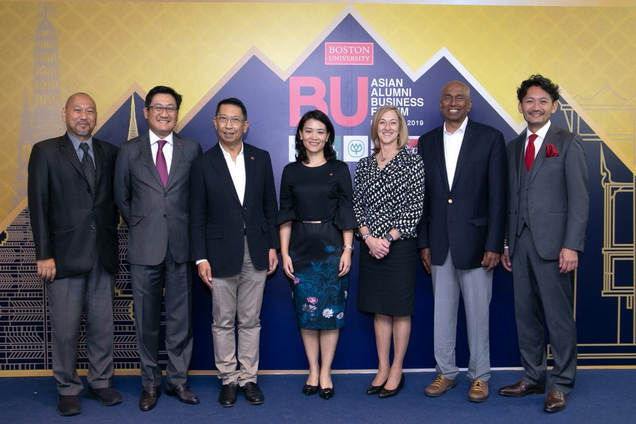 The afternoon alumni panel discussion on Global Hospitality Leadership was moderated by Arun Upneja, Dean and Professor of the BU School of Hospitality Administration. The panel was made up of BU alumni industry leaders representing a wide range of experience: Manuel Alvarez (CAS'96), Chanin Donavanik (Questrom'80), and Shivika Kothari (SHA'15).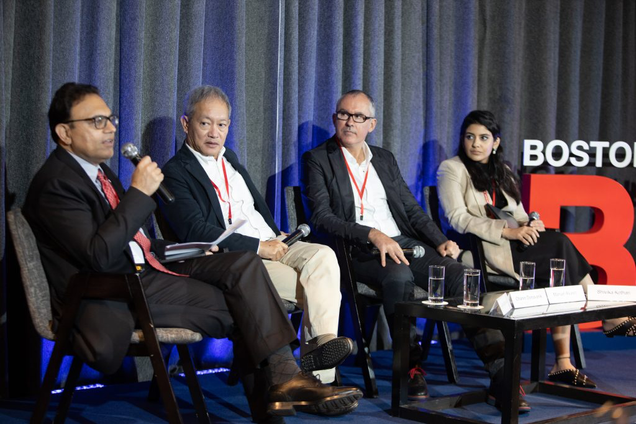 Speaker bios can be found here.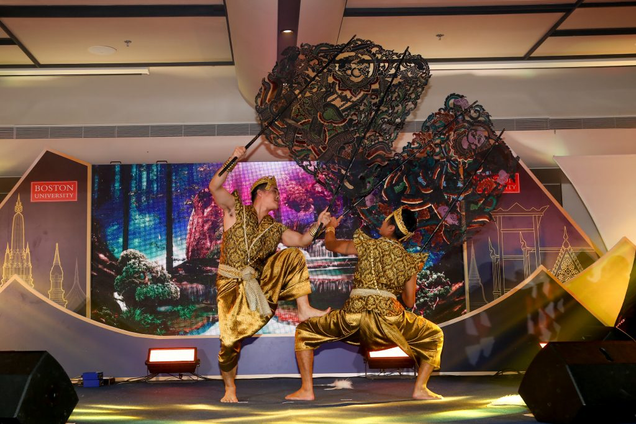 The weekend ended with the spectacular Gala Dinner, which also took place on Saturday, November 2. The evening featured two alumni speakers. First, Chattan Kunjara Na Ayudhya (Pardee'87) talked about Thailand's ASEAN Chairmanship 2019, including fascinating tourism data.
Next, Suphachai Chearavanont (Questrom'89) shared his perspective on The Future of Southeast Asian Digital Connectivity.
Attendees also enjoyed performances by two alumni talents, Vitoon Sila-On (SHA'90) with Cherry from The Voice Thailand, followed by Burin Boonvisut (MET'00,'01) with live band.
The BU Alumni Association would like to extend a special thanks to the Bangkok Planning Committee 2019.
We look forward to seeing you again in Kuala Lumpur in November 2020!