Why am I unable to log in?
Wherever you are prompted to log in, you should
use your full BU email address (as login@bu.edu)
and the password you use to access email, as shown below.
If your login usually works but doesn't this time,
try clearing your saved (cached) password. Sign in with the wrong password, let it fail, and then sign in with the correct password.
If you are still unable to log in, please submit a Help request.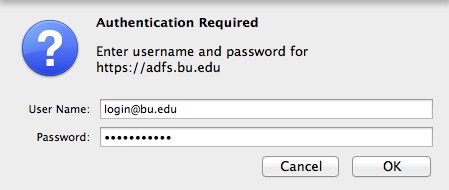 Where I can learn more about doing a meeting?
Information related to meetings is provided on the Lync Meetings page.
<"h3″ class="bu_collapsible">"Can"h3″>
Yes! You do not need a meeting invitation in order to collaborate with multiple people.
On a Mac, if you are chatting with someone and would like to include someone else, you should go to the "gear" icon in the upper right corner of your chat window, select "Invite by Name or Phone Number" and add in the name of the additional person.

In Windows you would hover over the blue participants icon and "Invite More People."

Do I need to use the VPN when I'm off campus?
Regular use of the VPN is not required for Lync. However, faculty and staff using the full Windows client are subject to the Microsoft Enterprise Agreement (MSEA) which requires a check-in to the BU server within a month of installation and then every six months. If your computer is off campus at that time, or is a home-based computer, VPN will be required in order for Lync to complete the check-in. More information is available on Using Office at Home.
Q & A not working? You can enable Instant Messenger instead.
If you find that your Q&A Session within a meeting does not work, you might need to switch to chat instead, following the steps below.
As a workaround, you can enable Instant Messenger to work instead.
1. Restart IM by clicking on the Presentation icon (looks like a monitor – see below) to "Manage Presentable Content."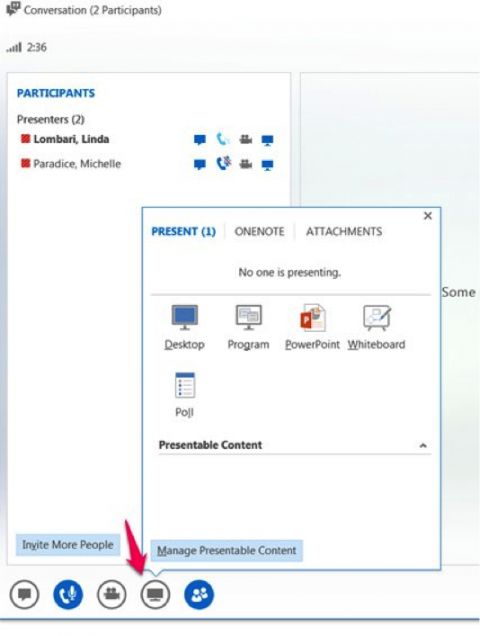 2. A "Presentable Content" window will open and you will want to click on the Q&A "Stop Presenting" choice.
3. Then "Close" and you will get a pop up message that you should click to "Turn on Meeting IM".
Having trouble with audio, screen sharing, or some other feature?
If you are in a meeting and there's a component of Lync that is not working properly, it should help to restart your connection to the meeting. Simply, Exit and then come back in again. However, if you find that the problem occurs consistently, please submit a Help request.
Why is a string of random characters appended to some of my Contacts?
If you have someone in your Contacts list who was recently migrated from AD2 to AD, you will notice that a long string of characters is now preceding their email address in your Contacts list, as shown below. These migrated Contacts will no longer function – you should delete them and add the Contact again. 

My Lync chat history is not being stored in Outlook.
Lync settings may be set to not store your chat history.  To verify, in Lync click the drop down to the right of the gear (on the right side of the Lync window).  Select "Tools," then "Options."  On the "Personal" tab, verify that "Save IM conversations in my email Conversation History folder" is checked.  Additionally, note that Outlook will not save Lync conversation history that took place using the Lync mobile application.
Can I use Lync on my VDI desktop machine?
A VDI user can use Lync. However, those accessing Lync from a VDI desktop machine will experience some limitations, as described below:
If a regular computer user starts a chat with a VDI user and then the regular computer user starts video, the VDI user does not see the video.
If a regular computer user starts a meeting (through an Exchange meeting invite) and then starts video, the VDI user does see the video.
The VDI user can't hear Lync VoIP audio in either of the above instances.
VDI users can't broadcast audio or video via Lync.
Why do there appear to be some components or features of Lync that I can't see?
Some Lync training materials show functionality that is not currently part of BU's instance of Lync. Examples of this include the dial pad and the ability to associate a picture with your profile.

Why can't I find the dial pad in my instance of Lync?
Some Lync training videos present a dial pad with which to make outgoing VoIP calls to non Lync users. However, the dial pad and its associated functionality is not currently part of BU's instance of Lync.

Why can't I change my picture in Lync?
The option to change a picture is not currently provided in BU's instance of Lync.
What are the Lync limitations if I am using the iPad app?
You cannot present meeting content from Lync for iPad. However, you can view shared PowerPoint presentations and see desktop and applications shared in the meeting. Viewing of content is supported while attending Lync meetings or ad-hoc audio or video conference calls with 3 or more people.
I don't want Lync to automatically open every time I log in to my computer.
In Lync, click the drop down to the right of the gear (on the right side of the Lync window).  Select Tools->Options.  On the Personal tab, deselect "Automatically start Lync when I log on to Windows."
Which Lync features are available on various platforms?
What happens if I opt to Give Feedback or Contact Microsoft Support?
You are welcome to give feedback to Microsoft. However, to get support for Lync at BU, you'll want to contact the IT Help Center. You can submit a Help request through this web site, write to ithelp@bu.edu or call 617-353-4357.