Fighting Crime? There's an App for That
BU Law and Computer Science students develop app to help prosecutors combat human trafficking.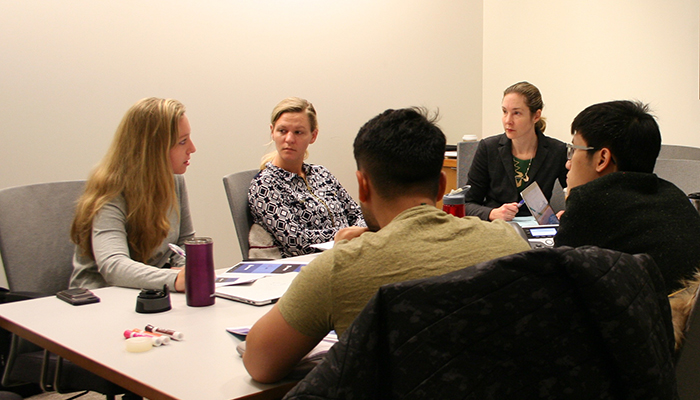 When Massachusetts passed a law criminalizing human trafficking, including sexual servitude and forced labor, the idea was to marshal the state's resources to combat the growing problem, which has been described as the second largest criminal industry in the world.
But despite the state's efforts, there have been few successful prosecutions under the law, which took effect in 2012. And, according to Boston University School of Law Clinical Associate Professor Julie A. Dahlstrom, who worked on the law's passage, there have been zero successful state prosecutions specifically for labor trafficking.
Two of Dahlstrom's students in the Immigrants' Rights & Human Trafficking Program—Kelsey Jones ('18) and Meghan Poole ('19)—hope to change that. With an app.
Working with a pair of students affiliated with BU Spark!, an initiative of the Rafik B. Hariri Institute for Computing and Computational Science & Engineering, Jones and Poole are developing a multi-functional app to help law enforcement personnel identify victims of labor trafficking. BU Law students have partnered with the Massachusetts Attorney General's Office for several years, including by leading trainings for prosecutors on labor trafficking and, most recently, creating a manual on the topic.
The students decided that a manual for investigators felt too "overwhelming," says Poole, who chose BU Law specifically to work with survivors of human trafficking, as part of the school's Immigrants' Rights & Human Trafficking Program.
Jones agrees.
"In today's age of technology, a 40-page manual isn't what people need," says Jones. "We wanted to…get the information to people in a more accessible way that would lead to more people engaging it."
To move the idea into reality, Dahlstrom turned to BU Spark!, a program that launched in 2016 to allow students to work together in a multi-disciplinary way to develop technology product solutions for complex problems. Dahlstrom worked with Ziba Cranmer, the director of BU Spark, to supervise the students' work on the anti-labor trafficking app. The collaboration has been informally dubbed the "Forced Migration and Human trafficking Innovation Co-Lab" and includes participants from the Pardee School for Global Studies Forced Migration and Human Trafficking Initiative whose students have also been working on multi-disciplinary projects with BU Spark!
Cranmer says the collaboration is good for everyone.
"The law school students bring the domain knowledge and their passion for the issue," she says. "And our students are really excited to put their skills to use in something that somebody actually needs and is worthwhile."
Dahlstrom, who directs the Immigrants' Rights & Human Trafficking Program, says Poole and Jones have "gone above and beyond in terms of embracing this collaboration. Increasingly, the law connects with other fields, and attorneys have to navigate these complex questions in practice. They are learning skills that are directly transferable to their careers."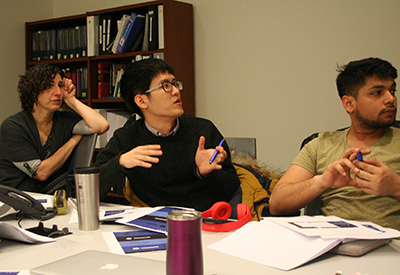 To ensure the app is useful, Jones and Poole spoke with lawyers in the Attorney General's Office and a local police chief to see what would be most helpful.
"After talking to them, we realized they need tools to better identify labor trafficking," which is "hidden in the shadows," Poole says. "People aren't seeing it."
That is exactly why the work is so important, according to the state's top prosecutor.
"The Attorney General's Office is pleased to partner with Boston University to develop this technology to combat labor trafficking in Massachusetts," says Meggie Quackenbush, a spokesperson for the office. "Labor trafficking is an often invisible problem that presents significant challenges to investigators and law enforcement officials working to hold perpetrators accountable and provide victims with the support they need. This app provides investigators with tools that will help them identify victims and connect them with service providers."
The app will feature training and resources for first-line responders, including sections on the applicable law, best practices, and available resources for survivors.
One of the students' earliest setbacks was a technical one. They had initially planned to develop the app for Android devices, but later learned that state and local governments generally provide their employees with iPhones.
"It's a whole other language," explains computer science student Young Jun Choi (CAS Computer Science'19), who, along with Pranav Raikundalia (GRS Computer Science'19), is working on the app with the law students.
As a result, all the students have learned that gathering information from users early in the process is critical to developing the right technical solution. Nevertheless, Choi and Raikundalia say the experience has been well worth their time.
"As a computer science engineer, I can work in different kinds of companies, not only tech companies," Choi says. "I have to learn how to collaborate with other industries. This is a really good opportunity to learn how we can try to be in the same boat."
Poole echoed that sentiment.
"If I've learned anything, it's that lawyers can't solve all the world's problems," she says. "This is just a great example of the importance of taking an interdisciplinary approach to a problem like human trafficking."
Reported by Rebecca Beyer
Related News