Category: Grants & Funding
As they finished out the sixth and final week of the 2018 GROW (Greater Boston Research Opportunities for Young Women) program, the 12 summer interns present their capstone to the six weeks of research conducted during a Poster Session held on Friday, August 10th in the Science Metcalf Building Lounge located on the first floor from 2:00 – 4:00 PM.

LERNet was created in 1998 to provide programming for K-12 students interested in pursuing the STEM fields and to encourage teacher development. In recent years, Brossman says, she has become more focused on young women, because they face a gender imbalance in STEM fields. The GROW program came into being this year after Deborah Perlstein, a CAS assistant professor of chemistry, came to Brossman looking for ways to broaden the impact of a research project so that it would satisfy a National Science Foundation (NSF) grant requirement. After her project was funded for one student, they decided to go further.

"For young women interested in careers in math and science, it's really important for them to have an opportunity to get in lab and see what that's like," says Perlstein. "It's also important for them to have the opportunity to see some (female) role models. That was important to me in choosing my career path.

"Brossman and Perlstein put together a program with funding from sources including Vertex, Pfizer, and other companies; LERNet; the chemistry and biology departments; CAS; BU's ARROWS (Advance, Recruit, Retain & Organize Women in STEM);  and existing NSF grants, all adding up to about $30,000. Despite a late posting of the application, in April, some 60 rising juniors and seniors from Greater Boston high schools applied. A dozen students were placed in BU chemistry and biology labs and assigned research projects and graduate student or post-doc mentors.

"I wanted to create an accessible program for local students who may not be able to afford some of the existing programs or who needed to work during the summer," Brossman says. "We wanted to give the students a stipend so we could eliminate any financial barriers to participation."

Here are some photos from this years Poster Session:
Prof. Reinhard was recently awarded a 3 Year renewal of her National Science Foundation Division of Chemistry (NSF-CHE) Grant titled: Plasmon Coupling Correlation Spectroscopy. This will help Prof. Reinhard and his research group investigate the unique optical properties and strong field localization properties of plasmonic nanoparticles as they are important components of many chemical sensing technologies and Efield enhanced spectroscopies. The research will advance the field of chemical imaging and sensing by introducing the concept of correlation spectroscopy to localized surface plasmon resonance (LSPR) spectroscopy. The ambitious research plan will utilize distance-dependent near-field coupling between plasmonic nanoparticles that cause spectral fluctuations in the far-field to monitor interparticle separations at signal intensities that are manifold higher than that of conventional dyes. Importantly, due to their superb photophysical stability plasmonic nanoparticles overcome existing limitations of fluorescence based correlation approaches in terms of maximum observation time and will facilitate a continuous signal correlation over a much longer time than is currently possible with fluorescence based approaches entirely without blinking. The research funded by this grant is transformative as it will facilitate the application of optical signal correlation techniques to systems that have, so far, not been accessible with conventional fluorescence-based correlation methods.
Besides the scientific impact, the research project has a series of educational and outreach components as well as detailed plans to encourage the participation of underrepresented groups in science and engineering. The grant will allow for the development of new course work and training opportunities for students from the high-school to graduate school level. Furthermore, Dr. Reinhard will organize annual workshops for students from inner city high schools, which typically have high representations from groups underrepresented in science and engineering. His main goal is to enthuse these students about the research of the proposal and to attract them to a career in STEM fields. The course material developed during the lifetime of the project will be disseminated via the PI's homepage to further enhance the broader impact of this proposal.
Prof. Doerrer was recently awarded a 3 Year renewal of her National Science Foundation Division of Chemistry (NSF-CHE) Grant titled: Oxidation Catalysis with 3d Complexes Bearing Fluorinated Alkoxide Ligands. This will help Prof. Doerrer and her research group continue their investigation into oxidation catalysis. The project will focus on developing more effective and sustainable catalytic reactions for chemical synthesis, which is critical for the 21st century. Oxidation of C-H bonds remains a central component of chemical transformations with many remaining challenges. This work builds on her recent success with Cu/O2 chemistry that has demonstrated the effectiveness of fluorinated alkoxide ligands to make highly reactive species for oxidizing C-H bonds. Recently her group has demonstrated catalysis with two different systems, and one reaction that differentiates the two systems. Understanding this difference, extending this success to other earth-abundant metals and potentially to water as a reaction medium are the targets of this award. Proven synthetic and characterization methods will be used, augmented by new ideas and some recent discoveries that hint at new and improved conditions for these needed chemical reactions.
We are happy to announce that Associate Professor Linda Doerrer was recently awarded a $110,000, grant titled "Lanthanide-Based Polymerization Catalysts with Water Resistant Ligands" from The American Chemical Society. The funding, which will last for 2 Years, will help Professor Doerrer explore a family of O-donor ligands, both aryloxide and alkoxide, that are heavily fluorinated in order to further the development of more water-tolerant catalysts, which would be a boon to many industrial polymerization reactions.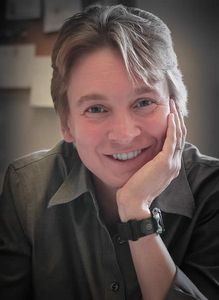 Congratulations to Dr. Doerrer for this exciting Award!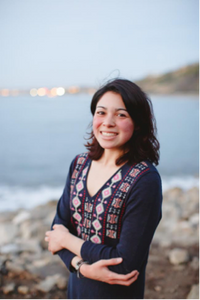 Melissa Marquez, a second-year graduate student in Professor Deborah Perlstein's group, has recently received a 2017 NSF Graduate Research Fellowship. She earned a Bachelor of Science in biochemistry with a minor in mathematics from Mount Saint Mary's University and as an undergraduate conducted research in Dr. Eric Stemp's lab focusing on DNA-protein cross-linking resulting from oxidative damage to DNA. She was introduced to Boston by participating in Tufts University's NSF Research Experience for Undergraduates (REU) program in the summer of 2013 and worked in Dr. Mitch McVey's lab where she focused on determining the lethality stages in Drosophila melanogaster Werner Syndrome exonuclease mutants. Along with chemistry, Melissa enjoys serving others in their journey toward their science aspirations. She is currently a fellow for the BU NSF GK-12 Global Change Initiative (GLACIER) program where she works at Pierce School in Brookline with a 6th grade science teacher, an officer for BU Women in Chemistry, and a co-leader of the BU Graduate Women in Science and Engineering (GWSE) Girls with Goggles club, an outreach program that provides weekly hands-on activities for middle school girls.
Through the support of the NSF, Melissa aims to obtain a greater understanding of how iron cofactors are biosynthesized through the cytosolic iron sulfur cluster assembly (CIA) pathway. This system is responsible for iron sulfur (FeS) cluster biogenesis for proteins found outside of the mitochondria in eukaryotic organisms. Essential processes such as DNA replication and repair, transcription, and translation, are all dependent on at least one FeS cluster containing enzyme. A key question is: how are these DNA metabolizing enzymes, also termed targets, recognized by the CIA pathway? Melissa plans to discern the mechanism of CIA target recognition by investigating Cia2, a vital component of the CIA targeting complex known for executing target identification in the last step of the system. Not only is cluster targeting poorly understood for the CIA pathway, but it is not known how any cluster biogenesis pathway identifies its targets. By examining how targets are recognized, this work can provide a model for how target recognition is executed for other cluster biogenesis systems. Melissa is primarily interested in pursuing a career in which she can simultaneously work on innovative experimentations closely related to therapeutic development and reigniting students' appreciation for deeper learning and, ultimately, love for science.
Please join us in congratulating Professor Xi Ling who has just been selected to receive a University Provost's Career Development Professorship. This award is given to a a junior faculty member who shows exceptional promise, and is particularly focussed on advancing the participation and success of women in the area of Life Sciences.  This is a three-year award with funding to support research and scholarly expenses.
Congratulations to Professor Ling on the great start to her independent research career!
Professor Whitty was awarded a 4 Year grant by the National Institute of Health (NIH) to further his studies of NF-kB Modulators. The title of the Research Project is: Structure and Mechanism of NF-kB Essential Modulator (NEMO).
This funding will allow Professor Whitty and his Co-PIs Professors Karen Allen of Chemistry and Thomas Gilmore of Biology to advance our understanding of the signaling scaffold protein NF-κB essential modulator (NEMO), a component of the inhibitor of κB kinase (IKK) complex, which is a key regulatory node for NF-κB signaling. In addition to NEMO playing a role in the chronic hyperactivity of NF-κB in human diseases, mutations in NEMO are found in several human immunodeficiency diseases. The long-term goals of the project are to understand how scaffolding proteins such as NEMO use conformational change to regulate the functional interactions between the signaling proteins that are bound to them, to elucidate the structural basis for disease-causing mutations in key regions of NEMO, and to identify new target sites for small molecule drugs that modulate NEMO activity.
Congratulations to Professors Whitty, Allen and Gilmore and their research team!
Congratulations to Professor David Coker for receiving a National Science Foundation Grant (NSF) totally $435,000. This project will fund Dr. Coker and his team's research into two areas. The first project will focus on extending, first principles, excited state quantum chemical methods and conformational sampling techniques to compute the distributions of parameters in models of the biological light harvesting systems that have received much attention in recent ultrafast nonlinear spectroscopy studies. Such models are usually employed to interpret the results of these averaged experiments. These best-fit, average models have many parameters that can be difficult to estimate and they are not generally unique, often leading to ambiguous interpretation. The theoretical methods being developed by the Coker group, however, enable detailed analysis of fluctuations underlying the average and the sampling of an ensemble of unique models that include, for example, highly performing structural outliers whose characteristics will give important understanding for optimal design, rather than mean behavior. In the second project, dissipative quantum dynamical methods are employed to compute spectroscopic properties and study relaxation processes including energy transport and charge separation using the ensembles of computed models. Preliminary work on these projects was featured in a recent publication in the Journal of the American Chemical Society.[1]
Dr. Coker is a Professor of Theoretical and Physical Chemistry and is the Director for BU's Center for Computational Science (BU CCS). The Coker Group focus their research the development of new theoretical and computational methods to explore how electronic and vibrational excitation of reactant molecules in different environments can influence the outcome of chemical reactions of these molecules. Because electronic and vibrational relaxation of excited reactants is fundamentally quantum mechanical in nature, the methods they use must accurately describe the transfer of energy between the classical environment and the quantal reactive system.
[1] "First-Principles Models for Biological Light-Harvesting: Phycobiliprotein Complexes from Cryptophyte Algae", M.K. Lee, K. Bravaya, and D.F. Coker, J. Am. Chem. Soc., 2017, 139 (23), pp 7803–7814
On May 2 BU Nanotechnology Innovation Center (BUnano) held its inaugural symposium "Nanotechnology for Imaging". The symposium focused on The "Nanotechnology For Imaging" symposium will be focused on highlighting accomplishments of BUnano faculty and students, and featured keynote presentation by 2014 Nobel Prize winner for Chemistry, Professor Stefan Hell.

BUnano Center Director Prof. Mark Grinstaff welcomed the audience in the packed Metcalf Trustee Ballroom. and presented BUnano's mission to promote a vibrant and dynamic community for nano-related disciplines at BU. What distinguishes BUnano from other nano centers in the Boston area is its connection to the Boston Medical Center and the BUSM.  BUnano offers pilot grants to foster and support collaborative research of BU faculty across campuses in their pursuit of finding nano solutions to real life problems in technology and medicine.

The morning session featured a lineup of talks by BUnano faculty. Dr. Luca Dal Negro opened the scientific portion of the symposium with his talk on "Materials and Fields @ the Nanoscale: Optical Engineering of Resonant Nanostructures," followed by Dr. Allison Dennis's talk  "Cadmium-free Quantum Dots for Imaging in the Visible and Near Infrared" and the joint presentation by Drs. Joyce Wong and Victoria Herrera entitled "Janus Nanoparticles for Cancer Theranostics." Dr. Luca Dal Negro is an Associate Professor of Electrical and Computer Engineering, Materials Science and Engineering, and Physics at BU. He introduced his group's research related to the development of novel plasmonic materials and nanostructures for spectroscopy. Dr. Allison Dennis, Biomedical Engineering Assistant Professor, discussed how her group uses cadmium-free Quantum Dot chemistries for applications in fluorescent biosensing and improved biomedical imaging. Dr. Joyce Wang, a Professor in Biomedical Engineering and Professor of Medicine Dr. Victoria Herrera discussed their interdisciplinary collaboration on developing theranostic Janus USPION for enhanced MRI imaging and targeted nucleic acid therapy to treat non-druggable cases, especially in pancreatic cancer.

After lunch break, Dr. Selim Unlu, a BUnano affiliated faculty and professor of Electrical Engineering introduced the keynote speaker of the symposium, Prof. Stefan Hell. He is the current Director at the Max Planck Institute for Biophysical Chemistry in Germany. In 2014 Prof Hell was awarded the Nobel Prize in Chemistry for his pioneering work in the field of ultra high resolution fluorescence microscopy. Stefan Hell succeeded in radically overcoming the resolution limit of conventional optical microscopes – a breakthrough that has enabled new ground‐breaking discoveries in biological and medical research.

Prof. Hell's exciting talk on flurorescence nanoscopy featured his recent research on how to neutralize diffraction in order to achieve imaging of cells and tissues at the nanoscale. For close to an hour, Prof Hell held the audience's attention captive, transforming them to the realm of STED microscopy infecting them with the possibility of capturing images of the nanoworld.

Twenty students and postdoctoral fellows were selected to present their posters at the symposium. Ms Qianyun Zhang, a student in Dr. Bjoern Rheinhard's Lab, received $500 for her poster "Illuminating EGFR clustering and its Effects on Signal."

The symposium concluded with BUnano's version of the popular show Shark Tank, "Terrier Tank." The competition was moderated by Dr. Ahmad Khalil, Biomedical Engineering Assistant Professor at BU. Five finalists presented their innovative translational research idea to a panel of judges. The panel included BUnano Entrepreneur-in-Residence Dr. Jill Becker (CEO and Founder of 02139 Inc), Dr. David Coleman, Chair of the Department of Medicine at BUSM, Peter Marton of BU's Questrom School of Business and Buzz Lab, Jess McLear of Launchpad Venture Group, and  Dr. Terry Russell, Managing Director of Interface Ventures. It was truly exciting to see undergraduate students, graduate students and postdoctoral associates striving to take a nascent idea and translate into a marketable product which would provide tangible benefit to our society.

After careful consideration, the judges awarded the $10,000 prize to CatchAu – an environmentally conscious wastewater treatment idea by a team of graduate students, Mingfu Chen, Uros Kuzmanovic, and Nicolas Shu.
The Department of Chemistry and Chemical Instrumentation Center (CIC) was recently awarded a National Institute of Health Shared Instrumentation Grant (NIH SIG) led by Dr. Norman Lee, Director of CIC, to acquire a MicroScale Thermophoresis (MST) instrument. This instrument will enable investigators in Chemistry, Biology, Biochemistry and others to advance their research in life processes and allow their investigations to move into new areas that would enrich student and postdoctoral training. The instrument's capabilities will also enhance active research projects involving protein-protein and protein-ligand interactions as well as protein conformation changes. The new MST instrument will enhance our biophysical capability at BU to meet the current and evolving research needs of the faculty and students.
Congratulations and a special thank you to Dr. Lee and all faculty who participated on the Departmental grant for their efforts on getting this new MicroScale Thermophoresis instrument!