Aaron Worth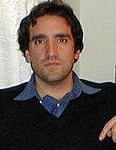 Associate Professor of Rhetoric
Education:
BA English and Theatre, Bates College
MA English Literature, Brandeis University
PhD English Literature, Brandeis University
Teaching interests: Rhetoric and Technology, History of the Essay, Writing and Media History
Research interests: Victorian Literature and Culture, History of Science, Cognitive Literary Studies, and Media Studies
Selected publications:
Book
Imperial Media: Colonial Networks and Information Technologies in the British Literary Imagination, 1857-1918 (Ohio State UP, 2014).  https://ohiostatepress.org/index.htm?books/book pages/Worth Imperial.html


Articles
"'Thinketh: Browning and Other Minds," Victorian Poetry 50.2 (Summer 2012): 127-146.
"Arthur Machen and the Horrors of Deep History," Victorian Literature and Culture 40.1 (2012): 215-227.
"Imperial Transmissions: H.G. Wells, 1897-1901," Victorian Studies 53.1, pp. 65-89 (Fall 2010).
"Tennyson and the Poetics of Alterity," Victorian Newsletter 117, pp. 75-89 (Spring 2010).
"ALL INDIA BECOMING TRANQUIL: Wiring the Raj," Journal of Colonialism and Colonial History 9:1 (Spring 2008).
"Edith Wharton's Poetics of Telecommunication," Studies in American Fiction 36:1, pp. 95-121 (Spring 2008).
Other professional activity and/or awards:
Conference organizer/host, Northeast Victorian Studies Association Conference at Boston University (Spring 2013).
Editorial Board, Impact: A Journal of Interdisciplinary Teaching and Learning (2011).