The Art of Science: Howard Gotlieb Archival RSRCH Center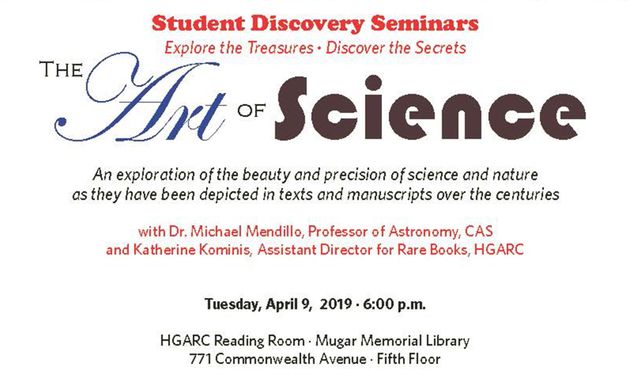 The Howard Gotlieb Archival Research Center is hosting the interactive Student Discover Seminar "The Art of Science" TOMORROW, April 9, with Professor of Astronomy Dr. Michael Mendillo and librarian Katherine Kominis in an exploration of the beauty and precision of science and nature as they have been depicted in texts and manuscripts over the centuries. At this Student Discovery Seminar, students can touch, hold and read original manuscripts, illustrations and books from our Rare Book and Manuscript Collections. Items on display will include scientific data in visual form from one of the 1st Medical Atlases from 1555, 2 diagrams of deaf education from Alexander Graham Bell, infographics from W.E.B. DuBois, Florence Nightingale's medical records from the Crimean War, and star charts from Professor Mendillo's personal collection!
This event is free for all BU students—we hope to see you there!
EVENT: The Art of Science – A Student Discovery Seminar
DATE: Tuesday, April 9, 2019
TIME: 6:00 PM
LOCATION: HGARC Reading Room, Mugar Memorial Library, 771 Commonwealth Avenue, Fifth Floor
ADMISSION: Free and Open to Students with BU ID
Image Credit: HGARC