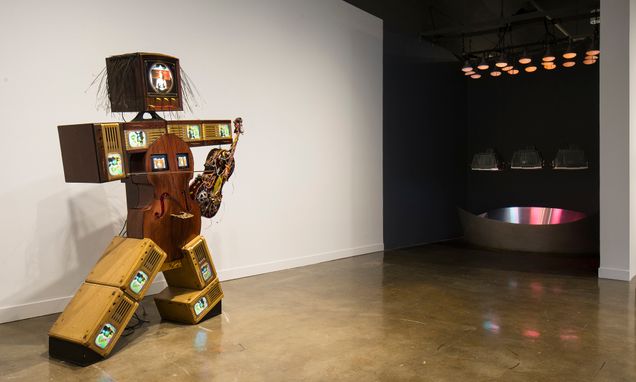 On Thursday, April 12, 2018 from 9:00 am – 1:00 pm the Art World will tour the exhibition installation of Before Projection: Video Sculpture 1974-1995 at Massachusetts Institute of Technology (MIT) List Visual Arts Center. The program will begin with a Public Art tour showcasing a small selection of MIT's extensive world-renown public art collection with Yuri Stone, Assistant Curator and Public Art Curator.
Out of the 60+ public works on campus, this tour will be highlighting 5-10 public artworks near the List Center headquarters in the Wiesner Building. The tour will include sculptural works both indoors and outdoors, a large-scale floor installation, and a number of architecturally-integrated site-specific artworks including but not limited to artwork by Kenneth Noland, Louise Nevelson, Alexander Calder, Antony Gormley, Sol LeWitt, Mark di Suevero, and Anish Kapoor. Additionally, Yuri will offer insight into the percent-for-art program at MIT, the process involved in commissioning public artworks, and forthcoming projects that will be realized on campus in the next 5 years.
The group will continue with a discussion in the List Center offices with Betsy Willet, Marketing and Development Associate. This discussion will consider marketing and social media strategies used at a contemporary art museum. Specifically, how to activate your collection and exhibitions through social media avenues and engage your intended audiences. The day will close out with an exhibition tour of Before Projection: Video Sculpture 1974-1995 with Emily Garner, Campus and Public Programs Coordinator, and include discussion on how to activate the exhibitions through programmatic engagement.
This special visit is a collaboration between Professor Lanfranco Aceti, Program Director for the Arts Administration Department at Boston University and Emily Garner, Campus and Public programs Coordinator at MIT.
Special thanks to Amy Sideris, Administrative Assistant at MIT and graduate student at BU; Samantha Lovewell, Graduate Assistant to the Arts Administration Department at BU; and Louise Cao, Graduate Assistant to the Arts Administration Department at BU.
Biographies:
Yuri Stone is a curator and writer based in Boston, Massachusetts. He is the Assistant Curator at the MIT List Visual Arts Center. Prior, he was the Program Associate at the Renaissance Society at the University of Chicago where he coordinated exhibitions and public programming from 2010-2016. He has been published nationally and internationally, contributing primarily to art periodicals and exhibition catalogs.
Betsy Willett is the Marketing and Development Associate at the MIT List Visual Arts Center and student in the MIT Advanced Study Program. In her role at the List Center, she oversees all social media accounts, and organizes outgoing digital content in addition to writing development and marketing materials. Previously, Betsy was the Development Intern at the Isabella Stewart Gardner Museum. Her writing looks at digital devices in the gallery space.
Emily Garner is the Campus and Public Programs Coordinator at MIT List Visual Arts Center, overseeing MIT Campus Engagement, and programmatic engagement with the public art collections and exhibition program. Additionally, Garner oversees interpretive strategies, visitor experience and additional public programs related to contemporary arts on behalf of the List Visual Arts Center. Garner has held previous positions as Manager of Museum Guide and Public Programs at deCordova Sculpture Park and Museum, Lincoln, MA, Education Associate at Fuller Craft Museum, and Exhibitions Manager at Huret and Spector Gallery, Emerson University. She received her BA in Art History from Michigan State University in 2002 and her Graduate Certificate in Museum Studies from Tufts University in 2007.
Image Credit: Exhibition installation view of Before Projection: Video Sculpture 1974–1995 at MIT List Visual Arts Center, Cambridge, MA (February 8, 2018–April 15, 2018)
Photography: Peter Harris Studio