To start resetting your password, visit www.bu.edu/kerberos, enter your current Kerberos password, and then choose a new password.

If you enter your old password correctly, your password will be reset and you will be all set. However, if you enter your password incorrectly and cannot remember it, click on Forgot login or password located beneath the Password field.
Enter your last name and BU login name and then click on Forgot Password.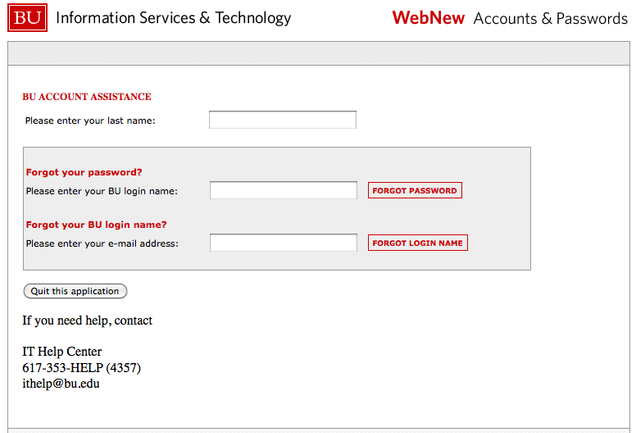 Enter your BU login name and choose a new Kerberos password, then click Continue.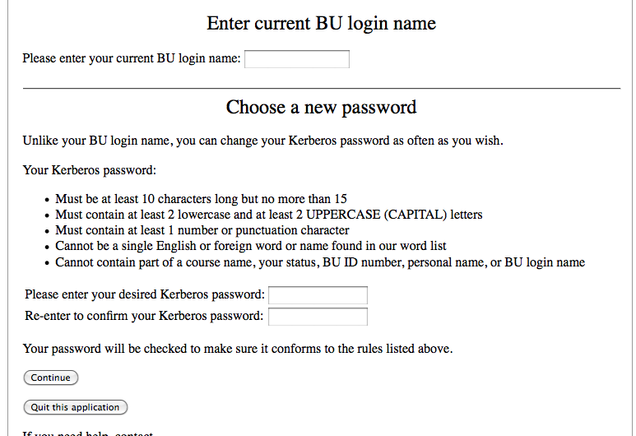 Once you have chosen a new password, you will be asked to confirm the account that we have on file for you. In addition, you must agree that you understand the importance of safeguarding your identity.
After a successful password reset, you will see the screen below for information on showing your BU ID to confirm your identity. NOTE: If you do not have a BU ID, you can provide an alternative form of identification (must be government-issued). If you are unable to show your ID in person, you should contact the IT Help Center to make other arrangements for providing your identification. Also note that assistance with obtaining a BU ID is available from the Terrier Card office.