"MAP's mission is to address structural injustices in academic philosophy and to remove barriers that impede participation in academic philosophy for members of marginalized groups. Through our international organizing team and graduate student-led network of autonomous chapters around the world, we aim to examine and dismantle mechanisms that prevent students from marginalized groups from participating in academic philosophy, as well as to promote philosophical work done from marginalized perspectives, and help improve working conditions for scholars from marginalized backgrounds."
MAP BU values diversity in all its forms as an essential component of philosophy. The mission of this chapter is to promote dialogues about structural injustice of any sort, to offer guidance on thinking and teaching inclusively, and to create a welcoming environment for all students, faculty, staff, and members of our community regardless of their identities.
GREAT NEWS! MAP BU has a brand new email address: mapbostonu@gmail.com. Feel free to contact us and join the team!
Upcoming Events
NEW! GRAD-UNDERGRAD DISCUSSION GROUP. This group meets for the first time on 2/25 to discuss the question, "Can pornography be feminist?" Free pizza!
4/21 – 4/22: BU Graduate Student Philosophy Conference on Sustainability and Environmental Ethics

WHERE: PHO 901, Photonics Center, Charles River Campus
More information coming soon!
MAP FOCUS: Brian Burkhart's Lecture (4/22) on Indigenous Expertise and Environmental Ethics
MAP FOCUS: Roundtable with Philosophers for Sustainability

Feminist Reading Group on Philosophy of Science & Underrepresented Voices
Other Events & Activities
Join BU's 21 Day Racial Equity Challenge and take daily steps to unlearn racism, from reading a journal article to watching a movie. Click here to learn more. MAP's favorite activity? Visiting the landmark Museum of African American History @ Beacon Hill!
Explore BU Diversity & Inclusion's Learning Toolkits, developed to facilitate self-improvement and awareness. Click here to learn more.
Apply to the Center for Teaching and Learning and join their awesome Learning Community on Inclusive Teaching. It's an eye-opening experience (trust us, we tried it!) developed by Boston University and Cornell University (Cornell X). Click here to learn more.
Opportunities for Underrepresented Groups
Philosophy in an Inclusive Key Summer Institutes (PIKSI)
PIKSI-Boston

PIKSI-Boston, founded in 2015, is held at the Massachusetts Institute of Technology and is also supported by the University of Massachusetts Boston.
PIKSI-Boston is now accepting applications for the July 6-15, 2022 program.

PIKSI-Rock

Founded in 2006, PIKSI-Rock is held at the Rock Ethics Institute at Penn State University.
PIKSI-Rock is now accepting applications for the June 1-10, 2022 program.

PIKSI-Logic

Founded in 2018, PIKSI-Logic is held at Northeastern University biannually.
PIKSI-Logic is now accepting applications for the July 25-29, 2022 program.
Cultivating Underrepresented Students in Philosophy (CUSP) at Penn State University
Click here to learn more.
Pittsburgh Summer Program in Philosophy of Science (PS96)
Click here to learn more.
Looking for more opportunities? Check out the APA's collection of resources.
2022-2023 Events:
April, 2023 Identity Politics conference collaboration: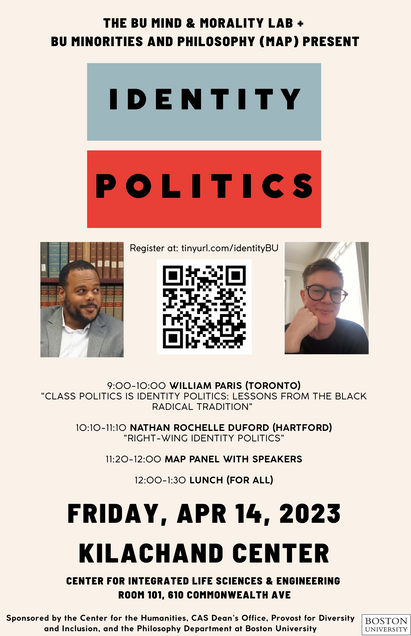 March, 2023: Identity Politics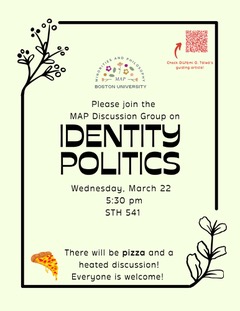 February, 2023: Morally Dubious Art and Artists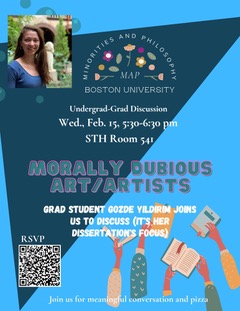 November, 2022: Ethics and Implications of Harmful Desires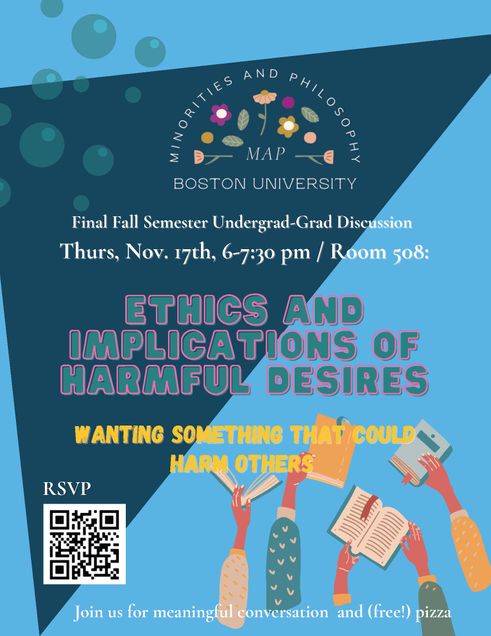 October, 2022: Philosophy of Punishment
Annual Events, 2021 – 2022
Philosophy Graduate/Undergraduate MAP Mixer
Mentor/Mentee Pair Program. To join the program as a mentor or mentee, email bumapmentorprogram@gmail.com for more info.
Annual Women and Gender Minorities Lunch
Book of the Month – March 2022
Sex Itself: The Search for Male and Female in the Human Genome
by Sarah S. Richardson
Human genomes are 99.9 percent identical—with one prominent exception. Instead of a matching pair of X chromosomes, men carry a single X, coupled with a tiny chromosome called the Y. Tracking the emergence of a new and distinctive way of thinking about sex represented by the unalterable, simple, and visually compelling binary of the X and Y chromosomes, Sex Itself examines the interaction between cultural gender norms and genetic theories of sex from the beginning of the twentieth century to the present, postgenomic age.
Using methods from history, philosophy, and gender studies of science, Sarah S. Richardson uncovers how gender has helped to shape the research practices, questions asked, theories and models, and descriptive language used in sex chromosome research. From the earliest theories of chromosomal sex determination, to the mid-century hypothesis of the aggressive XYY supermale, to the debate about Y chromosome degeneration, to the recent claim that male and female genomes are more different than those of humans and chimpanzees, Richardson shows how cultural gender conceptions influence the genetic science of sex.
Richardson shows how sexual science of the past continues to resonate, in ways both subtle and explicit, in contemporary research on the genetics of sex and gender. With the completion of the Human Genome Project, genes and chromosomes are moving to the center of the biology of sex. Sex Itself offers a compelling argument for the importance of ongoing critical dialogue on how cultural conceptions of gender operate within the science of sex.
Meet the Team
Current representatives:
PhD Philosophy Student
Kajsa Kedefors
Undergraduate Senior
Kimberly Schneider
Undergraduate Junior
–
Past representatives:
PhD Philosophy Student
PhD Philosophy Student
Links
Official Crowdfunding Campaign
Barcelona Principles for a Globally Inclusive Philosophy
Transformational HPS (History & Philosophy of Science)
PSA Mentoring Program – The Pacific Sociological Association