2023
Bodies in Context: Epistemological Considerations for a Diverse Society
The Department of Philosophy is thrilled to be hosting the BU Graduate Student Philosophy Conference again this year on March 31 – April 1, 2023. The topic for this year's conference is Bodies in Context: Epistemological Considerations for a Diverse Society.
Our two-day, in person conference will feature seven graduate student presentations and a keynote address. We will also offer a roundtable on Diversity in Academia, exploring the role that philosophy can play in fostering a more diverse and equitable environment.
This event has been organized by PhD students Matilde Carrera, Casey Grippo, Jack Harris, and Lewis Wang. The event is also generously sponsored by The Society for Applied Philosophy, BU Diversity and Inclusion, The Karbank Fellowship and Professor Dahlstrom's fund. We thank all our generous sponsor, our speakers, our fellow PhD students in the Philosophy Department, and everybody in attendance for making this event possible.
Land Acknowledgement: We acknowledge that the territory on which Boston University stands is that of The Wampanoag and The Massachusett People. Classrooms and BU's campus are places to honor and respect the history and continued efforts of the Native and Indigenous community leaders who make up Eastern Massachusetts and the surrounding region. This statement is one small step in acknowledging the history that brought us to reside on the land, and to help us seek understanding of our place within that history. Ownership of land is itself a colonial concept; many tribes had seasonal relationships with the land we currently inhabit. Today, Boston is still home to indigenous peoples, including the Mashpee Wampanoag and Wampanoag Tribe of Gay Head (Aquinnah). For more information, please visit the North American Indian Center of Boston and the Commission on Indian Affairs of the State of Massachusetts.
Click here for the Conference Program.
2023 Keynote Speaker
Professor Rima Basu (Claremont McKenna College)

"The Morality of Belief"
It is no surprise that we should be careful when it comes to what we believe. Believing false things can have costly consequences. The morality of belief, also known as doxastic wronging, takes things a step further by suggesting that certain beliefs can not only be costly, they can also wrong. This is a surprising thesis as most people grant that although morality has a say in governing our public life, our inner life is our own. That is, morality only enters into our inner lives insofar as our private thoughts can dispose us to act in criticizable ways or say criticizable things. However, according to the morality of belief, morality governs our inner lives simpliciter. That is, our beliefs themselves, irrespective of how they may dispose us to act, can wrong. Perplexed, you might now ask, how exactly do beliefs wrong? In this talk, I'll survey some answers and also some challenges to those answers.
Diversity in Academia: Roundtable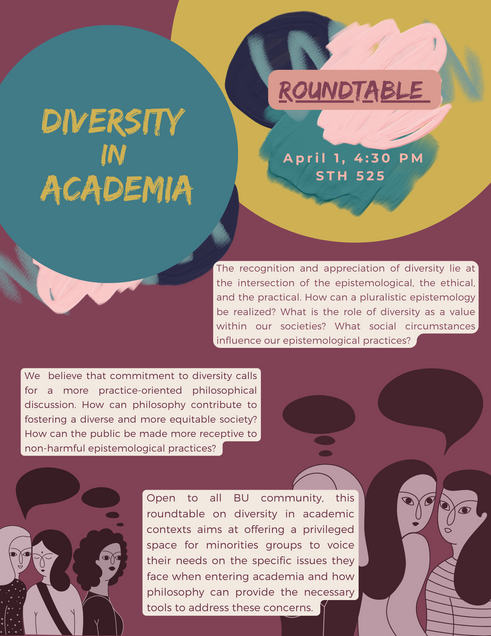 The recognition and appreciation of diversity lie at the intersection of the epistemological, the ethical, and the practical. How can a pluralistic epistemology be realized? What is the role of diversity as a value within our societies? Which social circumstances influence our epistemological practices?
We believe that commitment to diversity calls for a more practice-oriented philosophical discussion. How can philosophy contribute to fostering a diverse and more equitable society? How can the public be made more receptive to non-harmful epistemological practices?
Open to all BU community members, this roundtable on diversity in academic contexts aims at offering a privileged space for minorities groups to voice their needs on the specific issues they face when entering academia and how philosophy can provide the necessary tools to address these concerns.
Graduate Speakers
KATIE VIDUEIRA (University of California, Riverside)
Katie is interested in the nature of agency, practical reason, and personal identity. She is particularly interested in understanding the intersection of these three concepts from the lens of marginalized or non-traditional agents.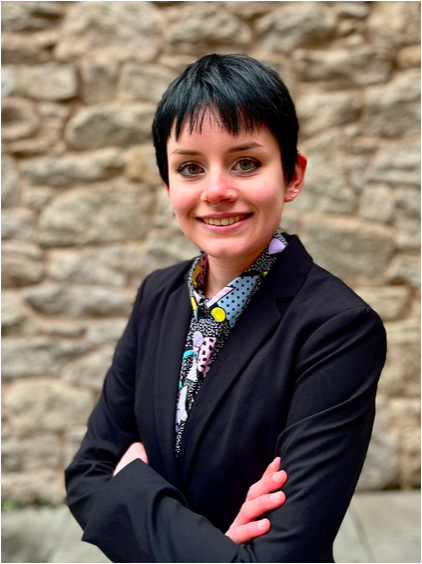 ELLE KIRSCH (University of Pennsylvania)
Elle's research lies at the intersection of epistemology and social philosophy, with a particular interest in exploring the relationship between knowledge and power, especially with respect to epistemic injustice.
URNA CHAKRABARTY (Cornell University)
Urna works in social and political philosophy (particularly feminist theory), ethics, and the history of philosophy.
RAY PEDERSEN (University of Minnesota)
Ray's research interests span philosophy of physics, metaphysics, and feminist epistemology. More specifically, their work concerns how we conceptualize the physical properties of ordinary objects in various metaphysical accounts of quantum mechanics, while simultaneously interrogating how systems of oppression shape agent-relative and global epistemic outcomes, both through the history of physics and in the modern context.
FELIPE E. OLIVEIRA (Syracuse University)
Felipe's research is in two main areas: (i) the intersection of metaethics and epistemology (especially theories which explain doxastic normativity), and (ii) the application of metaethical and epistemological frameworks to issues in the philosophy of gender and race, and social and political philosophy (with an affinity for conceptual engineering projects).
ALICE ELIZABETH KELLEY (University of Michigan)
A central guiding theme of Alice's current research is the role that responding to loss plays in human health, flourishing, and enhancement.
JOSHUA R. PETERSEN (University of Michigan)
Josh's research spans epistemology and political/legal philosophy. Right now, he's interested in how we should establish social institutions given our diverse epistemic communities.