Leroy
AKA: Elroy, Elron, L. Ron Hubbard
Most charitably, Leroy is a dog. Since his birth in Giard, Iowa, he has selflessly devoted himself to protecting his owners, Michaela and Katie, from skateboards; at the time of this entry, no skateboard has ever viciously attacked either owner on Leroy's watch. When not guard-doggin', his main interests are not eating and being very nervous.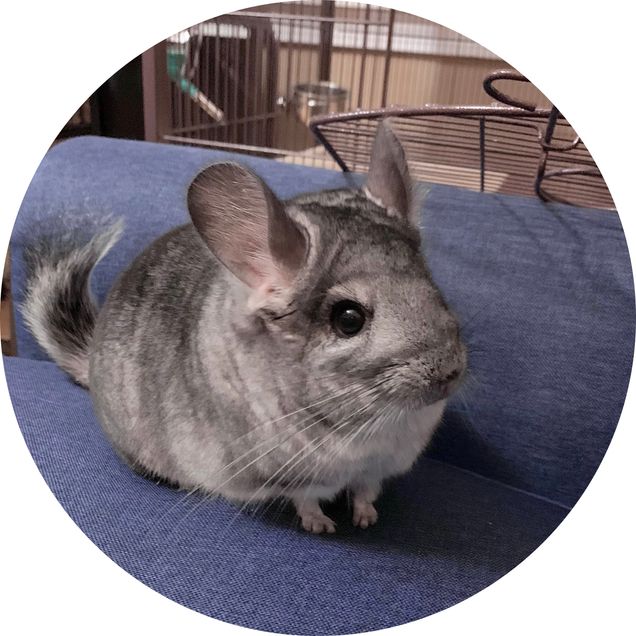 Kippy Baek
Warning: do not be fooled by cuddly, innocuous appearance. Known to stalk Seowon Baek and other family members with silent judgmental stares, often spotted plotting schemes of world domination and/or grand larceny of treats. If found, do not engage: possesses master parkour skills. Highly dangerous, but will be momentarily disarmed with a good chin scratch.
Find out more on Instagram: @kippy_the_chinchilla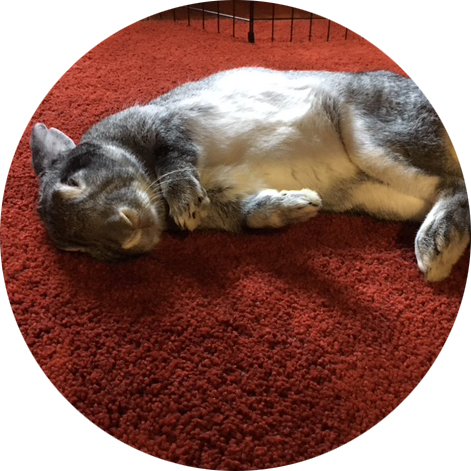 Sir Larrington Donkey Boy McSweeney
AKA: Donkey, or Larrington to his oldest friends
Donkey is a very large lagomorph. He always gets what he wants, which mainly includes eating things he's not allowed to and attempting to get humans to step on him. His other interests include hanging out with his stuffed pig Big Mr. Piggles, receiving aggressive face pats, cuddling, and eating things he is allowed to, like dandelion greens and cilantro. He grew up on the streets of Dorchester before being rescued by his namesake, Larrington, and eventually adopted by Michaela and Katie.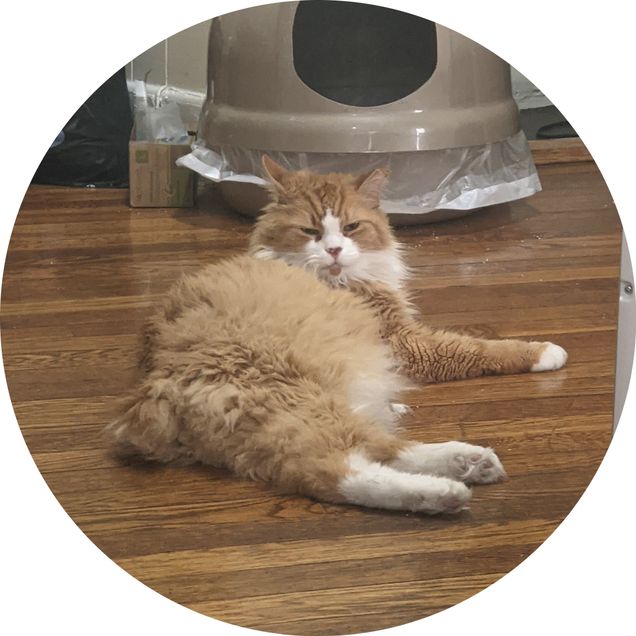 Bob Mendez
Bob is a jumbo-style senior cat who has been working security for grad student Dan Mendez since September 2020. He is a bit of a foodie, and he enjoys training mixed martial arts in his abundant spare time (note the cauliflower ear). He was most likely born with the nub tail, and though he claims this is evidence of his American bobcat heritage his doctors say that his ancestors were most likely from the Isle of Man.
Jolene Sreedhar
AKA: Jo, Jojo, Jojobean
Jolene Sreedhar was born in Mississippi in the summer of 2011. Left in a cardboard box on the side of the road as a puppy, she was rescued from a "kill" shelter to be sent up North. Happily for all involved, she was adopted into the Sreedhar/Desilets household where she has been causing trouble ever since. Things she dislikes include small white dogs and fireworks. She enjoys affectionately mauling visitors, chasing her ball, and napping in extravagant postures of indolence.
Joey Star
Joey is an extremely friendly and sociable labradoodle, born in 2020. We fortuitously received him into our house the day Joe Biden was elected, although his name originally derived from thoughts about baby marsupials (still, he is now known to some of his friends who are children as "Joey Biden, President of Woof Land"). He loves to play with both people and other dogs. He also loves to chew on flip-flops and socks. 
Madalyn Watkins
Madalyn is a Catahoula mix rescued from Arkansas by Last Hope K9 in 2019. She loves chasing tennis balls, hiking, eating salmon, and snoozing on the couch. Madalyn lives in Brighton with Aja, Federica, Stephen, and Sinead.