A Place to Find Oneself
Kimberly Atkins Stohr (COM'98, LAW'98) reflects on a time and place that shaped her experience of law school.
Reflections
A Place to Find Oneself
Reflecting on a time and place that shaped my experience of law school.
It's not easy to pick my favorite place from my time as a student at Boston University School of Law—the oasis of the BU Beach right outside the building, the panoramic views from the student lounge (then on the 12th floor), and the couch just inside the Student Bar Association office, where I spent countless hours with friends, all come to mind.
But for me, the winning spot is the auditorium, because that is where an event that changed my entire experience in law school took place: the 1997 Albers Moot Court Competition finals.
To understand this, it's important to understand a little something about me when I was a law student at BU. I was neither at the top nor the bottom of my class. I surfed the school's B+ grading curve, so to speak, meaning that I would stay at or around the peak and usually (but not always) avoided sliding down either side. Having been a stellar student throughout my life, including in college, being in the middle of the pack was foreign and frustrating to me.
So was the competitiveness of law school. While I spent some time before law school preparing for the Socratic method and how to write a law school exam essay, I wasn't ready for all the ways law school would require me to compete with and compare myself to other students. The curved grading system itself made adversaries of us all. Then there were the bids to secure interviews and callbacks for summer associate positions. And of course, there was what I referred to as "nerd rush": the frenzied competition to get on a law journal.
None of those things came naturally to me. As a journalism major who spent most of college writing for newspapers, the style of legal journal writing held no appeal. I had no aspiration to go into Big Law, so I felt a bit adrift in the large pool of students who did. I had trouble finding where I belonged.
Then, as a 2L, I entered the Stone Moot Court Competition. I knew I wanted to be a litigator, but the competitiveness of the school's trial clinics was also a turnoff for me. Stone, on the other hand, welcomed all. Yes, it was itself a competition, but it was one in which you worked as a team, and winning wasn't my goal. It was a chance to challenge myself and test my chops doing what I thought I'd do for a career: arguing before a court.
---

After nearly two years of feeling like I was lost in a place where I didn't fit in and couldn't stand out, I had a moment to shine.

---
I absolutely loved it, and—for the first time in my law school experience—I excelled.
My performance earned me an invitation to the Albers Moot Court Competition. The finalists in that contest would argue before a panel of real-life appellate heavyweights: Judge Bruce Selya of the First Circuit Court of Appeals, Judge Guido Calabresi of the Second Circuit, and US Supreme Court Justice David Souter.
The stakes were obviously high, and for me personally, they were even higher. I'd already been hired to be a summer clerk at the Boston law office of Robert Harrington ('64) at the end of that semester. I knew Bob had won Albers when he was a 2L in 1963. His name was etched in bronze, along with all the past champions, in one of the school's halls.
Also, by pure coincidence, the Albers finals were scheduled during a week my mother planned to come visit me from our home state of Michigan. I had no idea if I would be among the last two teams standing when she made her travel plans. But as luck would have it, she would be sitting in the front row of the law school's auditorium as we made our final arguments.
And finally, I didn't want to let down my moot court partner, Nicole (Cooper) Rooney ('98), who was and is still one of my closest friends. On the first day that we met up to begin researching and writing our brief, she looked at me with the most serious expression I'd ever seen on her face and said simply: "I want to win." I knew I had to crush this.
The day of the finals arrived. I remember my navy suit, the best one I owned at the time, and Nicole's gray one. I remember the audience being packed with friends, classmates, professors, and my mother and brother. I remember not being able to feel my feet as I heard the words "All rise!" and watched as Selya, Calabresi, and Souter entered.
Nicole went first and was brilliant. Then it was my turn. I don't remember much about the merits of the moot court case, but I do remember that there was a weak point in the argument I needed to make. In a previous round, I tried to stand my ground on it. One judge in that round, Professor Tracey Maclin, absolutely eviscerated me from the bench. Somehow, Nicole and I still advanced to the next round, but afterward Maclin gave me some advice: when one of your arguments is bad, it's OK just to acknowledge it and move on.
During my argument in the finals, Souter homed in on the same weak link in my case. I remembered Maclin's advice and conceded the point and moved on to my stronger ones. I made it through and remember the relief I felt when I sat down.
After deliberating, the judges announced—to my shock and glee—that Nicole and I had won. I had successfully argued a case before a Supreme Court justice and came out a winner. But the best moment was to come.
Souter announced that I had been chosen by the judges as the best oral advocate. He specifically said they were impressed by my ability to concede a weakness in my argument and focus on its strengths instead. After nearly two years of feeling like I was lost in a place where I didn't fit in and couldn't stand out, I had a moment to shine. And for the first time, I stopped worrying that going to law school might have been a mistake. I was too overwhelmed in that moment to take in the expression on my mom's face, but I'm glad a photographer captured it.
The silver award bowl I received as best oral advocate still sits on my shelf at home. The decades have brought some tarnish to the silver, but the memory still gleams.
---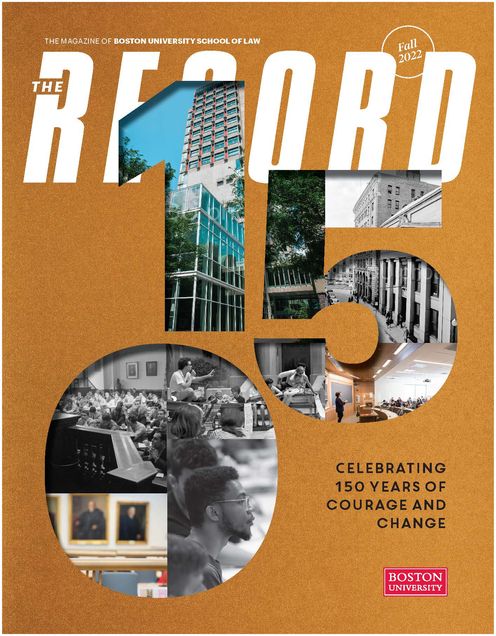 The Record, Fall 2022
---