Mentoring & Outreach
Find out more information about GWISE and External Outreach & Mentoring Opportunities below! For more information about Boston University outreach opportunities visit the Office of STEM Outreach and Diversity.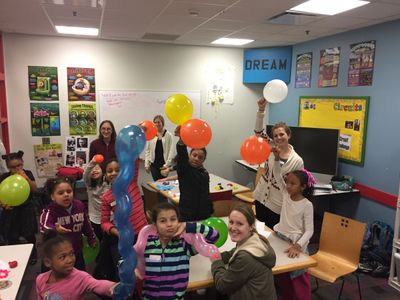 ---
WISE Mentoring Program
WISE Mentoring is an effort to connect the undergraduate and graduate WISE communities. GWISE annually hosts a mentoring program to support the academic and professional growth of undergraduate women in STEM fields, and to provide an opportunity for GWISE members to develop as future leaders and mentors. By participating in this program, GWISE mentors will receive valuable mentoring and leadership experience, as well as the opportunity to interact with the BU WISE community through building and fostering a mentoring team. GWISE will provide resources and programming to enrich the mentoring experience. 
2017-2018 Academic Year:
Sign-up to become a GWISE Mentor for an undergraduate WISE student here: TBA
Sign-up to become an undergraduate Mentee here: TBA
---
Elementary School Girls Science Club – West End House
Come volunteer with the Elementary School Girls Science Club, an outreach program developed and hosted by GWISE! We coordinate fun, hands-on activities for elementary school girls, which will convey important concepts in diverse STEM fields. Our goals are to help young girls gain a better understanding of basic scientific concepts and engineering principles, get them excited about science and engineering, and encourage them to pursue future careers in STEM fields. This is a great opportunity to be a positive STEM role model for young women!
We are looking for GWISE members who are interested in mentoring elementary school girls at our weekly sessions at the West-End House. Mentor commitment is flexible (you can volunteer for as many as you'd like). For more information about the Girls' Science Club, or to check out some of our experiences, visit our BLOG!
---
Middle School Girls Science Club – West End House
Also known as "Girls with Goggles"
Join GWISE in mentoring middle school girls through Girls with Goggles! We want our students to gain hands-on experience conducting fun experiments and to provide them with an in-depth understanding of scientific concepts. This is a great opportunity for GWISE members to reach out to the local community and to help young girls find their passion for science. 
---
Resources for Outreach
GWISE is proud to collaborate with CuSTEMized, a non-profit organization aimed at engaging, encouraging, and empowering young girls in Science, Technology, Engineering, and Math (STEM) by providing them with tangible products and educational experiences that foster a positive scientific identity from a young age. CuSTEMized creates personalized storybooks called "My Little Book of Big Dreams" for girls that depict them as central characters in diverse STEM fields. The initiative collaborates with families, teachers, and after-school programs to provide free and subsidized personalized books to young girls. For more information on CuSTEMized, please visit their website.