Security Reminder: Protecting your mobile devices
The following message was sent to all faculty, staff and students on Tuesday, Dec. 7, 2021 by Boston University's Information Security. For more information reach out to buinfosec@bu.edu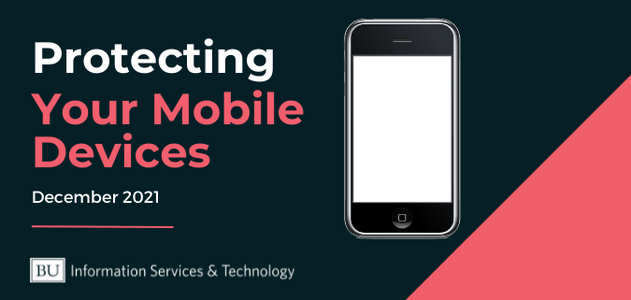 Dear Faculty, Students and Staff,
Laptops, smartphones, and tablets – rarely do we leave home without them. We use them to do just about everything but whether it's a hacked browser, unsecured Wi-Fi at the local coffee shop, or your own tendency to lose electronics (hey, it happens to the best of us), using your mobile devices as a centralized source for all your information comes with big risks. And the more you've connected and stored, the more you stand to lose.
Our mobile devices need to be protected. The following security precautions will help you enjoy the conveniences of technology with peace of mind while you are on the go:
Lock your devices: Seems obvious, but many people don't lock their phone because it's inconvenient. Always use a passphrase, passcode, or other features such as touch or facial recognition to lock your devices. Securing your device can help protect your information if your device is lost or stolen.
Be wary of wi-fi hotspots: Public wireless networks and hotspots are not always secure and can be susceptible to security risks. Consider using a virtual private network (VPN) like the one offered here at BU, or a personal/mobile hotspot. Follow our instructions for installing and using our VPN on your device.
Install an end point protection: Make sure you're using an end point protection software. At BU we use and offer Crowdstrike for your personal desktops or laptops at no cost with your BU account.
Turn on encryption: If setting a passcode does not automatically encrypt your device, make sure to enable the native encryption (encryption comes standard with most phones).
Keep your system and applications up to date: Check to see that your device and applications are up to date, then set them to update automatically. This is the quickest way for the developer to provide you with the most up-to-date protection and can patch security holes that leave you vulnerable.
Delete when done: Many of us download apps for specific purposes, such as planning vacations, or we downloaded apps that are longer useful or interesting to us. It's a good security practice to delete apps you no longer use.
Enable Find my Devices: Consider enabling services that allow you to locate your phone if it is lost, send a message to it, or even wipe its contents remotely if you need to.
Your mobile devices will thank you for keeping them and yourself secure.