About Us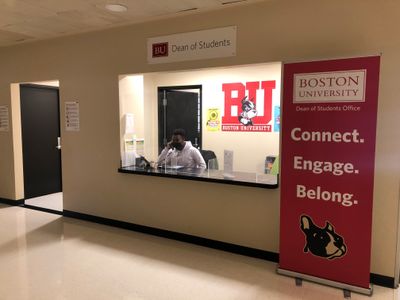 In the Dean of Students' office, you'll meet staff committed to promoting your personal and academic growth and representing your concerns. We provide programming to engage students with the University and each other, assist students in need, and oversee the Division of Student Life. Our mission is to help you enhance your character, quality, and perspective during your time at Boston University.
The Division of Student Life encompasses offices that advise student organizations, plan your orientation, help you find belonging, provide service to the Greater Boston community, oversee accommodations for students who need them, and set and regulate standards for student conduct. This includes – Residence Life, Orientation, the Howard Thurman Center for Common Ground, Student Activities, Outreach and Engagement, Disability and Access Services, the Community Service Center, and Parent and Family Programs.
Learn more about our programs, our staff and how to contact us.
Vax. Upload.
Get Back to the Good Things.
Terriers,
Get vaccinated and upload your documents at Healthway.
Because BU can't relax COVID safety protocols until we know we have herd immunity. So do it ASAP. And get back to all of those things you've been missing…ASAP.
Visit Back2BU for details about the BU COVID-19 Vaccine Clinics. 
If you get your first vaccine dose locally and then leave the area, you should plan ahead and visit VaccineFinder.org to find vaccination providers to get your second dose at your destination.
Appointments are quick (about 30 minutes) and are conveniently located at FitRec.
If you received your first dose of Moderna at another location, you can schedule your second dose at BU as long as it has been 24 days since your first dose.
If you are graduating, you can still schedule your first and second doses of the vaccine at BU.
If you are leaving the Boston area soon, you can still get your first dose at BU and schedule your second dose in your home state.
If you are an international student and living on campus, you can apply for an extension to remain in on-campus housing to complete the vaccination process. In order to be eligible, you must have either received your first vaccine dose or schedule your first vaccine appointment by May 9th.
If you have had COVID-19 in the past, you are still required to get the vaccine. It is possible that people can be re-infected with the virus.
If you have questions, please call Healthway 617-353-0550, press two.