POV: Inclusive Design for Learning: Insights from a Digital Learning Summit at Notre Dame University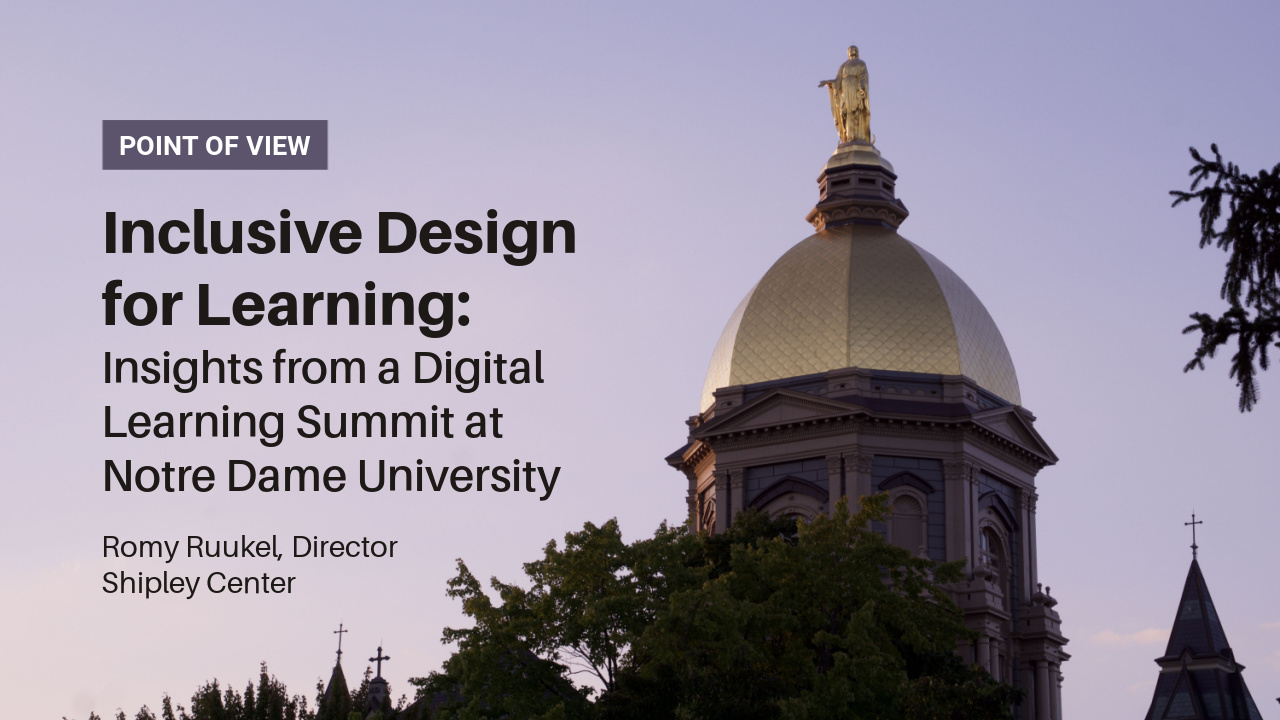 Last month, I had the opportunity to attend a Digital Learning Summit at the University of Notre Dame, which focused on the critical issues of inclusivity and belonging in higher education. Keynoted by Dr. Anthony Abraham Jack from Harvard, the summit convened experts in the field of digital learning to discuss the challenges of disadvantaged students' access to university resources, particularly those related to class and culture. As highlighted by Dr. Jack's book The Privileged Poor: How Elite Colleges are Failing Disadvantaged Students, our conversations explored the experiences of students who often feel like "outsiders" and struggle to navigate the culture and norms of higher education institutions.
At our gathering, attendees from various elite universities across the United States recognized the systemic barriers that disadvantaged students face and presented approaches to create cultures of inclusion, mentorship and support, and partnerships between institutions and community organizations. Ranging from collaborations with the National Education Equity Lab and exploring the effects of implicit bias training in online course design to understanding the benefits of Purdue University's AI-driven writing assistant, the participants discussed the challenges of creating accessible, meaningful, and scalable solutions to systemic problems in today's higher education landscape. I spoke, for example, of the Shipley-supported  CARE project – which seeks to address gaps in general chemistry preparedness and outcomes through student-self assessment and adaptive learning materials  – as well as of my own experiences as a first generation immigrant college student now working in the field of education. 
Learning about the work of my colleagues across the country, I was particularly impressed with the work of the  Inclusive Design Studio at Middlebury College. Putting into practice  the principles of design justice to center the voices of those who are directly impacted by the outcomes of the design process, IDS directly engages students in solving design challenges around campus from accessible and welcoming physical spaces to curriculum and programs that reflect the diversity of their student body. Among their recent and ongoing projects are the Digital Detox initiative, which helps participants to reflect on and re-evaluate the role technology plays in their lives, with the aim of reducing the toxicity and harms brought on by technology; and the Made for Whom? exhibit, inviting the Middlebury community to critically engage with the design history of everyday objects and reflect on critical questions about whom the design includes and excludes.  As inclusive design is necessarily intentional, participatory and iterative in supporting a range of human diversity, Middlebury's approach offers one model through which institutions can create an environment that supports all students and fosters their success. 
At the heart of all the conversations – including with the leads of Middlebury's Digital Learning & Inquiry group, Amy Collier & Sarah Lohnes Watulak – were questions of inclusive design in shaping equitable educational environments: how do we most effectively center marginalized voices, design for empathy and care, and create flexible and adaptable structures in our pedagogical work? What kinds of support do we, working in institutions that desire to create positive change toward human dignity and inclusion, have, need, and lack in doing so? Pondering and acting on these questions is lifelong work that demands our continued attention and effort – and one that I continue to be passionate about continuing at the Shipley Center. 
---
About the Author: Romy Ruukel is the Director of the Shipley Center for Digital Learning & Innovation. Inspired by human-centered design, adaptability and continuous improvement, she leads a team of project managers, multimedia producers and digital learning designers to accelerate the University's educational transformation through purposeful and novel uses of technology.