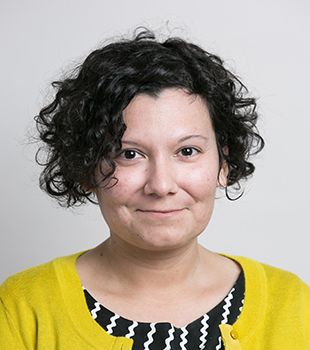 Deborah L. Jaramillo
Associate Professor, Film and Television Studies Program
Office:

640 Commonwealth Ave., Room 223-C

Email:

dlj@bu.edu
About Deborah L. Jaramillo
Deborah Jaramillo is an associate professor of film and television, and director of the Film and Television Studies Program. She loves watching television, hates the term "binge-watching," and does not think TV is cinema.
Her research interests include television history, cable news, and the branding of networks and channels. Her first book, Ugly War, Pretty Package: How CNN and Fox News Made the Invasion of Iraq High Concept (Indiana University Press, 2009), approaches cable news coverage from the perspective of film and television studies rather than journalism, and seeks to dispel the notion that the news is somehow divorced from the rest of television programming.
Her second book, The Television Code: Regulating the Screen to Safeguard the Industry (University of Texas Press 2018) analyzes the U.S. television industry's attempts to censor its programs and regulate its business practices in the early 1950s. The Television Code was named a finalist for the Theatre Library Association's Robert Wall Memorial Award in 2019.
Her work appears in several edited volumes, including Television: The Critical View, 7th edition, Production Studies II: The Sequel!, Television History, The Peabody Archive, and Cultural Memory, and From Networks to Netflix: A Guide to Changing Channels. She has also published articles in Popular Communication, Television and New Media, Communication, Culture, and Critique, Critical Studies in Television, and Journal of Radio & Audio Media. Her most recent publications include "TV's War on Drugs: Local Crises as Public Service Crusades in the 1980s" and "NBC Sports Network: Building Elite Audiences from Broadcast Rights." In 2019 she co-edited a special issue of Popular Communication with Dr. Matt Sienkewicz of Boston College entitled "Podcasting and the Public Sphere."
A two-time Ford Fellow, Jaramillo sits on the board of the Texas Archive of the Moving Image (TAMI) and the feminist media studies organization, Console-ing Passions, and is an active member of the Communication Research Center.
Jaramillo teaches the following courses in the Film and Television Studies program: Television Theory & Criticism, Critical Television Industry Studies, Feminist Television Studies, Uncensored TV, NBC: Anatomy of a Network, Broadcasting Horror, and True Crime.
Education
BS, University of Texas at Austin
MA, University of Arizona
PhD, University of Texas at Austin