Film for Thought
New course challenges students to address society's most pressing issues in short movies
3.2.23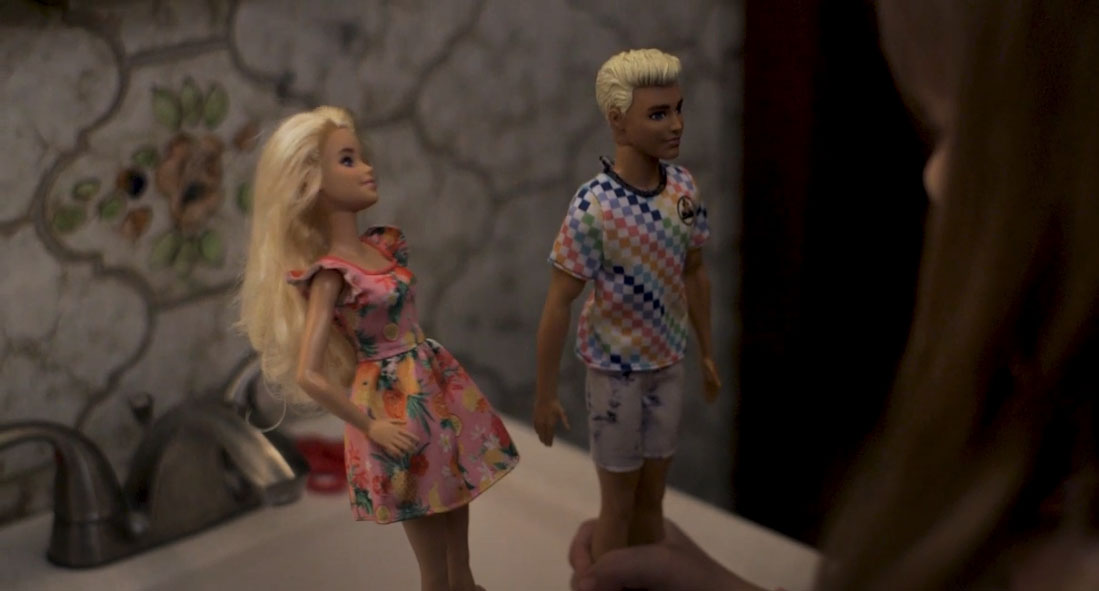 In the opening scene of Adrien Callahan's short film Ken, a young girl sits in her living room and plays with Barbie dolls. In the background, her mother folds laundry while a psychology talk show called Dr. Bill plays on the TV. When the talk show interviewee, a young transgender man, begins discussing his transition—"I think the moment I knew for sure is when I cut my hair short"—the girl becomes intrigued. Her mother notices and promptly shuts off the TV. "It's adult stuff," she tells her daughter.
Callahan ('23), who is trans, directed the film for the 2022 section of the course Creating the Social Purpose Short, taught by award-winning independent writer, director and producer Marni Zelnick. The class brings together graduate and undergraduate students to produce short films— around five to ten minutes long—that address society's most pressing issues.
The class, offered each spring beginning in 2022, develops four films written by MFA screenwriting students, such as Callahan. The graduate writer/directors apply to the class with scripts they developed in another course, Writing the Narrative Short, while undergraduate and graduate students who did not take the writing class are assigned to their production teams—as producers, cinematographers, editors, sound designers, assistant directors or production designers—to create films worthy of festival submission.
"This is an unusual class in that it's a mix of grads and undergrads who are all working on a single production," says Zelnick "I think having that mix of age groups and perspectives is helpful."
Zelnick, a member of the screenwriting faculty, coteaches the class with a member of the production faculty. In 2022, she joined forces with Jan Egleson, an associate professor of film and television. "So, the class is not only a collaboration between graduate students and undergrads, but it's also a collaboration between two different tracks in the film and television department." This semester, her coteacher is Gustavo Rosa, an assistant professor of film and television.
"I want students to think more deeply about what they're writing about, and also—in an age where we're looking at a very polarized country and communication is such a struggle between different groups—to think about the role that they can play in offering people another avenue to experience somebody else's life, to experience empathy, to connect with a story that maybe isn't their own experience," says Zelnick, who wrote and directed the 2014 film Druid Peak, starring Andrew Wilson and Spencer Treat Clark.
Filmmaking Made Personal
Callahan, who produced his film as part of the 2022 class, chose to depict a young child struggling with her gender identity. The film's second scene—the young girl at a hair salon with her mother—echoes the moment the man on Dr. Bill discussed: When she asks to cut her long blonde locks short, her mother intervenes and asks for a trim and a bow instead. In bed that night, she stares at her Ken doll with his short blonde coif. She then gets out of bed and heads to the bathroom with a Barbie and Ken doll and a pair of scissors in tow, and promptly begins snipping Barbie's hair to match Ken's. Then she begins chopping her own hair short.
"The great challenge for these students is to try to… highlight a very important issue that people want to or need to know more about, or that represents a group who doesn't have a full voice yet, and then tie that with great casting, story structure and cinematography," Zelnick says.
Each film team receives a $1500 grant to produce their film. If they need additional funding, they are allowed to crowdfund. "We don't have a limit on what their budgets can be, but most of the films have been microbudget films. A couple of them used only the grant."
In addition to Callahan's Ken, the other films in the Spring 2022 class touched on an array of societal issues. Nina Barresi wrote and directed Lock Jaw, which follows a woman who is struggling with her weight and takes part in a medical study in which participants' jaws are locked shut, so they cannot eat solid food. "The film uses this body horror genre to talk about the pressure on women to lose weight and the extreme measures that are forced upon them to do so," says Zelnick.
Araceli Sanchez's ('23) Click to Be Saved tackles the effects of social media and the dangers online scams pose to young people in crisis. In it, a depressed and disconnected college student named Jenna sees a pop-up message on her computer saying, "Click to be saved." When she clicks it, she is connected with Kelly, a representative from a mysterious company who has knowledge of a lot of Jenna's personal data. While Kelly seems friendly and well-intentioned at first, her more predatory nature soon comes to light.
I want students to think more deeply about what they're writing about… to think about the role that they can play in offering people another avenue to experience somebody else's life, to experience empathy, to connect with a story that maybe isn't their own experience.

Marni Zelnick
Brian Thompson's Where To addresses the alienation veterans feel when they return from combat. The film's protagonist is a vet and a rideshare driver in Washington, D.C., who faces a lack of connection with, and at times disrespect from, his passengers. The driver also listens to news reports about the withdrawal of US troops from Afghanistan while thinking about his own experience in the war.
Zelnick says that many of the students have strong personal ties to the films they create. "That's what makes them so special." Thompson ('23) is a veteran. Barresi ('23) has written about weight, fatphobia and diet culture.
A Bigger Focus on Social Impact
The Spring 2023 class is producing films that deal with an equally diverse range of subjects, including the impact of racism on a young Black man who aspires to be a fashion designer; a young woman's struggles with body image and disordered eating; how a young person in the process of transitioning is grappling with how he is seen in queer spaces and by the queer community; and the ways a young Chinese immigrant boy feels pressure to succeed while his family is struggling financially.
Zelnick is in the process of developing an MFA production program with a focus on social impact filmmaking. The Creating the Social Purpose Short class grew out of creating this new program. "It began as a kind of test run for what our graduate program might look like," she says. As part of that larger project, Writing the Narrative Short will become Writing the Social Purpose Short in 2024.
Zelnick hopes the class expands opportunities for underrepresented voices. "Our students are writing about subject matter that we don't see enough of in film. I want them to get this directing experience so that we're sending out more creators who are representative of perspectives that we wish we had more of in the industry."