Tagged: CMD symposium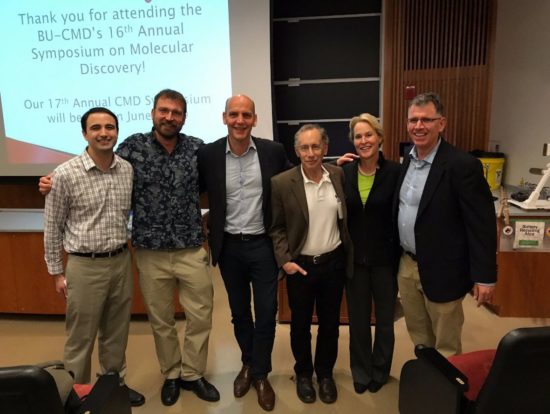 Thanks to all who attended the 16th Annual CMD Symposium on June 23! Attendees were treated to fantastic talks from Professors Dirk Trauner, Ben List, Frances Arnold and Robert Langer, followed by a poster session highlighting new research from our students and postdocs.
Special thanks to Center Administrator Lisa Holik for a great job organizing this event, our friends at BUnano for help with setup and Prof. Aaron Beeler for organizing the poster session.
Thanks also to our generous sponsors listed below, without whom this event would not be possible:
AbbVie
Biogen
Bristol-Myers Squibb
BU Translational Research in Biomaterials Training Grant
Celgene
Chemglass
Constellation
Eisai Research Institute
IKA
Interchim Inc.
Paraza Pharmaceuticals
Pfizer, Inc.
SanofiUS
Strem Chemicals, Inc.
Vertex
Yamazen
Check back in the future for news on our next CMD Symposium.
The biennial BU-CMD Symposium "Molecular Discovery: From Chemical Synthesis to Biological Applications" will be held on June 23, 2017.
We are pleased to welcome the following speakers to the 2017 BU-CMD symposium:
Professor Robert Langer (Massachusetts Institute of Technology)
Professor Frances H. Arnold (California Institute of Technology)
Professor Benjamin List (Max-Planck-Institut für Kohlenforschung)
Professor Dirk Trauner (Ludwig-Maximilians-Universität München)
Please register at Eventbrite if you plan to attend - registration is free.