Welcome to the Boston University Department of Chemistry
Located in Boston, one of the world's foremost science and technology research hubs, our mission is to advance discovery in the chemical sciences and to provide excellent instruction at both the undergraduate and graduate levels. As a result, our undergraduate majors, graduate students, and postdoctoral fellows gain the skills and understanding they need to meet the technological challenges of the 21st century and to achieve meaningful careers in research, education, medicine, government, business, and/or law. The research programs of our faculty address many of the most demanding challenges in chemical research, with unique strengths in medicinal and translational chemistry, materials science, molecular and cell biology, computational chemistry, nanotechnology, catalysis and chemical dynamics. Supporting and enabling this research and our teaching laboratories is our extensive suite of state-of-the-art research and teaching facilities and instrumentation. I encourage you to learn about us by exploring this site, by contacting us electronically, or by arranging to visit our Department.
Sincerely,
Lawrence Ziegler
Featured News
8/11/18
8/6/18
6/1/18
5/14/18
5/3/18
5/1/18
3/28/18
3/27/18
12/13/17
12/12/17
12/6/17
10/12/17
9/6/17
6/19/17

6/14/17
6/8/17
6/7/17
5/28/17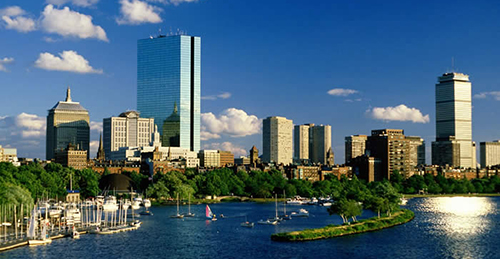 5/27/17
5/11/17
4/28/17
Dr. Norman Lee awarded an NIH-SIG Instrumentation Grant
4/12/17
Professor Rosina M. Georgiadis' use of "virtual machines" featured in Chemical & Engineering News
4/6/17
Melissa Marquez, of the Perlstein Group, receives the prestigious National Science Foundation Graduate Research Fellowship
1/10/17
Dr. Sean Elliott Receives 4 Year National Institute of Health Grant to study "Structure, Function and Diversity in the Bacterial Cytochrome c Peroxidase Family" 
1/5/17
Professors Snyder and Abrams collaborate with colleagues in Biology and Neuroscience to create novel, interdisciplinary courses: Integrated Science Experience 1 & 2
12/21/16
Dr. Arturo Vegas Highlighted in BU Today
12/8/16
The American Association for the Advancement of Science (AAAS) has named Professor Catherine Costello a 2016 AAAS Fellow for her distinguished contributions to mass spectrometry.
11/25/16
Dr. Arturo Vegas Presented Research Type 1 Diabetes to Congressional Biomedical Research Caucus
9/26/16
Arturo Vegas awarded New Innovator Award from National Institute of Health
9/14/16
9/8/16
9/3/16