New Book: "Global Christianity"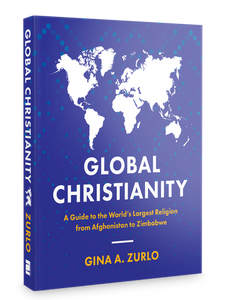 Gina Zurlo's ('17) Global Christianity is an accessible quick-reference guide to the global church. Filled with at-a-glance maps and charts, it puts relevant and up-to-date information into the hands of churches, mission organizations, and individuals. Useful for prayer, missions, outreach, and study of the global church, this is the new standard resource on the world's largest religion.
Understand Christianity within each continent, country, tradition, and movement with:
Current demographic information from the United Nations

Research from the Center for the Study of Global Christianity

A focus on historical, sociological, political, and religious contexts

"Things to consider" within each local context, such as political conflicts, church-state relations, religious freedom, gender equality, education, health, economics, and climate change.
This resource will satisfy those looking for background on the global church and equip individuals and churches to strategically pray for, give to, and unite with fellow Christians around the world.
Get your copy here.