Faculty Feature: Renee Yancey
For Renee Yancey, being a production manager doesn't mean sitting behind a desk in an office. The freelance production manager and AEA stage manager teaches stage and production management at BU School of Theatre. As the management programs head, she encourages students to see themselves as artists, creatives, and collaborators and to take bold risks.
In the CFA Faculty Feature, Yancey talks with CFA about BU's Master of Fine Arts (MFA) in Production Management program. Yancey explains the structure of the three-year program and the various production opportunities available to production management students. She also gives us an inside look at the venues and facilities most used by students, what she looks for in applicants to the program, and the types of work our alums are obtaining.
CFA:
How is BU's MFA Production Management program structured?
Yancey: It's a three-year program and very hands-on. The first two years are full-time in residence. In the third year, students have the option of doing an internship semester. In the final semester, students complete a graduate project and a capstone production experience working on one of the shows within the School of Theatre season.

Typically, graduate students work on four shows, each of the first two years. In the third year, they will work as production managers or associate production managers on one or two shows. Shows can be from BU Opera Institute's Fringe Festival which operates on a fast timeline with smaller budgets and a close team of collaborators to large shows in BU's Booth Theatre or in the big proscenium houses in downtown Boston. They work in a range of production experiences.

As students develop their artistic and management interests in particular areas such as new work, musical theater, or opera, we can match them with those areas. As we get to know the student and as they hone their interests, they can work on their specific interests, whether it be new work, opera, musical theater, etc. We can individualize their production experiences to match their particular goals. During the year, management students work on BU productions but in the summer, they often work outside the University.
CFA:
What makes BU's MFA in Production Management unique?
Yancey: Our program helps graduate students hone their individual management style. There are only about 15 cities in the U.S. where you can do an MFA in Production Management. We're the program you attend if you're interested in picking apart the process and focusing on the art of the production. This is where you learn to be a facilitator in the creative process, offering innovative ideas.

We celebrate the production manager as a theater artist and a vital member of the creative team and not someone who just does the budget, payroll, and labor. Here, the production manager is part of the early design process. Getting everyone in the room and coming up with creative ideas is not enough. You have to facilitate the discussion that produces the execution of those ideas.
---

We're the program you attend if you're interested in picking apart the process and focusing on the art of the production. We celebrate the production manager as a theater artist and a vital member of the creative team, offering innovative ideas.

---
CFA:
Seems like the program fosters "joyful problem solvers." Not just problem solvers, but people who love solving problems.
Yancey: Absolutely. We view production managers as theater makers, not people in offices. Both have their place but we're a more hands-on, walk-around program. Our MFA production managers are the hub of communication for our productions. For example, I had three production management grad students in my office today to check in on projects. Each of them left to go to either the shops or the studios to have conversations with our design team or our technical director. In this way, they learn to speak the language of the designers, stage managers, performers, and directors. Each of these has a specialized language and they need to understand them all. For example, they need to translate a scenic designer's visual ideas to the director who is more conceptual. They are the medium between and among all of the entire production's staff.
CFA:
Do students facilitate communication through meetings?
Yancey: In part, yes. They lead a weekly production meeting with everyone together. They create the production timeline and make sure everyone is aware of it. After each production, they gain a template of what works but they need to remain flexible because one template does not work for every production.
---

Our MFA production managers are the hub of communications for our productions. They learn to speak the language of the designers, stage managers, performers, and directors.

---
CFA:
Can you talk to us about the facilities?
Yancey: The Booth Theatre is like having a giant playground where we can focus on storytelling. It allows us to have a team of creative people come together to figure out from the ground up how the audience interacts with the story. They facilitate conversations that encourage and support all creative approaches while upholding standards of safety and security. For example, while it's essential that we carry out rules such as a safe egress of the audience, the production manager can lead a discussion on how to incorporate those rules into the production and not just treat them as obstacles. The rules can aid in our creativity.
CFA:
What do you look for in an applicant?
Yancey: We look for communicators and collaborators. They should be flexible and not totally set in their ways. They need to be open to new ideas. They've had two to three years in the profession and have seen what it is to live a theater production manager's life. We want people who will take care of their staff.

Production managers have a big impact on the quality of life of theater staff. I am looking for people who are interested in issues like work/life balance, being sensitive to artists who have families and are focused not just on the product, but also on the process of theater-making. We will have a production, that's a given. But a production manager's work is about the process of how we got here.

Finally, we're looking for thinkers who don't mind getting their hands dirty. If something needs doing and no one was assigned to do it, it's the production manager's job. Let me give you an example. I've been the production manager for Commonwealth Shakespeare Company for the past few years. (The company stages lavish Shakespeare productions on Boston Common in summer.) Two years ago we had a squirrel build a nest on the set. We had to get the baby squirrels out before we could strike the set. The parks department and animal control wouldn't do it. A visit from a private animal control person was not in the budget so I got on a ladder and did it. That's an extreme case but we use it in class to show that when it's no one's job, it's the production manager's job.
CFA:
How successful are MFA production management graduates in getting jobs in theater?
Yancey: Very successful in theatre but our graduates are working in adjacent fields, too. Right now, I have a third-year graduate student who took her electives in the BU College of Communication because she had a TV/film bent. She's integrated TV and film production into her work. We don't have one definition of what a production manager is. Some graduates work in a traditional production manager role in regional theatre while others are in TV production. Some graduates will go into general management in commercial theatre. Others are working as producers at events companies.
This Series
Also in
March 29, 2023

November 8, 2022

November 1, 2022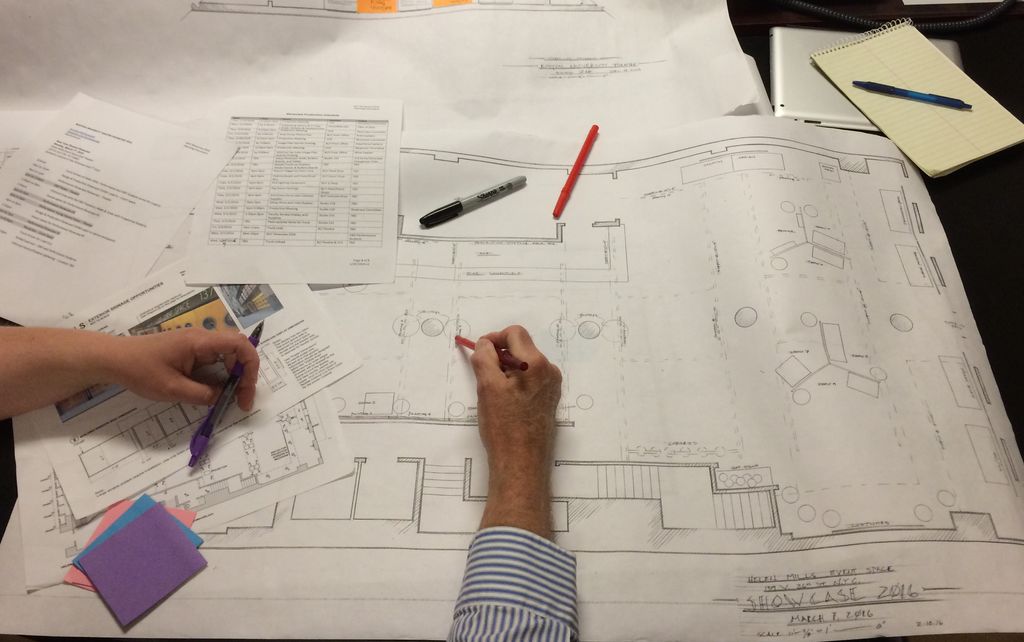 Learn more about BU's Production Management program
See the skills production management students gain, get a behind-the-scenes look at Booth Theatre, discover the opportunities the program brings, and read more about the program's most notable graduates.