About the Fringe Festival
The Boston University Fringe Festival, now in its 26th season, is a collaboration between the College of Fine Arts School of Music: Opera Institute and School of Theatre. The festival's mission is to produce new or rarely performed significant works in the opera and theatre repertoire, bringing performances and audiences together in unique theatrical settings. For over two decades, Fringe Festival at Boston University has celebrated and amplified new work, shown in spare and minimal productions.
You're invited to experience the innovation and artistry at this year's performances!
Fringe Festival 2023
Co-produced with BU School of Theatre
La hija de Rappaccini
OCTOBER 21 – 23, 2022
Studio ONE
Composed by Daniel Catán
Music Director • Allison Voth
Stage Director • Rose Freeman
Our Town
OCTOBER 28 – 29, 2022
CFA Concert Hall
Composed by Ned Rorem
Music Director • William Lumpkin
Stage Director • Nathan Troup
Little Row Boat or, Conjecture
NOVEMBER 4 – 6, 2022
Studio ONE
By Kirsten Greenidge
As the French Revolution brews outside, teenage slave Sally Hemings gets her first taste of freedom while serving in Thomas Jefferson's Paris home. Inside, she becomes involved in one of the most speculated about and scandalous relationships in American history. With verve, humor, and music, playwright Kirsten Greenidge imagines how events unfolded in the Jefferson household for the family and "servants" alike. Little Row Boat is a visceral and intricate story of convictions, contradictions, and sacrifice in the pursuit of liberty. (Bret Adams)
NEXT STAGE WORKSHOPS AND PLAYS
Studios on 3
The School of Theatre New Play Initiative presents a series of Next Stage workshops, scenes, and plays. These Next Stage pieces will be directed by our Undergraduate Directors and will flower as the next step in the fruition of these new plays by BU students.
The nature of the presentation and the work is determined by the needs of the play.  Curated by Kirsten Greenidge, this "on-its-feet" workshop or play experience focuses on different areas of the writing or specific parts of a project in the process of development.
Salome
SEPTEMBER 24 – 25, 2022
By Trevor Turnbow
Director • Julian Simmons
Mother May I?
OCTOBER 8 – 9, 2022
By Dylan Avillanoza
Director • Lila Heller
Against A Village
OCTOBER 22 – 23, 2022
By Elliot Dupcak
Director: Matthew Swain
---
Tickets
---
Curtains Open on 2022 CFA Fringe Festival
Annual showcase of opera and theater pieces includes works-in-progress by BU students. Read more in BU Today!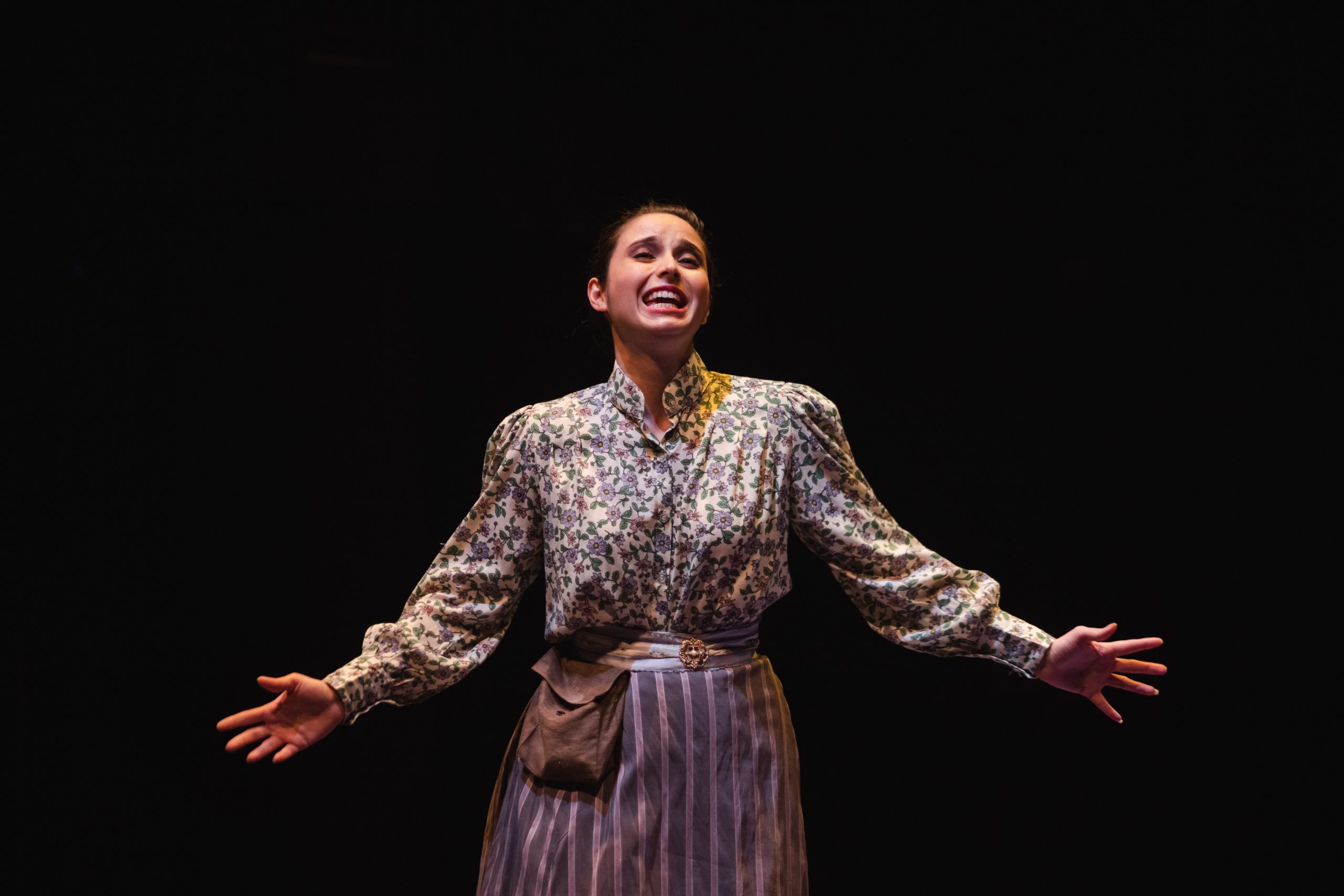 25th Fringe Festival
A BU Today article features the 25th Fringe Festival performance lineup, which included two operas, Proving Up (music by Missy Mazzoli (BUTI'98, CFA'02), libretto by Royce Vavrek) and The Infinite Energy of Ada Lovelace (music by Kamala Sankaram, libretto by Rob Handel).