Music
Class Notes
Winter 2023
Write to us!
We want to hear what you've been up to. Send us your stories and photos, and we'll share the highlights here. Email cfaalum@bu.edu to start the conversation.
1970s
Edward Evensen ('71) retired in 2020 and remains active playing woodwinds in the pit for musicals, directing the Claremont American Band in Claremont, N.H., leading The Firehouse Six Dixieland Band on clarinet, playing saxophone and clarinet in the East Bay Jazz Ensemble and Temple Band, subbing in area bands, and doing woodwind repairs. He and his wife, Anne, are proud of their son, Erik, an associate professor and director of the MFA in design program at the University of Wisconsin–Stout, and his wife, Erika Svanoe, concert band conductor at Augsburg University; their daughter, Keira Christian, a guidance counselor at Fall Mountain Regional High School; and their granddaughter, Cadence, a trumpet player.
Michael Mosorjak ('71) exhibited 31 of his paintings in the show From Conservator to Artist at the Southern Alleghenies Museum of Art in Bedford, Pa., in June and July 2022.
Jerry A. Straus ('74) was appointed to the Berkshire Music School's board of trustees in winter 2022. He is a founding partner and current chair of JMW Consultants, an international management consulting and leadership development firm.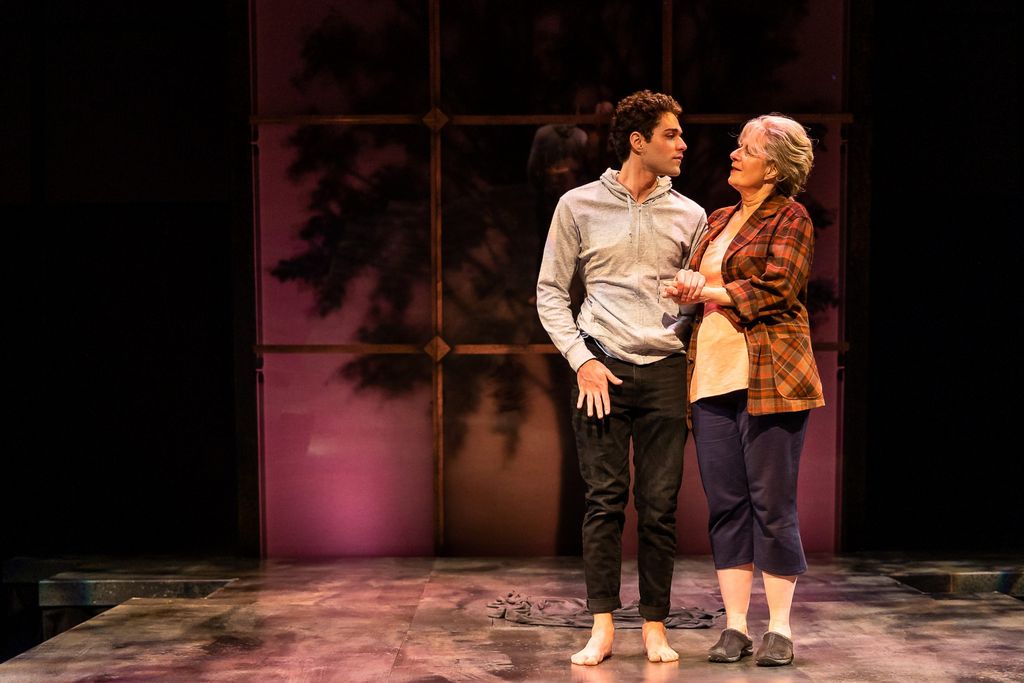 Mishka Yarovoy ('23), left, Paula Plum ('75), right, Steve Auger ('83), Mark H. Dold ('86), and Travis Doughty ('22) were featured in the SpeakEasy Stage Company's spring 2022 production of The Inheritance, a drama about generations of gay men in New York. Cristina Todesco ('94,'05,'09) was the show's set designer, Jeffrey Petersen ('18) was the technical director, and Anna Brevetti ('21) was the lead electrician. Photo by Nile Scott Studios
Geena Davis ('79, Hon.'99) was named to the 2021 Forbes "50 Over 50 Vision" list. Davis started the nonprofit Geena Davis Institute on Gender in Media in 2004, which advocates for increased diversity and inclusion in children's entertainment. She is also chair of BFFoundation, which promotes content made by and starring underrepresented people and produces the annual Bentonville Film Festival.
1980s
Cindy Gold ('80) appeared in The Most Spectacularly Lamentable Trial of Miz Martha Washington at Steppenwolf Theatre in Chicago, Ill., in fall 2022. In winter 2021, for the third year, she played Fezziwig in Chicago's Goodman Theatre's A Christmas Carol. In June 2023, she will retire after 26 years as a professor of theater at Northwestern University.
Julia Shepley ('80) showed her open-framework wood sculptures and new drawings and prints in a solo exhibition, Carry, at Boston Sculptors Gallery in Boston, Mass., in spring 2022. She also had new pieces included in the Boston Sculptors Gallery Members & Alumni 30th Anniversary Exhibitions in summer 2022 at both Boston Sculptors Gallery and Highfield Hall & Gardens in Falmouth, Mass. Additionally, Shepley had selected works in the group exhibition Material Drawing Redux at the Piano Craft Gallery in Boston in March 2022.
Julianne Moore ('83) performed a rendition of "What the World Needs Now Is Love" with other celebrities in July for Ukraine: Answering the Call, a televised fundraising special on NBC. She also spoke out against gun violence and advocated for policy change as a featured speaker at the Tory Burch Foundation's 2022 Embrace Ambition Summit: Confronting Stereotypes and Creating New Norms in June 2022.
Laurence C. Schwartz ('83) published Teaching on Borrowed Time: An Adjunct's Memoir (Page Publishing, 2022), which chronicles his journey teaching 23 different subjects at 20 different colleges over 30-plus years as an adjunct lecturer.
Brooke Karzen ('84) served as the executive producer of HBO Max's Harry Potter 20th Anniversary: Return to Hogwarts, a retrospective special featuring the cast and filmmakers of the Harry Potter film series.
Michael Chiklis ('85) will star in The Senior, a football drama based on the true story of Mike Flynt, who goes back to college at age 59 and rejoins the school's football team.
Roy Conli ('87) produced Disney-nature's Polar Bear and Bear Witness, which premiered exclusively on Disney+ on April 22, 2022, in celebration of Earth Day. Polar Bear tells the story of a polar bear experiencing motherhood for the first time, and Bear Witness is the accompanying behind-the-scenes documentary that reveals the bears' struggles with their changing environment due to global warming.
Neal Hampton ('88) was the special guest conductor for the Merrimack Valley Philharmonic Orchestra's Almost March Madness movie-themed concert in February 2022 at the Timberlane Performing Arts Center in Plaistow, N.H. Hampton is the director of the Brandeis-Wellesley Orchestra and assistant conductor of the Plymouth Philharmonic.
Michelle Hurd ('88) starred as Raffi Musiker in the second season of Star Trek: Picard, which premiered in March 2022.
1990s
Stephanie Stathos (BUTI'86,'87, CFA'90), a flutist with the Cape Ann Symphony, performed in the symphony's Spring Bouquet concert in the Crowell Chapel in Manchester-by-the-Sea, Mass., in April 2022. The concert featured a lineup of five international musicians.
Kim Raver ('91) reprised her role as Dr. Teddy Altman in season 19 of ABC's Grey's Anatomy. Raver was also the coexecutive producer of the Lifetime crime drama Suitcase Killer: The Melanie McGuire Story, released in June 2022.
Rhett Martinez ('93) directed Bob: A Life in Five Acts, a play that chronicles Bob's lifelong quest to become a "Great Man." Firecracker Productions presented Bob in April and May 2022 at Garza Studios in Houston, Tex.
Darryl V. Jones ('94) directed and choreographed Blood at the Root, an ensemble drama play inspired by real-life events that "examines the miscarriage of justice, racial double standards, and the crises in relations between men and women of all classes." It was presented by Custom Made Theatre Co. at the Phoenix Theater in San Francisco, Calif., in May and June 2022.
Valerie Coleman (BUTI'89, CFA'95) created a world premiere work that was presented in April 2022 by an all-star flute quartet as part of the Celebrity Series of Boston's Solo(s) Together, a Neighborhood Arts commissioning project that featured works for four soloists by five contemporary composers. Coleman was also named to the Metropolitan Opera/Lincoln Center Theater New Works dual commissioning program in 2021 and 2022. The season saw performances of her works by orchestras around the United States including the Minnesota Orchestra, Baltimore Symphony Orchestra, Sarasota Orchestra, New Haven Symphony Orchestra, Yale Symphony Orchestra, Vermont Symphony Orchestra, and the Louisville Orchestra.
Michael Walden ('96) had his paintings, including portraits of his personal trainer in colorful sneakers, on display inside the Old Southworth Library in Dartmouth, Mass., in April 2022.
Sedrick Huckaby (BUTI'95, CFA'97) founded Kinfolk House, a collaborative art space in what was originally his grandmother's house, in Fort Worth, Tex. Huckaby and his wife, Letitia, opened the doors of this historic space in March 2022 with the project Welcome. It featured Huckaby's paintings of his grandmother, Hallie Beatrice Carpenter, whose maiden name was Welcome, and Letitia's landscapes of places connected to Carpenter's past. Photos by Jessica Fuentes/Courtesy of Kinfolk House
Dan Fogler ('98) starred in Fantastic Beasts: The Secrets of Dumbledore, the third installment of the Harry Potter spin-off franchise, which opened in North America in April 2022.
Scott Allen Jarrett ('99,'08), director of music at BU's Marsh Chapel, conducted the Marsh Chapel Choir at the 2022 BU Baccalaureate Service, featuring organist Justin Thomas Blackwell ('08,'09), Marsh Chapel's associate director of music.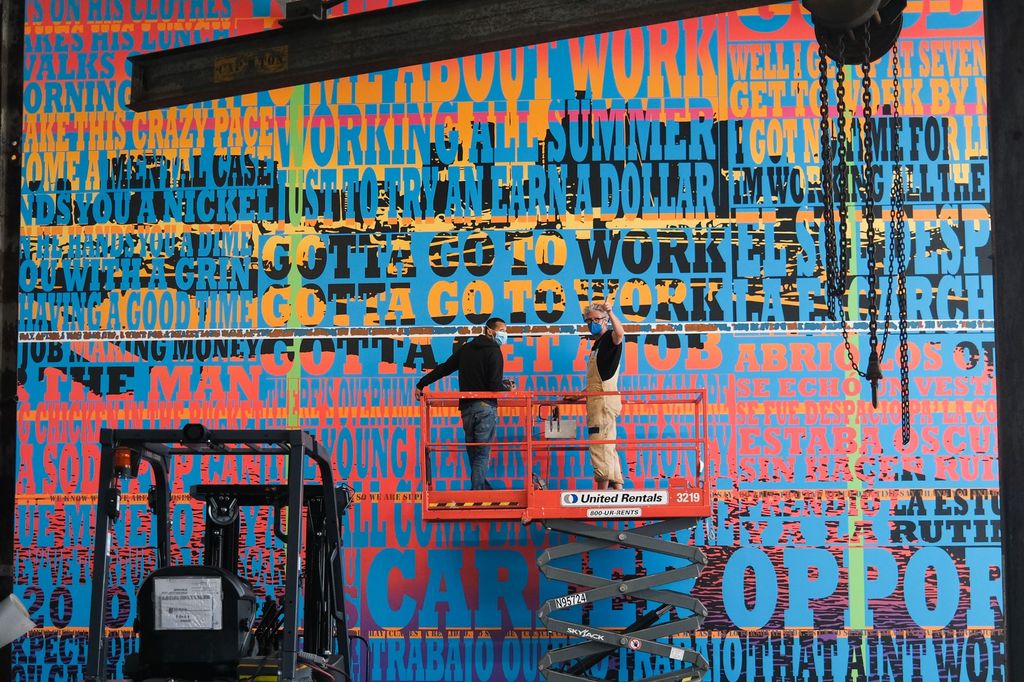 Joe Wardwell ('99) had work on display from May to September 2022 in the ICA Boston's exhibition Revival: Materials and Monumental Forms. The show featured large-scale installations by six international artists who reclaim and reuse industrial and everyday materials. Wardwell's mural, Gotta Go to Work, Gotta Go to Work, Gotta Get a Job, includes song lyrics about work from musicians and quotes from workers reflecting on how their lives have been turned upside down by the COVID-19 pandemic. Wardwell also created a playlist to accompany the exhibition. Photo by Kris Wilton/Courtesy of the ICA
2000s
Martín Benvenuto ('01,'09) is interim artistic director and head of staff for the 2022–23 season of the Young Women's Choral Projects of San Francisco. Benvenuto is founder and artistic director of 21v, a Bay Area professional ensemble of soprano and alto voices of all gender identities.
Ginnifer Goodwin ('01) starred as Jodie in the Fox comedy Pivoting, which tells the story of three women who make a series of life-changing decisions following the death of their childhood friend. Goodwin also appeared in the HBO Max series About Last Night.
Missy Mazzoli (BUTI'98, CFA'02), named "Brooklyn's postmillennial Mozart" by Time Out New York, was recently composer-in-residence with the Chicago Symphony Orchestra, where her commission, "Orpheus Undone," premiered in spring 2022. Mazzoli is writing an opera based on the George Saunders novel Lincoln in the Bardo for the Metropolitan Opera, and Musical America named Mazzoli its 2022 Composer of the Year. Mazzoli also serves as an advisor for the Boston University Tanglewood Institute Composition Fundamentals Workshop.
Kayla Mohammadi ('02) showed her work in the group exhibition The Shaping of America at the Painting Center in New York City in January 2022. The exhibition featured the work of 10 women artists and aimed to show that "landscapes cannot be interpreted without considering the connections artists have to memory, experience, and ownership."
Sam Tucker ('03) was appointed musical director of the Middlesex Hospital Vocal Chords. Tucker is also the choral director for Portland, Conn., secondary schools, where he teaches students in grades 7–12.
Katie Calahan ('04) played the professor in ThinkTank Theatre's production of All the Great Books (Abridged) at the Shimberg Playhouse at the Straz Center for the Performing Arts in Tampa, Fla., in February 2022. Calahan directs and oversees the programming for Big Break Youth Stage, a children's theater program based in St. Petersburg, Fla.
Joel Christian Gill ('04), a cartoonist and historian, became an associate professor and the inaugural chair of the new MFA in visual narrative at CFA in fall 2022.
Amber Gray ('04) shared her acting career experiences while visiting Fordham University's theater program, as part of its guest lecture series "Calling Up'' in spring 2022.
Uzo Aduba ('05) voiced Alisha Hawthorne, Buzz Lightyear's commander and friend, in the Disney Pixar movie Lightyear, which premiered in June 2022. Aduba was also awarded the 2022 Broadway.com Audience Choice Award for Favorite Featured Actress in a Play for her role in Clyde's and received an Entertainment Community Fund (previously known as the Actors Fund) Medal of Honor in spring 2022. Her performance in In Treatment was recognized with a 2022 Critics' Choice Awards nomination for Best Actress in a Drama Series and a 2021 Emmy Award nomination for Outstanding Lead Actress in a Drama Series. Aduba will star in a film adaptation of Clybourne Park, the Pulitzer, Tony, and Olivier award-winning play about race and real estate in America, and she'll be a part of the cast of the dark comedy Providence.
Clay Hopper ('05), a CFA senior lecturer in directing, conducted research in which he merged conventional mapping technology with interactive, generative computer graphics and computational vision to facilitate a more suitable environment for the actor. As part of the research, he is developing a software tool called RANDOM ACTOR, a new application for theater design that works by using an actor's movements to generate imagery based on the program's code perameters. Hopper and a team of graphic designers and software engineers partnered with Paola Scuppola, an interactive media artist, to use RANDOM ACTOR on the production of the CFA play Exit the King.
Lee Sunday Evans ('06) directed the music-theater piece Oratorio For Living Things, which ran at Ars Nova in New York City from March 17 through May 22, 2022.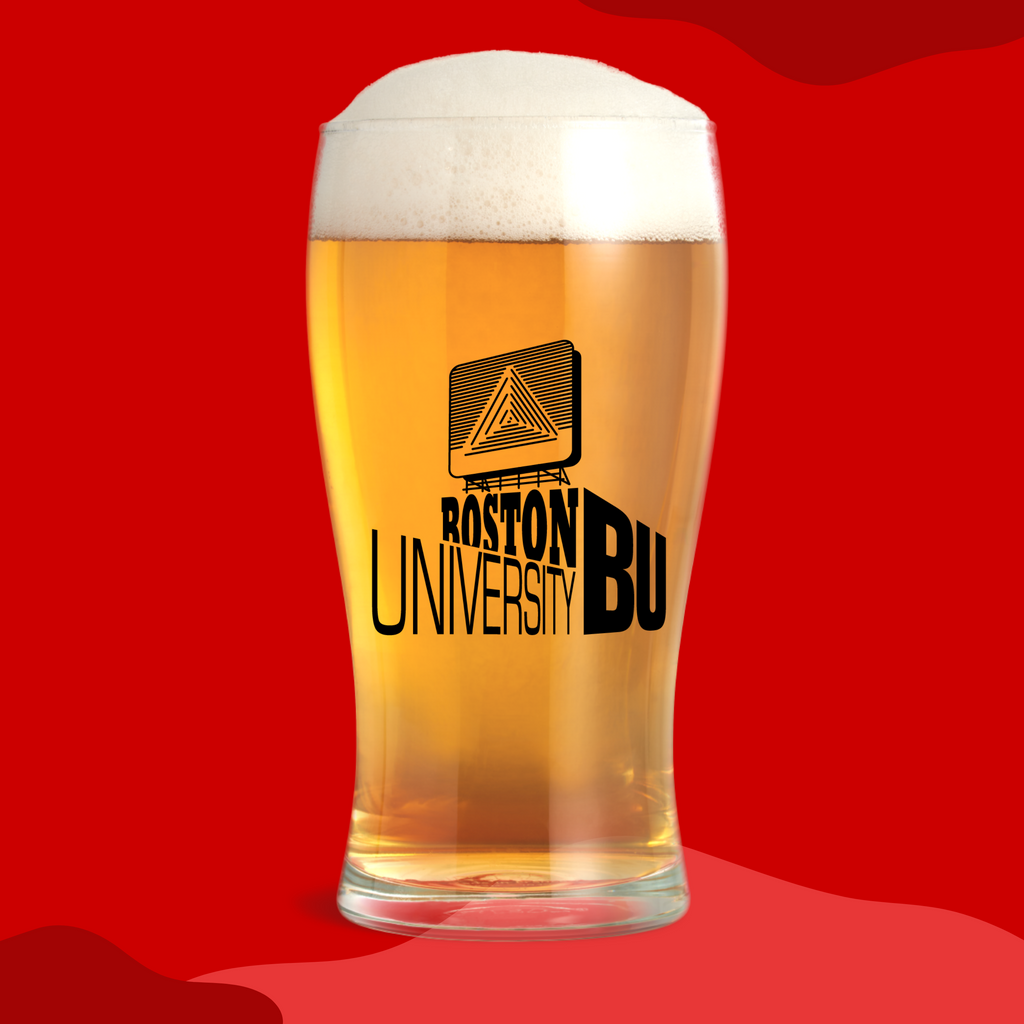 Janina Kiok ('06) created the winning design in the annual BU Pint Glass Design Challenge. Her artwork is featured on the 2022 limited edition BU pint glass. Image courtesy of Samantha Cohen
Julia von Metzsch Ramos ('07,'10), Emily Leonard Trenholm ('11), and the late Jon Imber ('77) had work featured in an exhibition titled Prism: Waterscapes at Gallery NAGA in Boston in February and March 2022.
Autumn Ahn ('08) completed a residency at Headlands Center for the Arts in California in summer 2022.
Judy Braha ('08), an assistant professor of directing and acting at CFA and former MFA directing program head, retired in spring 2022 after a 29-year career at BU. Braha directed Shakespeare in Love, a theatrical adaptation of the 1998 film, as her valedictory production. The production ran in April and May 2022 at the Joan & Edgar Booth Theatre. During her tenure at BU, Braha also collaborated with the BU Prison Education Program and with the Race, Prison, Justice Arts Program run by André de Quadros, a CFA professor of music and music education. In summer 2022, Braha directed Mr. Fullerton Between the Sheets at Gloucester Stage Company and Things I Know To Be True at the Great Barrington Public Theater.
Joel Turnham ('09), Austin Boyle ('18), David Orlando ('18), and Danielle Elegy ('20) worked with Mark Stanley, a CFA professor of lighting design, on Merry Wives of Windsor at Juilliard Opera. Stanley was the production's lighting designer, Elegy and Boyle were assistant lighting designers, Orlando was programmer, and Turnham was electric shop supervisor.
2010s
Ryan Anderson ('10) and Jessica Stansfield ('10) live outside Seattle with their daughter and two cats. Anderson is in his sixth year as an event operations manager at Resonance Events and recently began rock climbing. Stansfield worked as a COVID site monitor at the Seattle Opera and now works as the operations coordinator at Flatiron School.
Justin Antos ('10) was named a 2022 Regional Teacher of the Year for Cook County in Illinois and was one of 10 finalists for the Illinois State Board of Education Illinois State Teacher of the Year Award. Antos, a music teacher at Eisenhower High School in Oak Lawn, Ill., has worked to include the music of composers from underrepresented communities in school concerts.
Brian August ('10) obtained a labor studies certificate from Cornell University and became more involved in his union, the American Guild of Musical Artists (AGMA). He founded and chairs AGMA's national Staging Staff Caucus and serves on AGMA's National Joint Anti-Harassment Task Force, in conjunction with Opera America and the federal government. August is the lead for the New York City Opera Negotiations, and led the unionization campaign for Des Moines Metro Opera. During 2021 and 2022, August worked with Seattle Opera, Houston Grand Opera, and the Des Moines Metro Opera. He lives with his dog.
Michael Besancon ('10) works as a scenic artist in Chicago, usually for the Lyric Opera of Chicago or Chicago Scenic Studios. He is married with two cats.
Kate Boucher ('10) has been running an Etsy shop for 10 years, selling dolls and stuffed animals she creates by commission. Boucher lives in New Hampshire with her wife.
Michael Dobrinski ('10) and Adam Gautille ('13), along with CFA professors Terry Everson and Bruce Hall, performed in an all-BU trumpet section at the Boston Pops celebration of Strayhorn and Ellington in June 2022.
Elizabeth Durst ('10) is an events manager for the Chartered Institute of Archaeologists. She moved to Edinburgh, Scotland, in 2019 and lives with her husband and son.
Deanna Knudsen ('10) lives in New Jersey and is involved in her children's schools as well as her husband's businesses, playper.com and kcinvestors.com. Knudsen also works with Broadway San Jose on its high school musical awards program and traveled to California in May 2022 for the ceremony.
Rebecca Landau ('10) relocated from Chicago to southern Indiana in 2021 and works remotely as a product owner for a data consulting firm near Washington, D.C. Landau, who lives with her husband, dog, and cat, is renovating her house and restoring the outbuildings.
Elizabeth Luchs ('10) works remotely as a project coordinator at an insurance company.
Dale Placek ('10) continues to teach theater, film, and public speaking at a high school in the Washington, D.C., metro area. He earned a PhD in education from the University of Maryland, College Park, in 2022.
Danielle Schafer ('10) works remotely as a project manager for a tech company and lives with her husband and two daughters.
Heather Sparling ('10) moved to Maui, Hawaii, in 2020 and began bartending and waiting tables. She got married, became scuba certified, and took an interest in aerial skills. She has programmed moving lights for performances by Flo Rida and Pat Benatar. Sparling returned to Chicago in June 2022 to work on lighting for a Chicago Shakespeare production.
Elizabeth Tamporello (BUTI'05, CFA'10) joined the law firm Stone Pigman Walther Wittmann in spring 2022 as special counsel following several years specializing in litigation and insurance defense. Before her law career, Tamporello was an opera singer and performed with the Houston Grand Oaks Opera Chorus and Opera in the Ozarks.
Katy Whistler ('10) became a nurse in 2018 and moved to Denver, Colo., in 2020. She lives with her husband and daughter.
Susan Calkins ('12) recently retired from a long teaching career to compose, write, and publish music and books for children as well as lesson materials for music educators. Visit octaviasworld.com to learn more.
Cloteal Horne ('12) participated in the youth conference Next-Gen Theatre Industry Forum. Horne also played 26 characters in the play Fires in the Mirror: Crown Heights, Brooklyn, and Other Identities, which ran in November and December 2021 at Baltimore Center Stage and in January and February 2022 at Long Wharf Theatre in New Haven, Conn. The play explores the aftermath of the Crown Heights riots through the viewpoints of Black and Jewish people and is composed of monologues taken from interviews that playwright Anna Deavere Smith conducted.
Jeremiah Moon ('13), a Seattle-based singer, songwriter, classically trained cellist, and illustrator, released his debut EP, Sputnik, in January 2022. The tracks were recorded at a remote cabin in Florence, Ore.
Megan Ross ('13) has been executive director of the Worcester, Mass., chapter of the Hip Hop Congress, an international nonprofit focused on the evolution of hip hop culture, since January 2021.
Elizabeth "Lizzy" Rich ('14) became chair of BU's Young Alumni Council (BUYAC) on July 1, 2022. This is a two-year term, and Rich will be the third BUYAC chair since the board's founding in 2018. She will oversee a 24-member council.
Taylor Apostol ('15) is a sculptor specializing in marble and clay. Her most recent work, List Maker, is a part of a recent series featuring household items, and her marble sculpture Soft Cones is permanently installed in Mine Falls Park in Nashua, N.H.
Kelly Galvin ('17) directed Beasts, a drama written by Cayenne Douglass (GRS'21), which explores the chaos of American womanhood and centers on the fraught relationship between a pregnant suburbanite and her older sister. Beasts ran in April 2022 at the Boston Playwrights' Theatre.
Rachel Betterley ('18), an art teacher at North Woods School in Cook, Minn., was crowned Mrs. Minnesota America in June 2022 and competed for the Mrs. America title in Las Vegas in August 2022.
Nicki Kerns ('19) was the music director for Little Shop of Horrors at San Lorenzo Valley High School in Felton, Calif., which ran in March 2022. The production was Kerns' fifth stint as music director for San Lorenzo Valley High School since 2017.
Afsoon Pajoufar ('19) is a designer and collaborator for We Hear You—A Climate Archive, a project with the Royal Dramatic Theatre of Sweden; the Earth Commons, Georgetown University's institute for environment and sustainability; the Embassy of Sweden in Washington, D.C.; and the Laboratory for Global Performance and Politics. The project is inspired by Greta Thunberg's famous question "Can you hear me?" and aims to document ways that today's youth are experiencing climate change.
2020s
Ibrahim Alazza ('20) had his CFA thesis project, All that Remains, which centered around the Palestinian narrative and collective memory, displayed in the Museum of Palestine's 2022 Venice Biennale exhibition, From Palestine with Art. Alazza also designed the book accompanying the exhibition. Alazza has taught design classes at BU's College of Communication, Endicott College, and Northeastern University.
Kabita Das ('20) displayed her public art project, Home, Reconstructed, in April 2022 at the BU Beach. The installation was an immersive experience that addressed the relationship between the understanding of home and space, and how to navigate shared environments.
Peter Everson ('20), along with his father, Terry Everson, a CFA associate professor of music, performed at February Fest, presented by the Peninsula Music Festival, in Wisconsin in 2022. The duo also performed as associate artists with the Rodney Marsalis Philadelphia Big Brass in 2022. Peter Everson is a freelance musician in the Boston area and works in order management, administration, and sales at the S.E. Shires Company, a brass instrument manufacturer. He also is involved with the music ministry at Metro Church in Marlboro, Mass.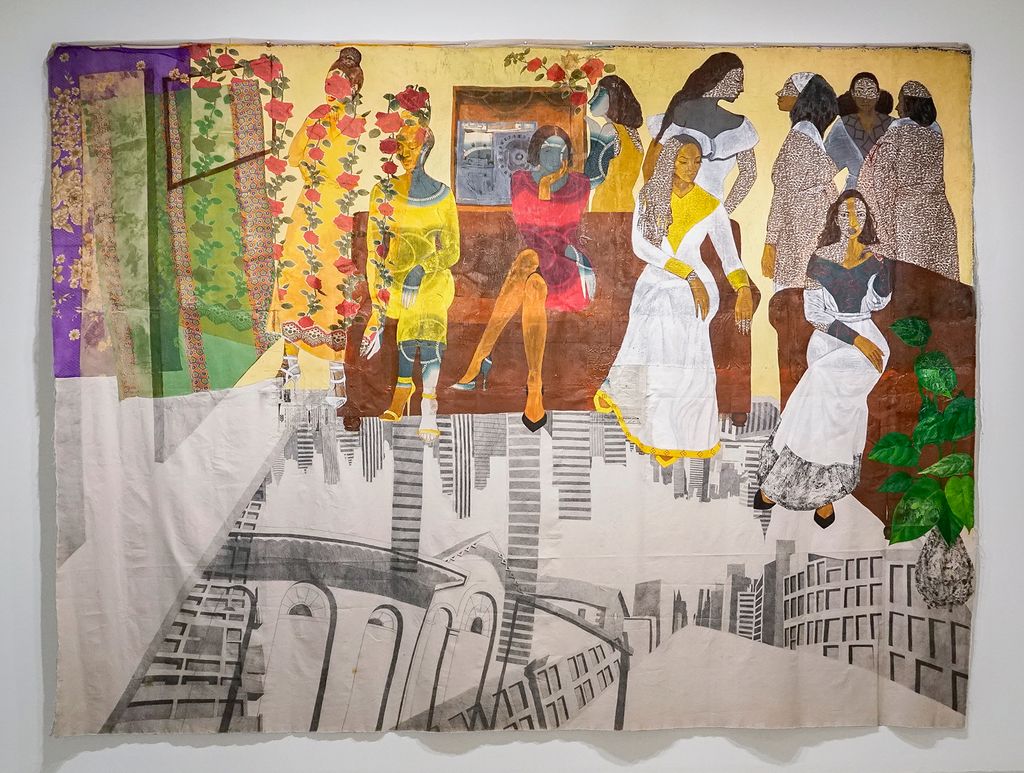 Hana Yilma Godine ('20) had a two-gallery solo exhibition, A Hair Salon in Addis Ababa, at Fridman Gallery in Beacon, N.Y., and Rachel Uffner Gallery in New York, N.Y., in winter 2022. Godine's paintings portray female protagonists in domestic and public spaces, drawing on everyday scenes of her hometown of Addis Ababa, Ethiopia. Godine was also the first artist-in-residence at Fridman Gallery, from January through April 2022. Image courtesy of Hana Yilma Godine and Fridman Gallery
Blair Cadden ('21) directed and Isabel Van Natta ('22) and Lila Heller ('23) performed in Rx Machina, a BU New Play Initiative production about Big Pharma's impact on everyday American culture, seen through the eyes of five women on the opioid epidemic's front lines. The play was written by Caity-Shea Violette (GRS'21) and ran in February 2022 at Boston Playwrights' Theatre.
Julian Manjerico ('21) will appear in the film A Man Called Otto, starring Tom Hanks and set to premiere in December 2022.
Oscar Morel ('22) was named one of "6 art-school stars from around Boston to watch in 2022" by the Boston Globe. His work depicts his life growing up in the Bronx with his Dominican family and the neighbors in his apartment complex, and incorporates mythic and historical narratives. Morel had a residency at MASS MoCA in summer 2022.
This Series
Also in
August 8, 2023

May 24, 2023

October 5, 2021