Geena Davis, Leading the Fight for Gender Parity in Hollywood
Long before the #MeToo movement, the Oscar winner, BU alum, and recent GLOW star founded the Geena Davis Institute on Gender in Media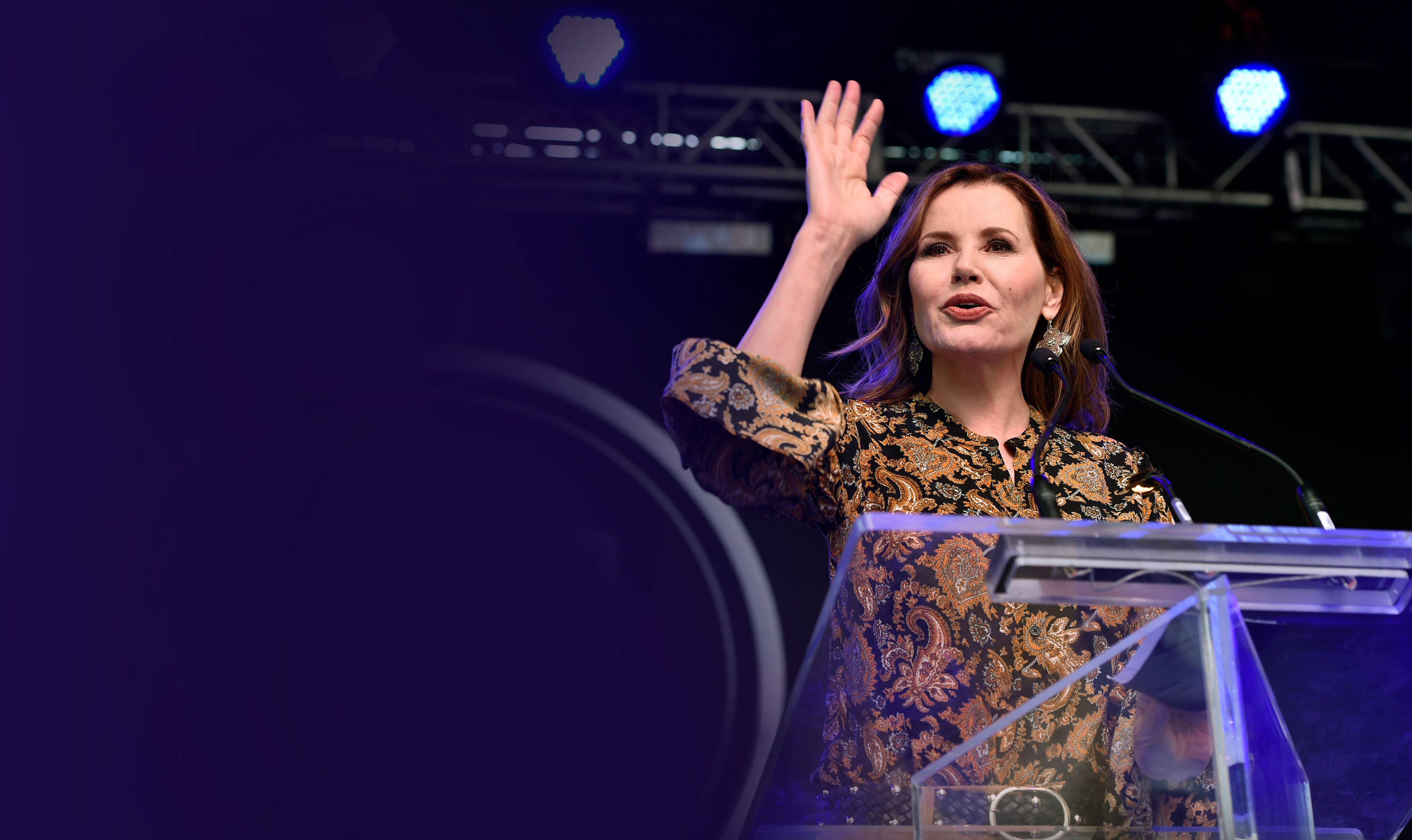 Arts & Culture
Geena Davis, Leading the Fight for Gender Parity in Hollywood
Long before the #MeToo movement, the Oscar winner, BU alum, and recent GLOW star founded the Geena Davis Institute on Gender in MediaBY MEGAN WOOLHOUSE
SITTING IN A PACIFIC PALISADES café, eating an Italian grinder on a recent afternoon, Geena Davis recalls when she began talking publicly about Hollywood's gender problem. It was a delicate proposition for a veteran actor, one with an Academy Award no less, who was hungry to keep landing major roles.
In the early 2000s, Davis had noticed that her daughter, then a toddler, watched TV shows that featured few, if any, female characters. Dismayed, the star renowned for her strong lead roles in films like Thelma & Louise and A League of Their Own used her industry connections with studio executives, directors, and the Screen Actors Guild to launch a conversation about why women and girls were so underrepresented on-screen, or were often represented in highly sexualized ways, and how to fix it.
And who better to address gender bias than a celebrated actor and mother, one with a Mensa membership and the respect of her Hollywood peers? If only it were that simple. Davis (CFA'79, Hon.'99) says that in dozens of private meetings she had with Hollywood stakeholders, men and women, no one was swayed by her observation about women and girls.
"Nobody believed what I was saying," Davis says, drawing out the word "believed."
Coming on the heels of the scandals involving Hollywood executives and producers like Harvey Weinstein that have roiled the industry, those words resonate more deeply than ever.
But long before the #MeToo and Time's Up movements took hold, Davis was hatching a plan.
In 2004, she decided to collect data about the portrayal of girls in media and to build a body of fact-based research that would prove her theory. When she learned that such information did not exist, she created the Geena Davis Institute on Gender in Media to begin her own in-depth research. The institute has used new technology to continuously monitor industry progress toward gender parity. Davis has spent the last 15 years delivering the results to the skeptics, disbelievers, and elite power players who would have been content to let men rule Hollywood. Forever.
Edgy, Delicate Work
THOSE RESULTS WERE as bad as, or worse than, Davis thought. In media targeting children age 11 and under, girls were appearing on screen less, and when they did appear they were hypersexualized or they spoke little. One of the institute's earliest studies found that of the more than 4,000 characters across 400 G-rated, PG, PG-13, and R-rated movies surveyed, women were more than five times as likely as males to be shown in sexually revealing clothing (25 percent for women, versus 8 percent for men). It examined more than 1,000 shows from 12 network, public broadcast, and cable outlets—a total of 534 hours of programming in 2005—finding that male characters appeared at twice the rate of female characters in children's TV. This was edgy and delicate work, especially in an era when women actors were subjected to one-on-one hotel room interviews.
Now Davis is getting some hard-earned recognition for her efforts to discuss unconscious bias and ingrained stereotypes a decade before they were mainstream concepts. The New York Times has noted that her institute "set the stage" for the Time's Up movement. And last October, the Academy of Motion Picture Arts and Sciences presented Davis with the prestigious Jean Hersholt Humanitarian Award for her efforts to help change the entertainment industry.
---

Geena pioneered the field of research on gender in media. Period.

---
"That's pretty cool," she says of the credit she's been getting for her work, in between sips of an Arnold Palmer and a request to the waitress to box an uneaten portion of her sandwich. Other diners play it cool around the star, dressed in a sweatshirt and sneakers.
Davis, 64, says as a young actor, she encountered "the sort of everyday, garden-variety sexism experience" women in Hollywood have long endured. (She told USA Today in 2019 that a director once asked her to act out a sexy scene sitting on his lap. She did, she said, not realizing that she could say no.)
But, she says, that was "nothing like some of the horror stories my peers have talked about."
Instead, her feminism was mobilized by a system that denied girls a vision of what they could be beyond the role of a girlfriend or sex object. The institute has even found that when girls and women do get to speak, their dialogue is often about the activities of the men around them.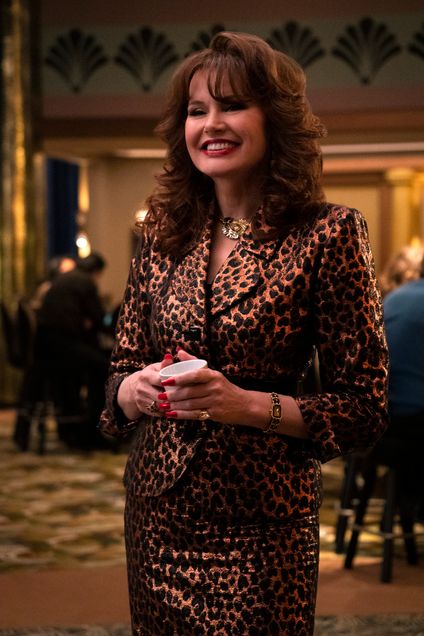 Davis and her institute have brought their findings to people in the industry—networks, guilds, production companies, and anyone who creates children's media. The institute holds symposiums, salons, and forums, and Davis notes that she and members of the institute are regular guests at Disney, one of the nation's largest purveyors of children's TV and film.
The institute's commissioned research has also recorded both the strides in gender parity and the areas where work remains. The number of leading female characters in children's television rose to a historic high between 2008 and 2018—and is now on par with the number of male leads.
But equality is elusive in children's films, where only about 33 percent of the leading characters are female.
The work has become an absorbing passion for an actor who never planned on being an activist. And it's spurred new ideas. Davis cofounded the Bentonville Film Festival in 2015 to champion the work of women and underrepresented artists in media. She's executive producer of the 2019 documentary This Changes Everything, an investigation chronicling decades of gender discrimination in Hollywood.
And she's open about her desire to take on roles featuring interesting, strong women. Last year, she starred in the third season of the Netflix hit GLOW (Gorgeous Ladies of Wrestling), a show about a 1980s women's wrestling team that was created and produced by women and has a largely female cast. Davis even took the time to write to the internationally syndicated cartoonist who creates Mutts to object to a depiction of worker bees in a recent comic strip as male. (They're not.)
"I still didn't intend to take it this far," she says of the work.
Launch of a Film Career
DAVIS, WHO GREW UP in Wareham, Mass., told her parents she wanted to be an actress when she was three years old. She was drawn to music and art, singing in her school choir and learning to play the flute, the piano, and the pipe organ at her Congregational church's youth services. She asked her music teacher where people go when they want to study acting. He told her BU.
Davis says she felt a bit out of place in BU's theater-heavy program because she wanted to act in films. After BU, she moved to New York and became a model, appearing in a Victoria's Secret catalog and on the cover of New Jersey Monthly wearing a bathing suit with a hat over her face.
The catalog image helped Davis land a role in the 1982 Oscar-winning comedy Tootsie, starring Dustin Hoffman. (The part, she says, required her character to appear in her underwear.)
Within a few years, she was starring in major box office productions, like The Fly, opposite her future husband, actor Jeff Goldblum. In 1988 alone, she appeared in three films, Beetlejuice, The Accidental Tourist, and Earth Girls Are Easy.
Earth Girls Are Easy didn't boost her feminist credentials. But it was easily overshadowed by her Academy Award–winning performance as the wacky dog trainer Muriel, in The Accidental Tourist.
Davis had her choice of roles after that, and none won her more fame than Thelma in the 1991 hit Thelma & Louise, the story of two women, hunted by police, and their famous car ride into immortality. Both Davis and costar Susan Sarandon were nominated for Academy Awards for Best Actress that year (Jodie Foster won for The Silence of the Lambs). She says the role changed her life, and her friendship with Sarandon endures. After the film came out, women approached her wherever she went, Davis says, honking and waving at her from their cars and shouting, "Woo-hoo!" like the movie's characters.
She flashes her famously dimpled smile before getting serious. Yes, the film is ultimately tragic. "We never win, once we get control in the movie," she says of the characters. "But we never released [control] back to anyone else either."
Davis says the response to the film was so eye-opening, she decided she would select roles only after considering what women viewers would think of her character. "Will this character give them the opportunity to identify with me and my character and live through that experience? Because it's really, in my opinion, the best part of seeing a movie," she says.
A year later, Davis followed up with A League of Their Own, about a professional all-female baseball league in the Midwest during World War II. The star-studded cast included Tom Hanks and Madonna and garnered Davis a Golden Globe nomination for best performance.
Then came a couple of box office failures, Cutthroat Island and The Long Kiss Goodnight. Davis says that as she entered her 40s, the offers to play interesting or meaty roles simply dried up.
"I was appalled and horrified and never would have said anything about it in the press," Davis says. "You know, you're supposed to pretend like everything's great. I think that's why so many women speak out, whether it's #TimesUp and #MeToo, who've never said anything before. Because it would be a career killer if you complained."
"I Never Bust Anybody Publicly"
REMEMBER WHEN Geena Davis took up archery at age 41? It was supposed to be a hobby, but she almost made it to the 2000 Olympic Games in Sydney, finishing 29th out of 300 at the US national championships.
Her institute has taken on gender bias with a similar zeal. There is virtually no aspect of the subject that the organization hasn't studied with academic rigor. Crowd scenes? Mostly male. Animated movies? Predominantly male. Fictional space colonies invented by writers and producers? Inhabited by men and boys. And throughout, a persistent lack of fairness in the representation of people of color.
The work has been largely behind the scenes, leveraging industry connections in the highest echelons of Hollywood.
"It's much more efficient to use the research than try to educate the populace," Davis said in a 2016 NPR interview. "I never bust anybody publicly."
The Davis Institute's chief executive officer, Madeline Di Nonno, says the not-for-profit works collaboratively with hundreds of content creators, including CBS, ABC, Netflix, and Amazon, offering symposiums, consultations, and trainings about best practices.
Over the last decade and a half, they have amassed the largest body of research on gender prevalence in children's entertainment.
"I don't feel like she gets enough credit," says Di Nonno (CAS'82). "Geena pioneered the field of research on gender in media. Period."
Institute funding has helped pay for groundbreaking projects, like technology that can identify unconscious or hidden bias. Both women and men have these biases, but because men still control government and business, including film and media, theirs has a greater impact, Davis says. It also helps explain why the percentage of female characters hasn't budged since 1946.
To be sure, women directors and producers are demanding more power in the industry, shifting the stories Hollywood tells and creating new film and TV opportunities, not just for women actors but for viewers. Wonder Woman, directed by and starring women, was the third highest grossing film in North America in 2017. On pay-TV, Big Little Lies and The Handmaid's Tale have a wide fan base and have met with critical acclaim. But these changes have not fundamentally altered the landscape for women.
"We're talking about seven decades of utter stagnation," Davis says.
About five years ago, the Davis Institute began working with software engineers from the University of Southern California Viterbi School of Engineering, in a project with financial backing from Google's philanthropic division. Over two years, it created what is known now as the GD-IQ (IQ stands for Inclusion Quotient), billed as a revolutionary tool with the ability to analyze a film to determine the number of speaking roles held by women and men, and the percentage of time men speak compared to women. It made it possible for researchers to quickly analyze massive amounts of data with new precision.
---

After her star turn in the film Thelma & Louise, women often approached Davis, waving at her from their cars and shouting, "Woo-hoo!" like the characters.

---
The technology is proprietary, and Di Nonno will not name or even disclose the number of companies that have used it.
The results from an analysis of the 100 top-grossing films of 2017 were disturbingly familiar. Male characters outnumbered female characters two to one when it came to lead roles (59 percent to 26 percent) and dominated screen time (61 percent to 39 percent) and speaking time (64 percent to 36 percent).
Despite the lack of parity, it also found the number of women in lead roles had doubled since 2013.
"It changed everything for us," Di Nonno says of GD-IQ. "We have these tools to help corporations that want to do right. We've gone from being research-driven advocacy to research-driven intervention. That's due to technology, not due to #MeToo."
But after 15 years, what are the gains being made? The institute says the majority of entertainment industry executives familiar with its research have changed two or more projects. That could mean altering the aspirations or occupations of female characters, or increasing their numbers or dialogue. Pixar's Monsters University, Sony's Hotel Transylvania, and Netflix's The Little Prince are just a few examples of films the institute says it has influenced.
Di Nonno says the institute's most recent research, soon to be released, shows historic increases in the percentages of minority and LGBTQ roles in film and television.
Shonda Rhimes, a writer, producer, and director, and the force behind five drama series on ABC with strong females in lead roles, including Grey's Anatomy, Scandal, and How to Get Away with Murder, says that after she heard Davis talk at an event, she realized many of her productions featured crowds with fewer females than males and made changes.
---

I don't think we would see the kind of change we're seeing if Geena hadn't opened the door. She sent up the flares.

---
Empire writer Wendy Calhoun told Davis that when she heard her speak, she decided to change a character who had been referred to generally as Rich White Man to Rich White Woman, later played by Marisa Tomei (CFA'86, Hon.'02).
Political consultant Hilary Rosen, a cofounder of the Time's Up Legal Defense Fund, which funds the cases of women who are sexually harassed or retaliated against in the workplace, says that Davis has been a vocal and important presence over the years. "The institute has done great research, held important forums, and created several standards for inclusivity that have made people think of these issues differently," Rosen says. "Time's Up has been inspired by her work."
Nina Tassler, who was chief of CBS Entertainment in 2004 and who shepherded shows like The Good Wife and The Big Bang Theory, says her network was one of the first to bring the Davis Institute in-house to talk with the programming department about how to use the tools it developed to identify bias and create more and better roles for women.
Tassler (CFA'79, Hon.'16) says she was eager to help out her best friend and former BU roommate because their values aligned. They were both aware of their positions as women in an industry dominated by men, she says, and both believed that female representation could be improved in a spirit of collaboration.
"We didn't see it as an impediment—we saw it as a challenge," Tassler says of the sexism endemic to the industry. "I think Geena herself is such an important leader because she is about effective communication, dialogue, and results."
Davis does not take a passive approach with the data, she adds.
"I don't think we would see the kind of change we're seeing if she hadn't opened the door," Tassler says. "She sent up the flares."
Never Blending In
IT'S HARD TO IMAGINE Davis as a gangly teenage girl feeling self-conscious and shy. A premium was placed on politeness growing up, she says, adding that if she were to write a book, she might call it I Almost Died of Politeness.
"My fondest wish was to take up less space in the world," Davis has said. "I just wasn't very good at blending in."
At six feet, she doesn't come close to blending in. Nor do the quirky and intriguing characters she's gravitated toward. Playing the first woman to become American president in Commander in Chief, Davis won the 2006 Golden Globe for Best Performance by an Actress in a Television Series.
In 2017, Davis starred as a woman who tries to comfort her ailing mother with a holographic projection of her late husband in the drama Marjorie Prime. (She persuaded the director to add the role of an 11-year-old girl to give the movie greater gender diversity.) And she is the voice of Huntara in the Emmy-nominated Netflix series She-Ra and the Princesses of Power.
But a film like Thelma & Louise, which remains her favorite movie to date, hasn't come her way since.
The movie's box office success was supposed to put an end to the Hollywood notion that stories about women and their lives aren't commercially successful. In addition to critical plaudits, including six Oscar nominations (and a win for best screenplay), the movie was a box office hit. A League of Their Own was similarly heralded as a beacon of a new era.
As it turned out, neither film brought sweeping change, and that stagnation inspired the wry title of This Changes Everything. Actors Natalie Portman, Rashida Jones, and Reese Witherspoon are among the women who speak out in the documentary about persistent problems, like the fact that just 8 percent of the top 250 films in the United States were directed by women.
Comedian and podcaster Marc Maron (CAS'86), who stars in GLOW, calls Davis a key figure in his understanding of feminism. This Changes Everything had such an impact that he interviewed her on his WTF podcast last fall.
"I was excited about it," Maron says. "I was even talking at her about it."
The institute, meanwhile, continues to develop new tools and partnerships, including an initiative with Walt Disney Studios to analyze scripts for gender bias. It will develop technology in partnership with the Viterbi School of Engineering that can identify male and female characters as well as characters' race, sexual orientation, or disability and whether they are representative of the population at large.
At the same time, Davis remains laser-focused on finding quality roles, though it remains a challenge, she says. The industry, after all, is notoriously unkind to aging female actors.
That didn't stop her from making a pitch when accepting her honorary Oscar last year. She told the crowd that one of the quickest paths to gender parity is to cross out a male character's name and replace it with a female's.
"It's simple," Davis said. "And then cast me."