Terriers Run, Walk, Cruise, Party, Learn, and Celebrate at Alumni Weekend 2023
Scores of events aimed at bringing together alums from across the University
Alumni Weekend
Terriers Run, Walk, Cruise, Party, Learn, and Celebrate at Alumni Weekend 2023
Scores of events aimed at bringing together alums from across the University
TERRIERS OF ALL ages returned to campus in September for Alumni Weekend 2023. They had a lot to celebrate, including the 150th anniversary of the College of Arts & Sciences. The three-day event offered some 90 activities—the presentation of Distinguished Alumni Awards, a special reunion of Black alumni from the Class of 1973, a 5K fun run, and a festival on the BU Beach, along with trivia night at Fuller's BU Pub, tours, lectures, panels, and mixers—all designed to bring the BUniverse together.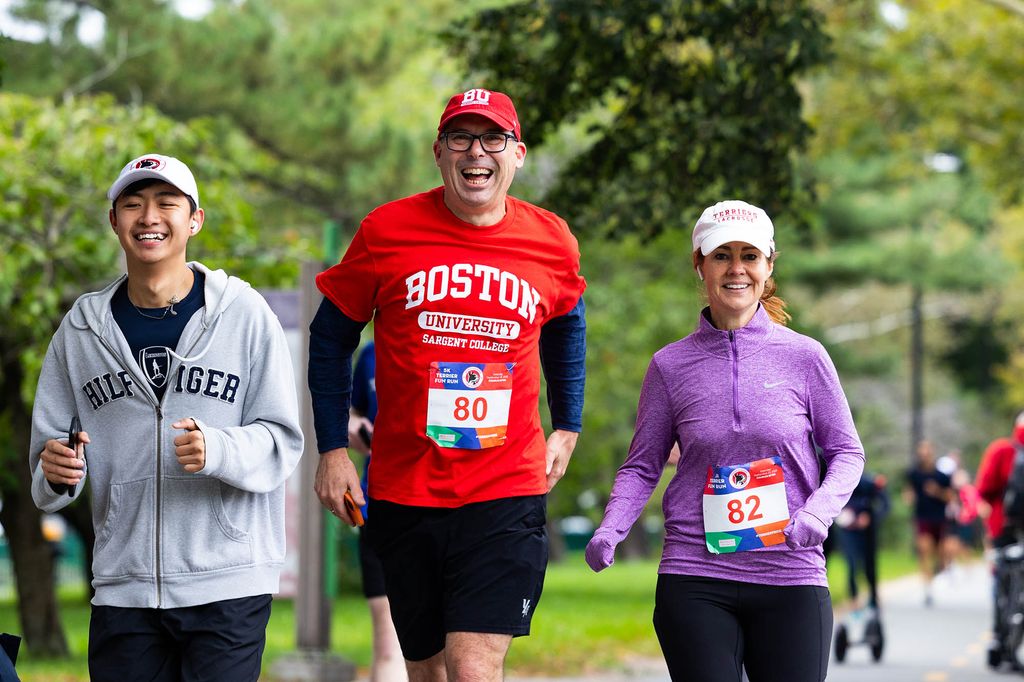 Joining the 5K run (and walk) on the Charles River Esplanade: Elman Leung (Sargent'24) (from left), Sargent College Dean Jack Dennerlein, and Kelly Pesanelli (CGS'94, Sargent'96,'98).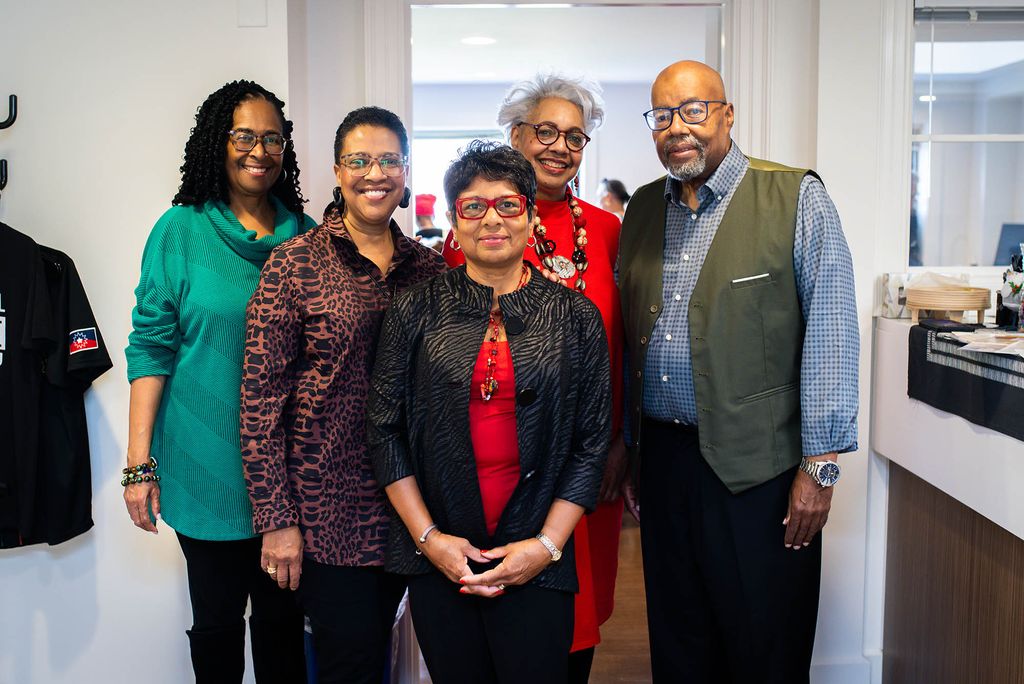 Black alumni from the Class of 1973 turned out by the dozens to celebrate their 50th reunion, including organizers Alva Baker (CAS'73) (from left), Linda Keene (Questrom'73), Sue Brown Peters (DGE'71, Wheelock'73), Beverly Headen-Moss (CFA'73), and Manfred Hayes (Questrom'73). The tight-knit community of alums has maintained relationships over the decades—within their class and with Black graduates a few years ahead and behind them. "We had our own newspaper, our own student union, our own sororities and fraternities, our own choral groups," says Keene, who spearheaded the reunion.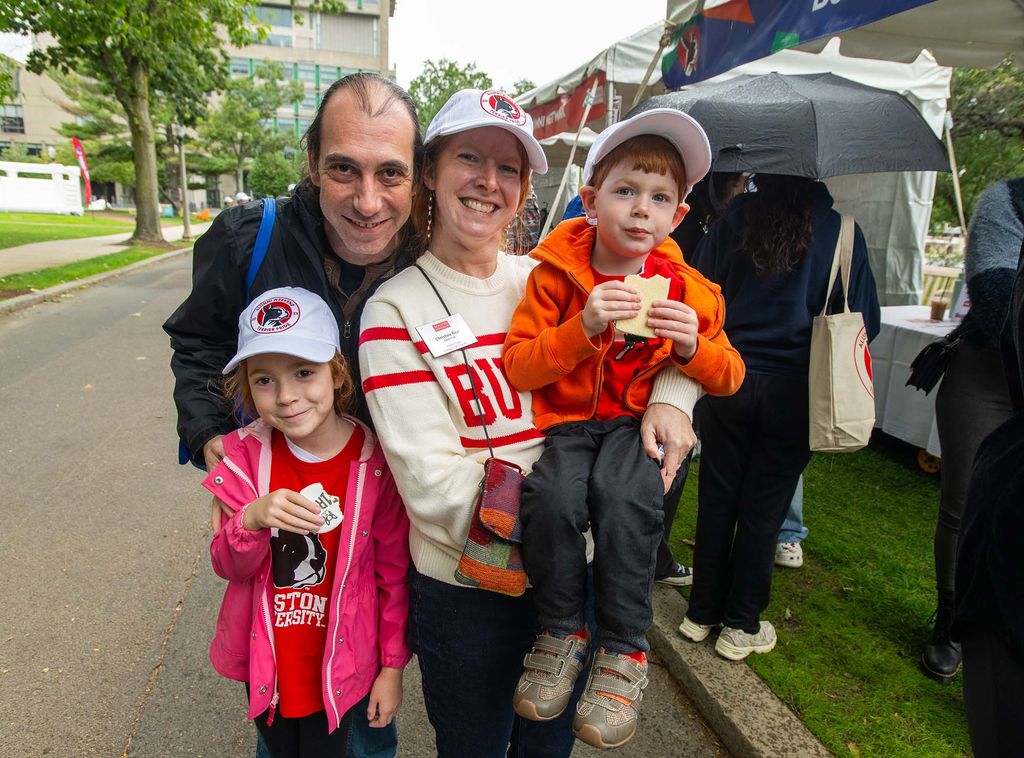 The Back to BU Beach Festival was a family affair for Jon Burnim (Wheelock'97) and Christina Rice (LAW'07,'13), assistant dean of graduate, international, and online programs at the School of Law, and their kids, Annabelle, 7, and Owen, 3.
The BU Alumni Association (BUAA) bestowed its annual Distinguished Alumni Awards on six exceptional alums. At the ceremony (from left): Jenny Gruber (ENG'99,'99), president of the BUAA; awardee Danielle De La Fuente (CGS'04, Pardee'06), founder and CEO of Amal Alliance; Kenneth Freeman, BU president ad interim; awardee Mitchell Garabedian (CGS'71, CAS'73), an attorney and a longtime advocate for survivors of sexual abuse; awardee Santiago Levy (CAS'77, GRS'78,'80), an economist and founder of the Progresa-Oportunidades program; and Erika Jordan, BU vice president for alumni engagement. Not pictured: awardee Richard G. Fecteau (Wheelock'51), a former CIA operative and former BU assistant athletics director; Janet E. Petro (MET'88), director of the Kennedy Space Center; and Daniella Pierson (CGS'15, Questrom'17), CEO of The Newsette, cofounder of Wondermind, and the 2023 BU Young Alumni Award winner.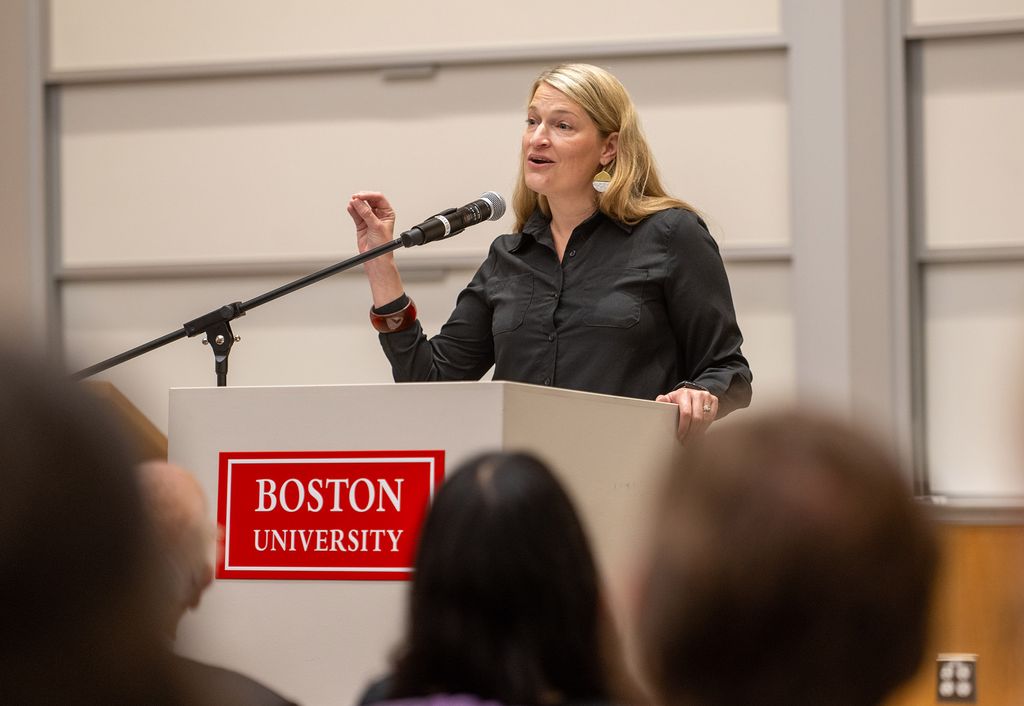 The Favorite Poem Project and the BUAA hosted a poetry reading in celebration of the project's 25th anniversary and the CAS 150th anniversary. Maggie Dietz (GRS'96), a poet and former director of the project, reads "The Snow Man" by Wallace Stevens. The project was founded by Robert Pinsky, the 39th poet laureate of the United States and a BU William Fairfield Warren Distinguished Professor.
Connell Tar (Questrom'73) (from left), Anthony Williams (CAS'75, Questrom'78), Jim Skrekas (Wheelock'73), and Ellen Skrekas at the Golden Terriers reception at the Dahod Family Alumni Center.
Carolyn Collins (ENG'94,'00) (left) and Angela Gomes (CAS'01, LAW'05) at the Menino Scholars 50th anniversary reception. The scholarship is a full-tuition merit scholarship awarded to graduates of Boston Public Schools.