My Big Idea: A Gift for Your Inbox
Alumni Entrepreneurs
A Gift for Your Inbox
Daniella Pierson (CGS'15, Questrom'17) founded The Newsette, a daily e-newsletter aimed at women, to combat what she calls the usual toxicity of your email inbox
In our series "My Big Idea," we bring you interviews with BU alums and other members of the University community who have launched a business, built a new product, or solved problems big and small. We ask them how they got the idea, what were their biggest stumbling blocks, and what's next for their big idea.
On New Year's Day in 2015, Daniella Pierson sent out the very first edition of The Newsette, a daily email newsletter aimed at women. It had "like eight" subscribers—all family members or close friends—and was "riddled with typos and so bad," she recalls, laughing. But she kept sending her newsletter out, honing her editorial style and finding the best content to share with her readers.
"I loved the idea of creating this brand that wasn't me; it was its own entity," says Pierson (CGS'15, Questrom'17).
Pierson came up with the idea in 2014, as a sophomore in the College of General Studies. She loved magazines, but she didn't have the editorial experience to land an internship at the likes of Condé Nast or Hearst. Instead, she thought, why not bring the magic of reading a magazine—and its mix of fashion, current events, and inspiring stories—straight to people's inboxes?
"I was like, your email inbox is usually such a toxic place," she says. "So, what if I make something that's a five-minute read and feels like a delightful gift for your inbox?"
Now The Newsette is a multimillion-dollar company—CEO Pierson expects to finish off the year with over $40 million in revenue—and she is a certified Boss. And in 2020, she made the Forbes "30 Under 30" list. She's negotiated partnerships with mega brands Stitch Fix and Ulta, spoken at a Under 30 Summit alongside RXBar founder Peter Rahal, and refers to fashion designer Diane von Furstenberg (who nominated her for the "30 Under 30" list) as her mentor.
Recently, Pierson talked to Bostonia about the early days of The Newsette and why failure isn't final.
Bostonia:
So, what exactly is The Newsette?
Daniella Pierson: What we offer for our subscribers is knowledge about what's happening in the worlds of fashion, beauty, tech, and business [through aggregated articles and content]. Then, we spotlight an inspiring woman every day to interview—it could be someone like Selena Gomez or Diane von Furstenberg, or an up-and-coming author, or an entrepreneur from halfway across the world. Our mission is to make women feel like they can kick ass every single day.
Bostonia:
How did you start bringing in advertising revenue?
Daniella Pierson: In the early-ish days of bloggers, companies were finally investing dollars in bloggers and their websites. Newsletters, however, were a sell—there were only a few big ones out there, and when companies would advertise with websites, they'd ask, "What are the monthly views?" But instead of monthly views, I had subscribers, so that really was a learning curve for me [in selling that]. Eventually, we started getting approached by brands. The biggest moment came with the revolution of direct-to-consumer brands; the Caspers and the AllBirds of the world were really seeing the value in email acquisition. Brands like Casper, Parachute, and Birchbox really led the charge in the newsletter space, and they were a lot of our first customers.
Bostonia:
What mistakes have you made—and learned from—since starting The Newsette?
Daniella Pierson: I made a lot of hiring mistakes in the beginning. I'd never worked for a corporate company, and all of a sudden I was hiring interns, and then full-time employees, and paying bills and salaries. I knew what I needed to get done every day, but I didn't have a good gut for hiring the right people who would be hardworking. So I definitely made a lot of mistakes in the early days, with having to fire people and start over from zero [employees] and work back up. But now I've really learned the kind of people we should and shouldn't add to the team, and I've been able to find so many people who are so incredible and add so much value every single day. So that's probably my biggest failure—but the failures made me who I am today.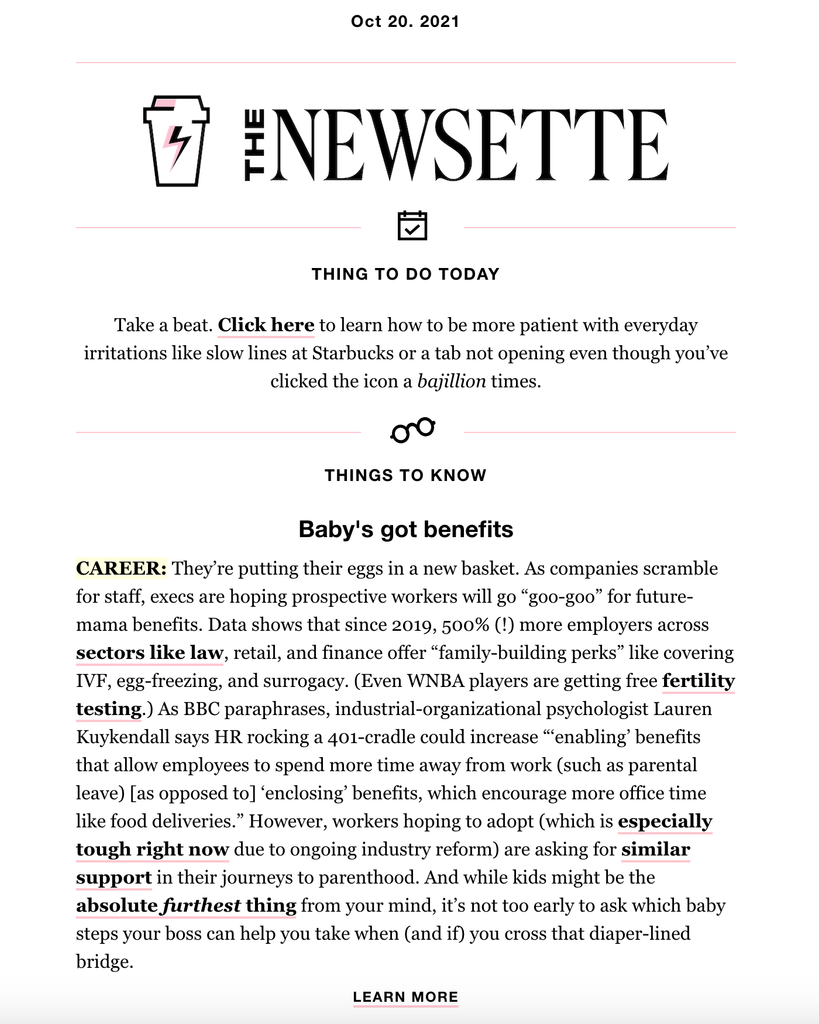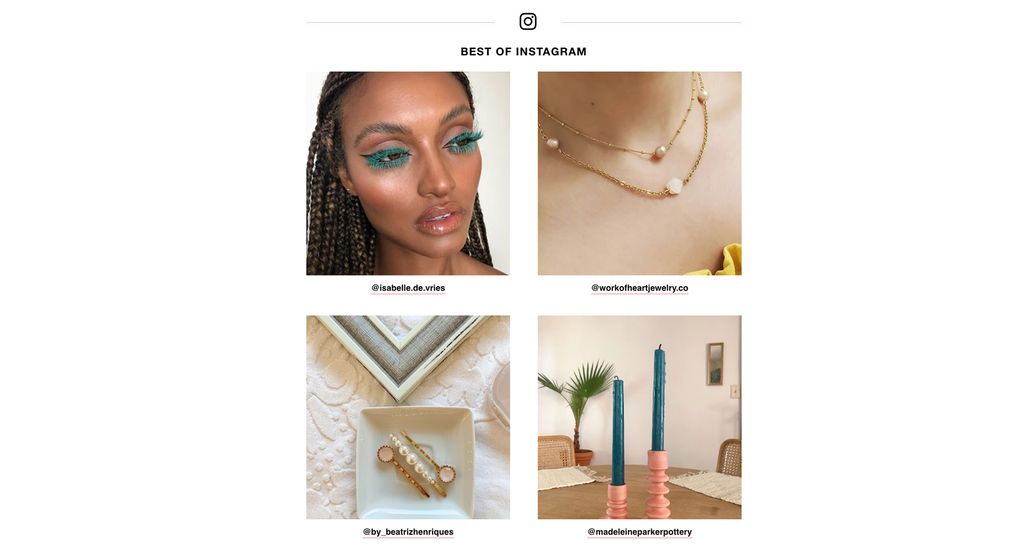 Bostonia:
What advice do you have for someone who wants to launch their own business, but maybe doesn't know where to start?
Daniella Pierson: There were probably three months where I was like, I really want to start a business. And I just didn't know what the idea was until it finally came to me on winter break. I was trying to solve every single problem—thinking, what if it's a straw company, or a shower caddy, or whatever—but the most important thing is that you find the right product and market fit. Find something that you are passionate about, because you have to just completely dedicate your entire self to it. Because truly, if I had missed one day in the last seven years of sending the newsletter, it probably wouldn't have become what it is today. In order to be a successful entrepreneur, you have to dedicate your entire life for at least three years to get anything off the ground. You have to be so dedicated; it's not for somebody who just wants to put half of themselves into something.

So I think my advice would be: don't get discouraged if in the first six months, or a year, it's hard and nothing's working, and you feel like a loser. I still feel like a loser! It's really hard work. You have to be patient.
Bostonia:
Do you have any advice for the BU community?
Daniella Pierson: To BU faculty, I would say, be careful what you tell students, because it can really scar them or uplift them. Both happened to me. And I wouldn't change anything—even the cruelest, most painful moments all shaped me to be who I am today—but I think encouragement is probably the best thing that you can give students, as well as your time.

And then to students, I want to say, even if it feels like you're drowning or you're struggling with your mental health or in school, tomorrow is always another day. Failure isn't final, and it's not fatal. I literally almost got kicked out of BU because my GPA was so bad my first semester of senior year, when I was launching my business. Then I ended up on the Dean's List my last semester, because I just loved my classes. When I got the letter that if I didn't get my GPA up, I wouldn't be graduating, I thought it was the end of the world. But it wasn't.

Finally, to parents, I would say: trust in unconventional lines to success. A lot of parents—including my own—are very skeptical when their child wants to do something that's off base of being a lawyer or a doctor or whatever. But there's so much success to be had in every field. It doesn't have to look like the "typical" path.
This Series
Also in
December 13, 2022

November 28, 2022

October 12, 2022