Opening Doors: Fundación ConEducación
Their Colombia-based nonprofit helps rural students access higher education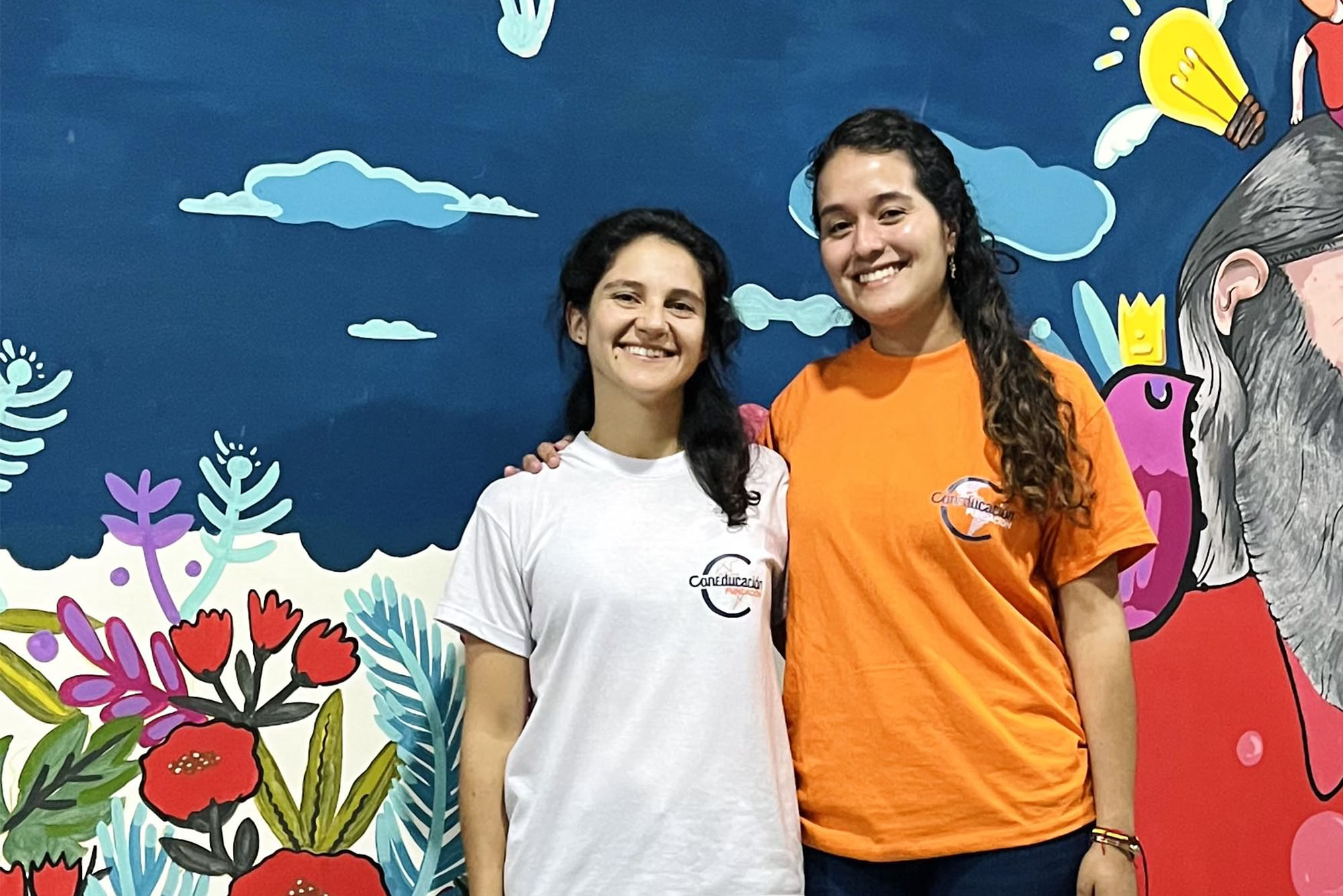 Colombia-based nonprofit Fundación ConEducación, founded by Carolina Amorocho Montaña (Wheelock'19) and Yuliana Palacio (Wheelock'19),
helps rural students access higher education
They are determined to use their experience, influence, and positions to help make their business, organization, and world more inclusive. They are breaking barriers—and then reaching back to help those behind them overcome the same hurdles. They are BU alumni, faculty, and staff—of every race, ethnicity, age, and gender—and they are "Opening Doors" for the next generation.
---
Access to higher education should not be determined by a student's address.
Such is the credo of Fundación ConEducación, a Colombia-based nonprofit started by BU grads, and Colombia natives, Yuliana Palacio and Carolina Amorocho Montaña in 2020.
Colombia is consistently among the Latin American countries with the lowest rates of socioeconomic mobility. According to ConEducación, only a third of Colombian public school graduates enroll in higher education within a year of graduation. In rural schools, that number drops to 2 out of 10.
"While studying biology in college, I had the opportunity to travel to different rural places in Colombia and stayed at the homes of local people and got to know more about their realities," Amorocho Montaña says. "It is simply not fair that great people, with outstanding intelligence and potential, don't get a chance to study or develop their abilities just because they are born in impoverished, far-away areas."
Enter ConEducación, a free virtual program that connects rural high-schoolers with everything they need to get into college, including technology, tutoring, mentoring, and application fees.
Palacio and Amorocho Montaña met as master's students in BU's Wheelock College of Education & Human Development. Both were also teaching in Boston high schools when the pandemic hit. While they and their students struggled with the sudden shift to remote learning, "it was nothing compared to what teachers were going through in Colombia," Palacio says. "We read a New York Times article that described how all this progress Colombia had made in education was basically lost in a matter of months, and we were so frustrated. We started to think: we need to do something."
They began with online workshops for public school teachers on best practices for online learning. Eventually, they realized that if they really wanted to make an impact, they would have to start working with the students themselves. What began as a pilot cohort of 15 high schoolers has grown little by little each year. Now, ConEducación is up to 31 students per academic year and sees 6 out of 10 participants go on to university—triple the average. Palacio and Amorocho Montaña recently put together a similar eight-week pilot program with the Colombian Consulate in Boston for Boston high schoolers with Colombian roots.
"We are planting the seed of possibility in several communities: the idea that higher education is accessible and plausible, and that students can, and deserve to, live in better conditions, and can build that through education," Amorocho Montaña says.
Bostonia talked to Palacio and Amorocho Montaña about starting their nonprofit and the lessons they learned along the way.
Q
&

A
With Yuliana Palacio and Carolina Amorocho Montaña
Bostonia:
So, how does ConEducación work?
Palacio: There is a big, big gap between students from rural and urban areas in Colombia. They are not competing for seats in college in equitable conditions. So, we try to give our students all the support they need every year: the program starts in November, and goes until December of the next year. It starts when students are in 10th grade, which is kind of like junior year in Colombia. And then we work with them all throughout senior year, or 11th grade. College counselors don't exist in Colombia; if you want to go to college, either your parents guide you because they themselves went, or you figure it out on your own, which is really, really hard to do if you're first-generation.

So what we do is provide academic support, so that they can do well on the standardized tests and the admissions exams. And then we also give them psychosocial support, which involves group sessions where we help students with vocational training. Like, what are my strengths? Or, what schools offer training in this career I'm interested in? Then we work with them to create a plan that responds not only to their interests, but also to their possibilities. Because many times our students have never left home. It's not like in the States where you go somewhere else for college. In Colombia, you go to college in the city you grew up in. Sometimes, the closest city is five hours away down a dirt road. And colleges don't have housing, so if you move to a city to study, you have to find a place to live and figure out how you're going to live. So that can be a huge transition, and we help with that.

Then we have a third element, which is mentoring. Although they have group sessions, it's very important that the students receive individualized support, because we're aware that every student has different needs. We visit the students once a year. Every year we go to the communities [we're working in] and we spend time with our students and their families and their teachers. We work closely with principals and teachers in order to better serve the students.
Bostonia:
How have you grown ConEducacion since its founding?
Palacio: We started the first year with our personal funding. We both contributed, so we could provide the students with what they needed, which was, first, the college application fees. That's the first barrier students encounter, and if we don't break that barrier for them, they cannot even apply. And then we gave them devices, like tablets, because some of our students don't have phones and had to rely on borrowing a family member's to connect to our classes since our program is virtual. These past two years, over 60 students have applied for 25 to 30 spots each year. They all submit a video in which they tell us their aspirations for the future and why they want to pursue higher education. It's very challenging to not be able to say yes to all of them.

Little by little we have been growing and knocking on different doors to be able to increase our funding. We continue to approach individual and corporate donors. So far, we've received a couple grants from the Global Changemakers Association and from a microgrant fund called Dear God, Are We There Yet? We're working on applying to more grants, which can be tough. For one, so many people apply that you don't even hear back when you don't get one, so there's no feedback for what to work on. But we continue to persevere. Our ultimate goal is to effect change via national policy, so that all students from rural areas get the tools to successfully transition to higher education.
Bostonia:
What about the learning curve you encountered? What are some things you had to learn along the way, and is there anything you would do differently, looking back?
Amorocho-Montaña: I have learned so much about so many things. I am a teacher: I know how to prepare lessons, engage students, facilitate diverse learning experiences for different kinds of learners, and so on. I knew nothing about business administration, team management, web design, marketing, accounting, or tax responsibilities—less so in two countries!—and the list continues.

I am no expert in any of these, but I've had to learn some about all of them and have had the immense fortune of finding generous people who have supported and advised us in all these areas where we are out of our expertise. We have learned to reach out for help when needed. Looking back, there are several things that have taken us longer or have been more difficult than they could've been, because I tried to find and solve many things by myself. It also took us very long to understand the importance of strategic alliances and not trying to walk every single step of the way by ourselves. I wish we learned earlier that when working with someone else, we can save time, collaborate, and learn much more than we would alone in the process.

Bostonia:
Finally, what advice would you give someone who's thinking about starting a nonprofit, especially in education?
Amorocho-Montaña: Collaborate and reach out, as much as possible. So many people are willing to share their experience, learnings, and expertise with you, and that will allow you to grow and learn much more than if you were doing it by yourself. Also, taking care of yourself and prioritizing sustainability—emotional, mental, economic, and so on. We started executing a program without knowing how much it would cost if we were to dedicate ourselves to this work. As social entrepreneurs, we are committed to making a difference and helping others, but we can't forget that unless we are well and taking care of ourselves, we can't do that for others. I sometimes find myself working too many hours, not having a proper lunch, or not going for a run because I can't squeeze it between meetings. That's not sustainable, and you need to intentionally keep an eye out for that and take care of yourself.
This Series
Also in
April 21, 2023

February 24, 2023

November 18, 2022