Opening Doors: Arianne Kidder and Jason Robart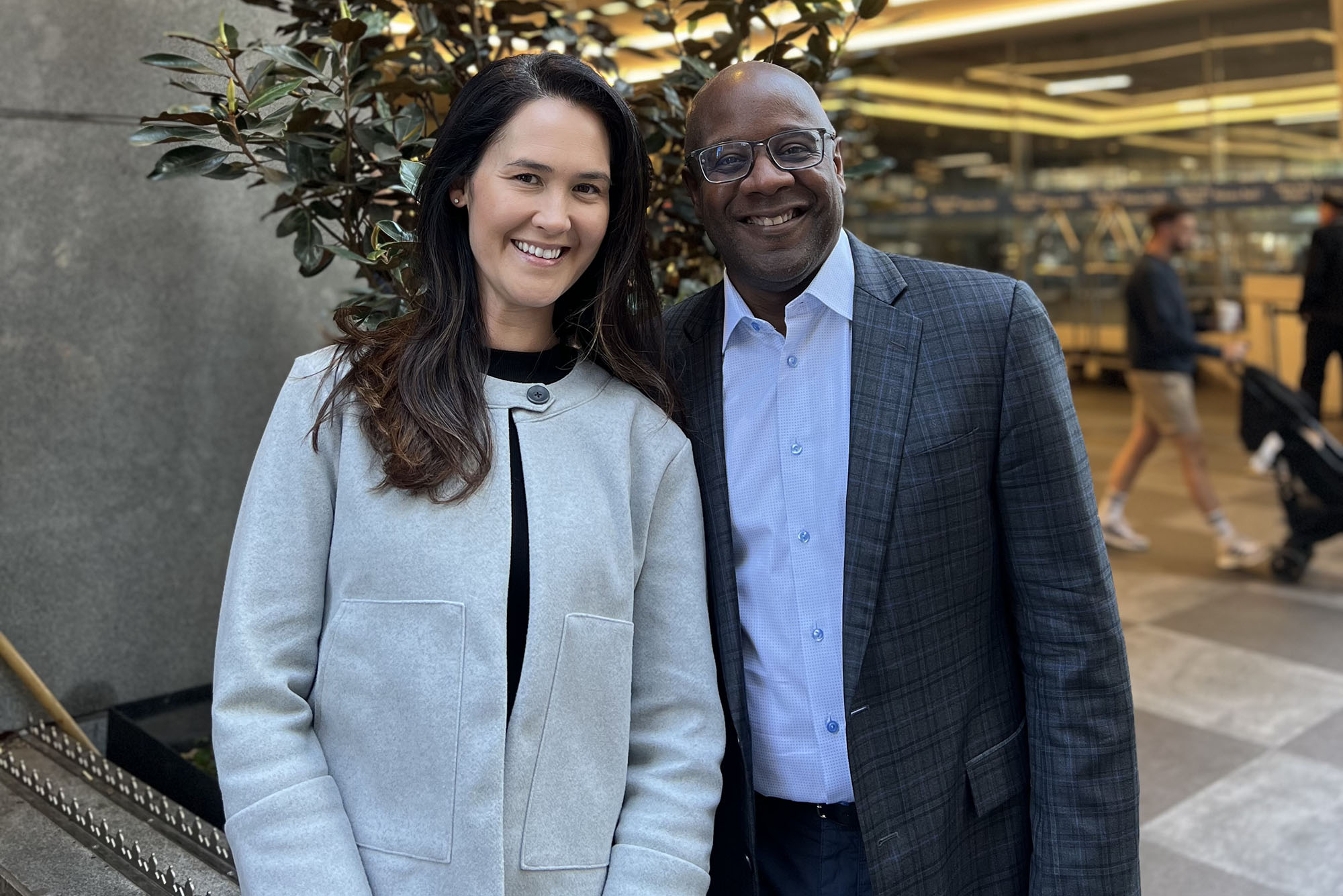 Arianne Kidder (Questrom'04) and Jason Robart,
partner & cofounder and managing partner, Seae Ventures
They are determined to use their experience, influence, and positions to help make their business, organization, and world more inclusive. They are breaking barriers—and then reaching back to help those behind them overcome the same hurdles. They are BU alumni, faculty, and staff—of every race, ethnicity, age, and gender—and they are "Opening Doors" for the next generation.
---
Jason Robart says his biracial marriage led a prejudiced client to refuse to work with him early in his career—and his company acquiesced. Arianne Kidder (Questrom'04) has watched male colleagues win kudos at business meetings for an idea she'd offered earlier, to no applause.
Redressing such inequities spurred Robart to cofound Boston's Seae Ventures, an investment firm specializing in "disruptive" health-technology-and-services start-ups, particularly those founded by women and BIPOC entrepreneurs. The latter make up three quarters of Seae's portfolio, women account for 44 percent. Robart (who studied for four years in the 1990s in Questrom's evening MBA program, but took an overseas job before completing his degree) is managing partner at Seae. He spent seven years as an executive at Blue Cross and Blue Shield of Massachusetts before helping launch Seae, where Kidder, who joined the firm in 2021, is a partner. Before then, she worked at Boston-based digital company Buoy Health, and for three years at Ernst & Young. Seae was founded in 2019, and its investors include 9 foundations, 4 financial services firms, and 11 healthcare and pharmaceutical companies. Its vital two-fold mission is to save lives and advance equity in healthcare.
Q
&

A
with Arianne Kidder and Jason Robart
Bostonia:
What was your experience like at BU?
Kidder: I walked onto campus as a young woman who'd grown up in a small rural town in northern New Jersey. Eager to expand my horizons, BU delivered a group of friends, classmates, and experiences that opened my world and changed the course of my personal and professional path.
Robart: It was great to go to the business school at night and be able to experience what was going on in the world and at work in real time. As a working professional, the academic concepts weren't theoretical; I was able to apply them to my role as a leader. For example, I was at my finance course on the day that Boston Market went public. We had a rich conversation with my classmates, some of whom were working at Fidelity and Bank of Boston, about the nature of that public offering and how Merrill Lynch, as underwriter on the deal, fared far better than the owners of the business.
Bostonia:
How did you get started in your field? And how hard was it for you to get your foot in the door?
Kidder: As an undergrad at Questrom, I had the privilege of studying accounting under Krishnagopol Menon [now a professor emeritus, accounting].The coursework came easily, and Professor Menon asked whether I'd considered a career in public accounting. I had not before that, and I credit his advice to setting the course of my career. This realization had come pretty late in the game for students seeking roles in public accounting. The big four firms often recruit a majority of their full-time start class from the summer intern pool, of which I was not a part. So I was putting my hat in the ring for very selective open spots.

I worked with Career Services to identify alumni in the field and was paired with Ernst & Young senior manager Patricia Kaufman [Questrom'96]. She mentored me through the last two years of my college career, and most importantly, through the interview process. Ultimately, I selected EY's offer of employment, and the rest is history.
Robart: After graduating from Middlebury with a political science degree, I sought roles in banking, but my applications to the Bank of Boston and Bay Bank went nowhere. Eventually, I went to work for Andrew Dreyfus, recently retired CEO of Blue Cross Blue Shield of Massachusetts, in a PR/marketing role in healthcare with the state of Massachusetts. This early working relationship would later impact the course of my career. Throughout my career, I took a very broad view of what I wanted to do, rather than focus on a specific field. The ability to spend time with clients on project-based work and to do general management in a business strategy role informed my future successes. I'd encourage people to think about the skill sets you seek rather than focus on the jobs. Throughout my career, this mindset has helped me get into areas I would otherwise have missed out on, as I wasn't necessarily the most logical candidate on paper.
Bostonia:
Who opened doors for you?
Kidder: After Professor Menon and Patricia opened doors for me at BU, there have been champions throughout my 19-year career who have advised, coached, and inspired me to take on challenges I may not otherwise have considered, or been considered for. I'm grateful for each—many of whom are men—who championed my success.
Robart: A Middlebury connection who saw my résumé introduced me to Andrew Dreyfus. This is when the power of leveraging your network first dawned on me. I learned that being open about my ultimate aspirations and seeking the guidance and support of my bosses opened doors I likely would have missed.
Bostonia:
How are you paying this forward?
Kidder: Throughout my career, I've been an active volunteer and mentor. Through various roles supporting high school students, with EY's College MAP program or Invest in Girls to professional mentoring of women starting out in their careers in finance or venture capital, I'm passionate about giving back for the countless ways others supported me. The best part is that while I give my time and energy to them, they inspire and teach me in more ways than I ever expected. It has been a rewarding flywheel of experiences.
Robart: I've mentored kids and colleagues throughout my career. In one example, my work with Women Unlimited over the years is the source of a relationship with a colleague that I ultimately hired many years later.
Bostonia:
Have you ever felt as though a door was not open to you because of your background? How did you handle those experiences?
Kidder: As a woman in finance, there have been countless times when my opinion is discounted or the very statement I just made is repeated by a male colleague and draws consensus or validation that I did not receive. I have to say, though, that for the most part, I was incredibly fortunate to have worked for leaders, men and women, who acknowledged my contributions and provided me with stretch opportunities to grow and thrive.

It has taken me many years to build confidence and truly appreciate for myself the value that I bring to the table. In doing so, I have been more bold about speaking up, either in front of a group or more discreetly behind closed doors. What I've learned is that most people are open to the dialogue when approached the right way. It's never an accusation, but rather an opportunity to share my personal experience and reflect with them about how it occurred. It's very important to leverage emotional intelligence in these conversations and I learn more every day about how to leverage my influence in the most effective ways. I've always been inspired to never be outworked, and so far, that hard work has brought opportunities and successful outcomes.
Robart: Yes, without question. One interesting example of this was when the account manager who reported to me went on maternity leave and our client refused to work with me because my wife was white. My boss filled the role with someone else, and I'll never forget being told that values were fluid. I regret that I accepted this response and continued working for this company. Throughout my career I've observed countless experiences where the standard is higher for women and minorities; additionally, the benefit of the doubt is much more readily given to white men. I've faced this head on through a supportive network and through the work we're doing at Seae Ventures today.

First [in addressing discrimination] is understanding when enough is enough and personally evaluating, each time, whether I should make a stand or let this roll off my back, and prove folks wrong with performance. Each circumstance resulted in a different outcome.
---

Throughout my career I've observed countless experiences where the standard is higher for women and minorities.

---
Bostonia:
What progress have you seen during your career?
Kidder: I was fortunate that during the formative early years of my career at EY, I consistently had strong female professionals to look up to, whether in leadership roles at the firm, on my teams, or at my clients. Only later did I come to appreciate the impact that had on me as I maneuvered career and motherhood. Now, in my role in venture capital, I see progress and optimism all around. The next generation of investors coming up the ranks of many firms are more diverse than ever before. I have no doubt that soon enough, we will see improvements on where and how capital is deployed.
Robart: There's progress in the fact that we're having this conversation, that BU and other leading academic institutions are asking these questions and reporting on the topic. Seeing representation of women and minorities in executive roles in some of the largest institutions is movement in the right direction. It hasn't been fast enough or deep enough, but it's headed in the right direction and I'm eager to support the acceleration of progress.
Bostonia:
What remains the biggest challenge?
Kidder: The biggest challenge is that while there are many who believe in the potential of diverse leadership as a source of innovation, it will take time for that to permeate the highest levels of power and influence.
Robart: Uncovering all of the subtle ways that the historic exclusion of women and minorities exists in all aspects of our business, economy, and society, and then addressing them, remains our biggest challenge. At Seae, our logo illustrates the deconstruction of the "equals sign" to one that exists on an even horizontal plane. Equity over equality is symbolic of everything that we strive for.
Bostonia:
What can people do in their own workplaces to make them more inclusive, diverse, and welcoming?
Kidder: Change will accelerate if organizations measure what matters and incorporate policies that intentionally promote a workforce that values diversity and inclusion. Financial commitments and pledges have limited long-term impact without this.

Creating workplaces that are safe spaces for individuals to feel comfortable in their own skin will drive performance and output that ultimately adds value to an organization.
Robart: Everybody has to take responsibility for checking and acknowledging their own bias and behaviors. Only those who are willing to call it out and make change will contribute to a more welcoming workplace.

Diversity and inclusion in the workplace ensures that multiple perspectives are brought to bear in any decision. The studies show that decisions and outcomes will be better informed and ultimately more successful for the company, its workforce, and its customers.
This Series
Also in
February 24, 2023

November 18, 2022

October 25, 2022