Kate Snodgrass (GRS'90) Launches Post-BU Career with a Provocative New Play at Huntington Theatre Company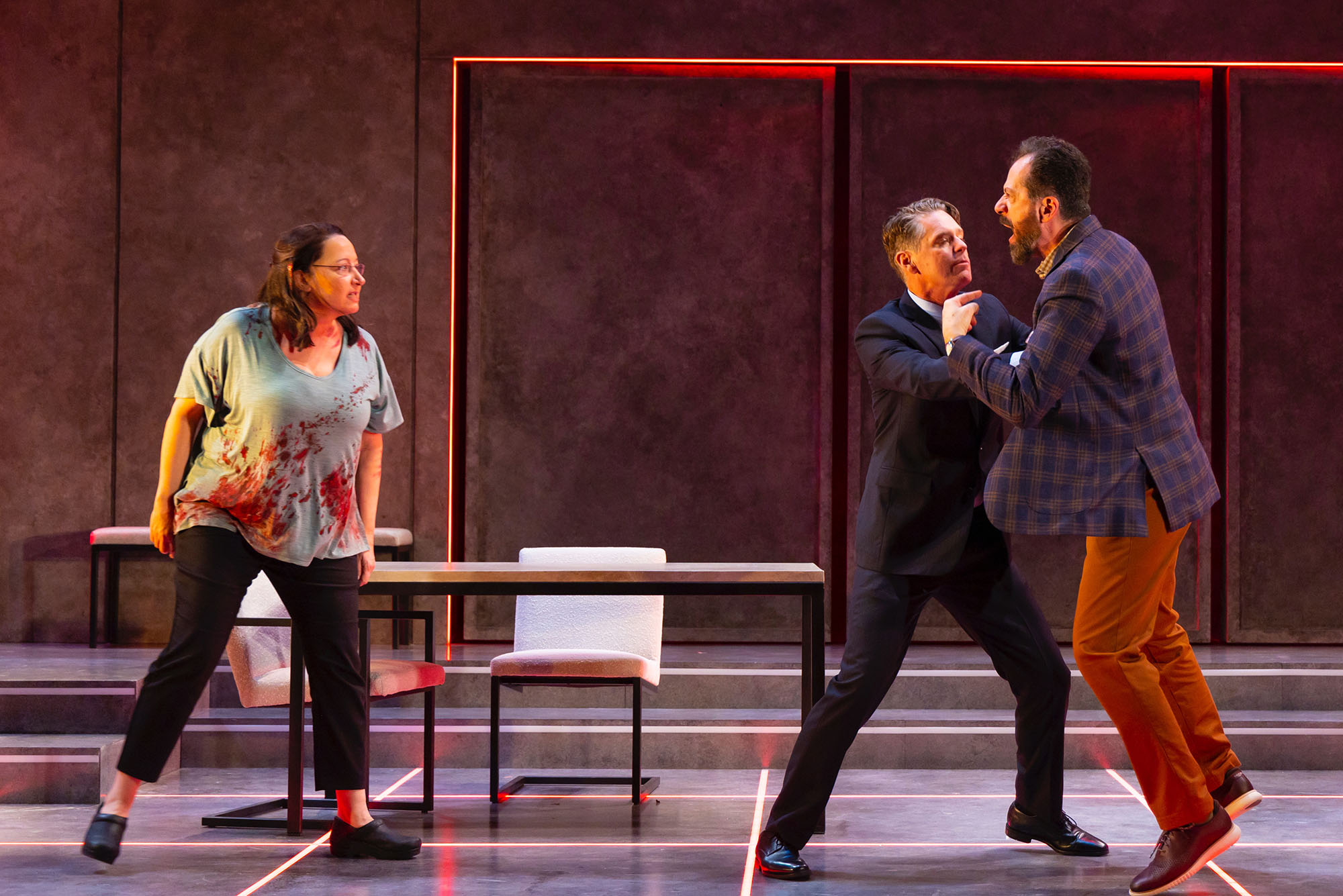 Theatre
Kate Snodgrass (GRS'90) Launches Post-BU Career with a Provocative New Play at Huntington Theatre Company
Anger at Brett Kavanaugh's Supreme Court confirmation inspired The Art of Burning
The Senate confirmation of US Supreme Court Associate Justice Brett Kavanaugh inspired the new play The Art of Burning, the Huntington Theatre Company's current production. And not in a good way.
"I was just so angry," says playwright Kate Snodgrass (GRS'90).
Back in 2018, Snodgrass watched Kavanaugh's nomination to the court survive Christine Blasey Ford's graphic allegations of sexual assault and wondered how things could have changed so little since the days of Clarence Thomas and Anita Hill. Even after #metoo, women weren't listened to or believed, and their rights were in danger with Kavanaugh on the bench.
"It seemed to me that we had learned nothing in the last 30 years," says Snodgrass, who retired from BU last summer as a College of Arts & Sciences professor of the practice of playwriting and artistic director of the Boston Playwrights' Theatre (BPT).
"It angered me especially that some of the committee members had not seemed to take in what is happening in the culture. It infuriated me that I felt that Brett Kavanaugh lied during that proceeding. And I was just outraged that this is where we've come to."
Spurred by a deadline for a faculty reading, Snodgrass began to write. Four years later, the play that resulted, The Art of Burning, hits the stage at the Boston Center for the Arts Calderwood Pavilion, presented by the Huntington in association with Hartford Stage. The production, which runs through February 12, is directed by longtime Boston theater stalwart Melia Bensussen, an Emerson College professor and now artistic director at Hartford Stage, where the play will also run from March 2 to 26.
Kavanaugh isn't a character in the play, but the yawning gap between men and women in today's America definitely is. We drop in on a meeting between modernist painter Patricia and her soon-to-be-ex-husband, Jason, as they are about to sign their divorce agreement, with their backstory seen in flashbacks. When it turns out their daughter, Beth, didn't show up for lunch with Jason and can't be found at her high school, the pretense of civility goes out the window. And Patricia demands one big change to their agreement.
What is really going on here?
Bensussen calls it "a wild ride" and "a play to argue about long after you've seen it."
After the Kavanaugh hearings, "I just started to think about the divide between men and women and what we have to do to stop this, to counter this problem," Snodgrass says. "I think you know it has to do with parenting. Basically, what are we teaching our children?"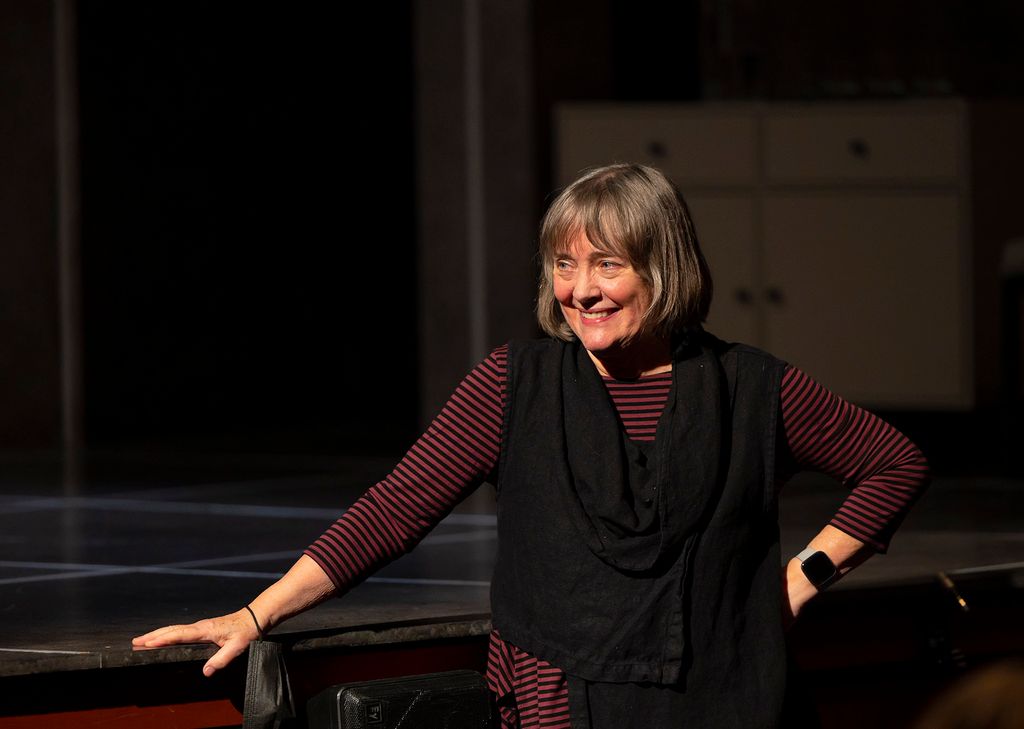 That gender divide has been explored in a number of ways by artists recently, including the Margaret Atwood's dystopian A Handmaid's Tale, but Snodgrass has written something smaller and more specific, grounded in everyday reality.
"Well, I'm not Margaret Atwood," she says with a laugh. "I don't have the vision. I wish I did, but the first thing I wrote was the office scene, and I took my own anger and rage and tried to explore what that is and how the other half might see my rage."
Trained as an actor, Snodgrass came to BU in 1987 to study with the late Derek Walcott (Hon.'93), a CAS professor of English and eventual Nobel laureate. As professor, she oversaw the Graduate School of Arts & Sciences MFA in Playwriting Program, which includes a thesis production at BPT for each student in their final year. The BPT front theater is now named for her.
As a writer, Snodgrass was in one of the first cohorts of Huntington Playwriting Fellows in the early 2000s. Her 1989 one-act play Haiku, about a young woman with autism, still gets produced around the country, especially by student groups.
She cofounded the theater-community charity the Boston Theater Marathon 25 years ago and has has been its artistic director since, contributing a number of 10-minute plays to the event. Some of those short plays were directed by her friend Bensussen, who quickly signed on to direct a reading of The Art of Burning at a Huntington festival in 2019 and has been attached to the play ever since.
The cast features veteran Boston actor Adrianne Krstansky as Patricia, along with Rom Barkhordar as Jason, Clio Contogenis as Beth, Michael Kaye as Mark, their friend and attorney, and Vivia Font as Jason's lover, Katya. Laura Latreille plays Mark's wife, Charlene, who attended a production of Medea with Patricia just the night before the meeting.
"Adrianne is an actor who gets inside a character so completely," Bensussen says. "She glows onstage with her intelligence and empathy."
Snodgrass was present at rehearsals and spent evenings rewriting ahead of the play's opening night. "I sat next to Melia, and there was a long table with stage management and us and our dramaturg, and the actors, and they'd start rehearsing, and I'd revise as it went along," she says. "They asked really important questions. So what's been wonderful for me is that I'm much clearer now about what I was writing because of those very potent questions that they asked."
"Kate has the gift as a playwright of capturing our darkest moments with great wit and insight," Bensussen says. "This play is about the impossibility of communication and understanding between the sexes, and yet is optimistic about our efforts. She's showing us how as humans we constantly strive to do better for each other, and ourselves. And she does it with an enormous dollop of humor and fun."
With the Huntington production, Snodgrass "is finally getting her due," Bensussen says.
A coproduction between the Huntington and the Hartford Stage seems like a pretty nice way to start a post-BU career, after helping so many writers at BU and BPT, and so many in the theater through the Theater Marathon.
"It's been a thrill," Snodgrass says. "I feel like I've worked for a very long time for other people to bring their plays alive, and I have loved doing that. I've loved it. But to have this gift given to me now is—I have no words to express my deep gratitude to everyone."