Curtain Call for Kate Snodgrass (GRS'90) at BU and Boston Playwrights' Theatre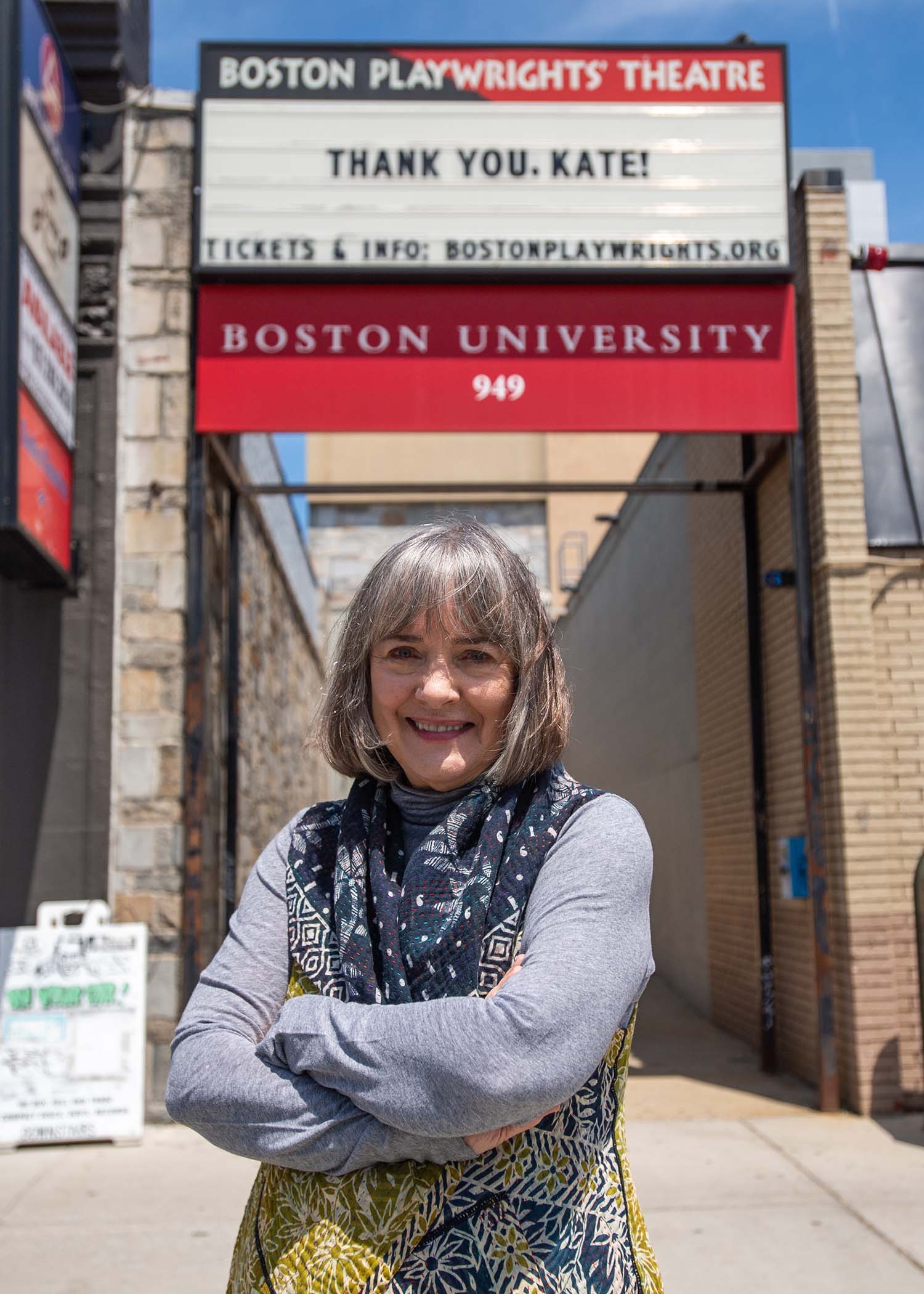 Faculty
Curtain Call for Kate Snodgrass (GRS'90) at BU and Boston Playwrights' Theatre
Longtime head of BU's Playwriting Program to retire—next: a work of her own for the Huntington Theatre Company
Kate Snodgrass has a play going up at the Huntington Theater Company next season. The Art of Burning, opening January 13, 2023, is the first full-length work she's written in a long time.
She's been a little busy.
On June 30, Snodgrass (GRS'90) retires from her posts as a College of Arts & Sciences professor of the practice of playwriting and artistic director of the Boston Playwrights' Theatre (BPT). Since 2007 she has run the Graduate School of Arts & Sciences MFA in Playwriting Program, which includes a thesis production at BPT for each student in their final year.
At BPT, she was also cofounder and artistic director of the award-winning annual Boston Theater Marathon (BTM), benefiting the Theatre Community Benevolent Fund, and of the Massachusetts Young Playwrights' Project.
With The Art of Burning going into production, Snodgrass says with a smile, "I'll be able to focus on the play for a little bit, so I won't be so bereft. I'm afraid of hitting a hard wall, where I'm work work work and then nothing, and I'm not sure how that will feel."
Playwriting Program graduates include Melinda Lopez (GRS'00) (Sonia Flew, Mala), who is also a CAS adjunct assistant professor, Molly Smith Metzler (GRS'02) (Elemeno Pea on stage, Orange Is the New Black on TV), Zayd Dohrn (GRS'00) (Mother Country Radicals, The Profane), and emerging talents like Alexis Scheer (GRS'19) (Our Dear Dead Drug Lord).
"I am a playwright because of her," says Ronan Noone (GRS'01), a CAS adjunct assistant professor of English and a Playwriting Program graduate, known for such plays as The Blowin of Baile Gall, The Second Girl, and The Smuggler. "Kate has spent 32 years building Boston Playwrights' Theatre into one of the finest playwriting programs in the country," Noone says. "She was instrumental in putting Boston theater on the map and gave every aspiring playwright the opportunity to develop their craft, springboard their play, and turn a dream into an occupation."
Trained as an actor, Snodgrass came to BU in 1987 to study with the late Derek Walcott (Hon.'93), a CAS professor of English. The St. Lucian playwright and poet had founded BPT in 1981. Eventually he began to hand the theater's reins over to Snodgrass and another playwright, Tom McClellan (GRS'90), both of whom been producing plays at BPT. The handover accelerated with the demands on Walcott's time after he won the Nobel Prize for Literature in 1992. Snodgrass formally became artistic director in 2002.
"This building was pretty much of a war zone in terms of holes in the wall," Snodgrass says in her office overlooking Agganis Way. "There were artist studios on this side of the building and the whole place smelled like turpentine. Derek used part of his MacArthur Foundation grant to build the seating in the back theater and the little lighting booth that is still there."
Today, the building boasts two theaters —the original, named for Walcott, and the front room, recently named for Snodgrass. MFA student and alumni plays are put on with directors and designers enrolled in the College of Fine Arts School of Theatre graduate programs as well as some BFA acting students.
"Kate Snodgrass is one of the most generous collaborators on the campus," says Susan Mickey, School of Theatre director. "She is a staunch and unwavering advocate for the playwright voice at BU and has shepherded an unfathomable number of new plays into production."
Early in her tenure, Snodgrass also shepherded BPT into an Actors Equity contract. "You need really good actors to do new plays because those plays mutate radically in rehearsal, and you need actors that are going to go moment by moment and are up for change," she says.
"Long before I came to Boston University, I knew Kate Snodgrass because of her work with Nobel Prize–winning poet and playwright Derek Walcott," who expanded the possibilities for poetry on stage, says Karl Kirchwey, a CAS professor of English and associate dean of the faculty, humanities."Through my time in the CAS dean's office, however, I came to understand the full scope of Kate's activities and impact. As an award-winning playwright, a teacher, director, actor, administrator, and curator, Kate has given theater in Boston—and at Boston University—a national profile."
Two people needed to take on her jobs
How hard has Snodgrass worked? BU will be hiring two people to replace her, one to run the Playwriting Program and one to run the theater.
Snodgrass had numerous productions of her own plays before her commitment to BU and BPT took over much of her writing time; her 1989 one-act play Haiku, about a young woman with autism, still gets produced, especially by student groups, around the country. And it still brings in residuals, she notes with a chuckle. But most of her writing in recent years has been in the form of 10-minute plays she contributes to the Marathon, where she has been artistic director since its beginning 25 years ago. BTM received a respected Elliot Norton Award in 2000 for "enlivening local theatre."
"I truly thought no one would come the first year, and we had standing-room-only, lines down the block," she says. "I was thrilled the community was supporting it that way."
The Benevolent Fund helps actors and other members of the never-especially-wealthy theater community with a variety of financial needs, from medical treatment to replacing a stolen laptop. The event became popular enough that it moved to the Boston Center for the Arts Calderwood Pavilion for a number of years and was about to move back to BPT when COVID struck. A virtual marathon raised an "astounding" $56,000 in 2020 to help theater people put out of work by the pandemic. Even a combined live/virtual event raised nearly $10,000 this spring, as the local theater scene returned to life.
"I know that people want to be in the room together," Snodgrass says. "There's an energy that happens no matter what when you get that many people in the room responding to the actors. It's palpable, and that's something you can't get on Zoom."
---

"There's an energy that happens no matter what when you get that many people in the room responding to the actors. It's palpable, and that's something you can't get on Zoom."

---
She notes, however, that much has been learned about the mechanics of streaming theater and it will remain a channel for many companies to broaden their reach.
In retirement, Snodgrass says, she wants to travel, to play piano again, and to read, things she hasn't had much time for with her multiple roles on Commonwealth Avenue. But The Art of Burning will soon move to the forefront.
Directed by her friend Melia Bensussen, the play "explores the love, rage, and responsibility that come with marriage and parenting in America," as the Huntington puts it. The play, which will also go up at Hartford Stage next year, follows a modernist painter, Patricia, as she changes the terms of her "conscious uncoupling" with Jason, demanding full custody of their 15-year-old daughter, Beth.
"I wasn't writing, and I had to read something at a faculty reading, so I did what I did with my students—I said, what do you care about? What moves you?" she recalls. "At the time I was listening to the Brett Kavanaugh Supreme Court confirmation hearings and I was very enraged. I started asking myself, how does this happen? How do we not move forward in 30 years, from Anita Hill to Christine Blasey Ford? Why are we still in this same place?"
The words started coming. Eventually they turned into a play.
"It's almost surreal," Snodgrass says of the present political landscape around gender and race and democracy. "If 30 years ago you had said all this [would be] happening, we would have laughed and said it's just not possible, but it just keeps getting worse and more terrifying.
"Some of the play will speak to that," she says. "I think we as artists have to speak to the world we are in and ask the important questions. Certainly we can call attention to the horrors around us, and that leads, I hope, to action."