Don't Miss This Powerful Cello Performance Saturday in Chinatown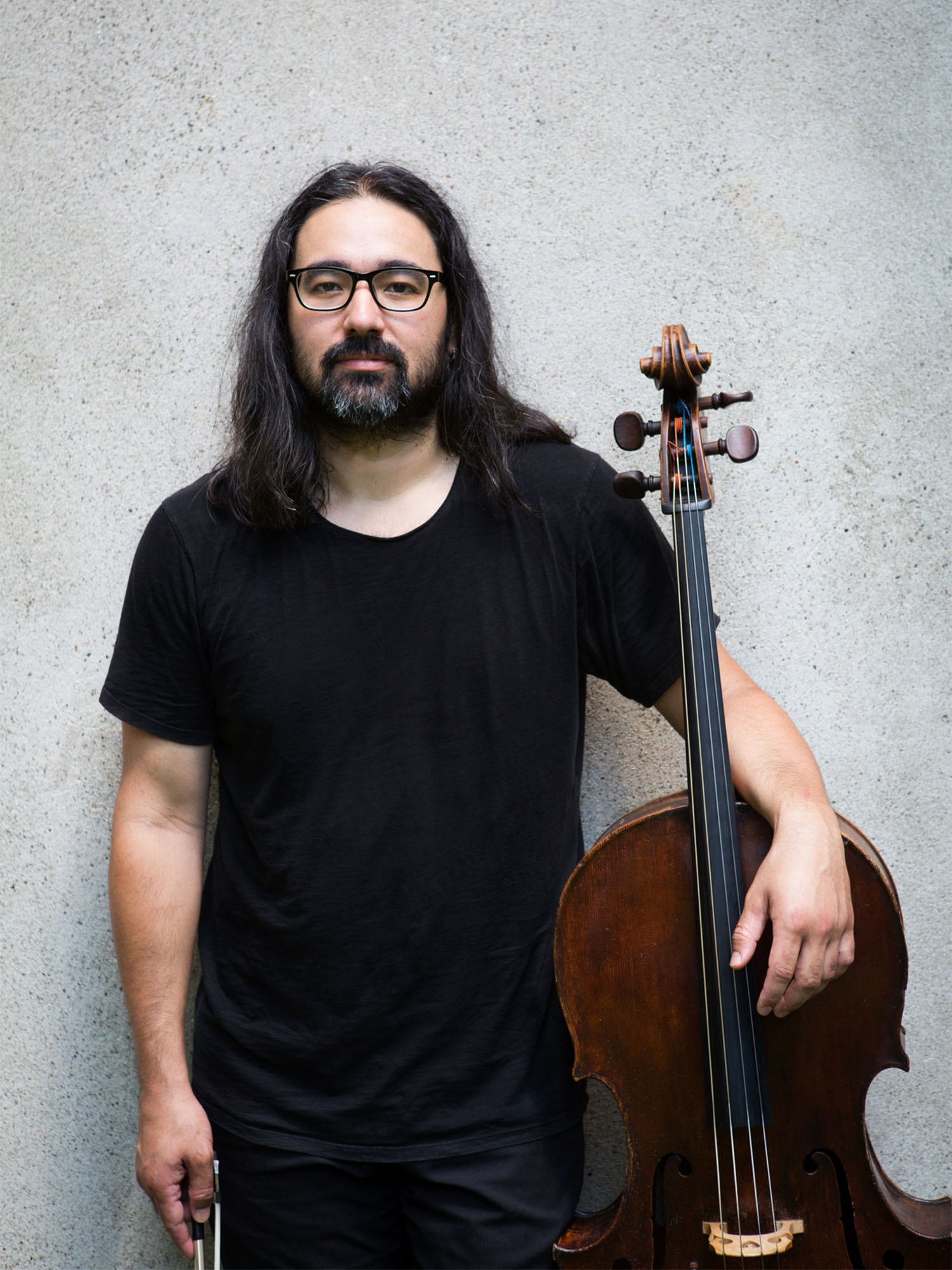 Arts & Culture
Don't Miss This Powerful Cello Performance by Leo Eguchi Saturday in Chinatown
Alum's Unaccompanied presents eight new works examining composers' "American-ness" at the Pao Arts Center
On Saturday, October 22, Japanese American cellist Leo Eguchi will perform Unaccompanied, a series of eight new works he commissioned from immigrant and first-generation composers around the country.
When he started getting each composer on the phone back in 2019, Eguchi (CFA'02) asked a question it's likely none expected to hear: "What does your American-ness sound like?"

"To a person, the line went silent on the other end," he says, chuckling. "Several people were like, 'I'm going to need to chew on that and get back to you.' At first, I wondered if there was something inherently offensive in the way I was asking, but eventually I realized that no, actually, maybe I've got a really good question."

That question served as the basis for the eight works. (A ninth piece, by pianist Gabriela Lena Frank, will debut sometime in the spring.) In the pieces, which Eguchi will perform solo on Saturday, the composers put the facets of their American identity—the roots, intersectionalities, immigration journeys, religious influences, hopes, and fears—to music.
The result? Eight pieces "as unique as the people writing them," Eguchi says, which, he adds, was always his intention. The composers "absolutely delivered on the range of vocabularies and styles and expressions. The concert is all over the place, in a really exciting way."
The concert starts at 7 pm at the Pao Arts Center in Chinatown. Tickets are free to the public and can be reserved here.
The featured musicians include Chinese American violinist and composer Shaw-Pong Liu, whose work is influenced in part by the prevalence of gun violence in America; Milad Yousufi, an Afghan composer and former refugee who Eguchi crossed paths with in Kabul; Colombian composer James Diaz, who frequently draws on themes of psychedelia and art; and Earl Maneein, a heavy metal violinist (yes, really) with Chinese and Thai roots.
Unaccompanied has dual timelines, according to Eguchi. Although the project idea first came to him around the 2016 presidential election, the question at its core is one he's spent decades considering. As a Japanese-American kid growing up in the Midwest, he was often asked, "What are you?" by peers who didn't know how to categorize him.
There was never anything malicious in the question, he stresses, while acknowledging that many immigrants and first-gen Americans find it to be a microaggression. But the chorus did prompt him to wonder what, exactly, constitutes a sense of identity, and how you decide on those factors in the first place.
"I would go to places like San Francisco or Seattle or Hawaii—these areas that are absolutely full of half-Asian people, and I would finally see people that looked like me," Eguchi says. "And yet, their experience in their identity was completely different from the stories I had made up for my own narrative. That just set me thinking about what it is to be American, and about the different ways that we fit in."
Those questions lingered into adulthood. Then 2016 hit, and with it an election cycle that unleashed a slew of racism and xenophobia directed at Asians and other immigrant populations and continued through the COVID pandemic. Suddenly, the questions felt urgent.
"As anti-immigrant and anti-Asian rhetoric started making its way to national discourse and having real-world impacts on people in their lives and their safety and security, I began thinking if there was anything I could do about it, if there was any way I could contribute to a conversation and not be on the sidelines," Eguchi says. "I wondered if we could find ways to share our stories [about our identities] and have them actually connect with each other. And music seemed like a good way to do that."

The project took time to get off the ground. (COVID, of course, played a significant part in the delay.) But now that the concert is finally happening, Eguchi is hopeful listeners will find value in its soundscapes.
"Whether you are indigenous or not, there is no one in this country whose family has not been touched by immigration," he says. "I hope that this will inspire introspection on what that means. And, on what the people in this country who have been touched by immigration bring to our culture, to our society, to our economy, and to our lives."
To that end, Eguchi is working to take Unaccompanied on tour, ideally to cities with large immigrant populations. For now, Unaccompanied is set to enjoy a spring residency at Tufts University next year.
Eguchi is keenly aware of the responsibility of having these eight stories in his hands.
"That's something I didn't quite expect, how profound it would feel to hold other people's stories, and to realize the trust that had to be there for them to write such personal music and entrust me with it. I honor it, I cherish it, but it is also a very serious thing," he says.
Ultimately, he hopes the project serves as a bridge to bigger, more substantial discussions about identity and who's responsible for choosing it.
"The foundational aspect of this project is that I want this to be able to make conversations about issues of identity more open for talking about—and for maybe making mistakes," Eguchi says. "There are so many ways that we identify ourselves; maybe someone prefers to be called brown versus Latinx versus Latino. Even if someone seems like they have the same story as you, it's up to them to decide how to label themselves.
"With this project, I have been energized with the reaffirmation of trust that we are all trying to open up these conversations to be more free, rather than just reactive."
Leo Eguchi performs Unaccompanied Saturday, October 22, from 7 to 9 pm at Chinatown's Pao Arts Center, 99 Albany St., Boston. Tickets are free to the public, although a donation of $10 is suggested. Register for tickets and find more information here.