COVID Booster Shots: Everything You Need to Know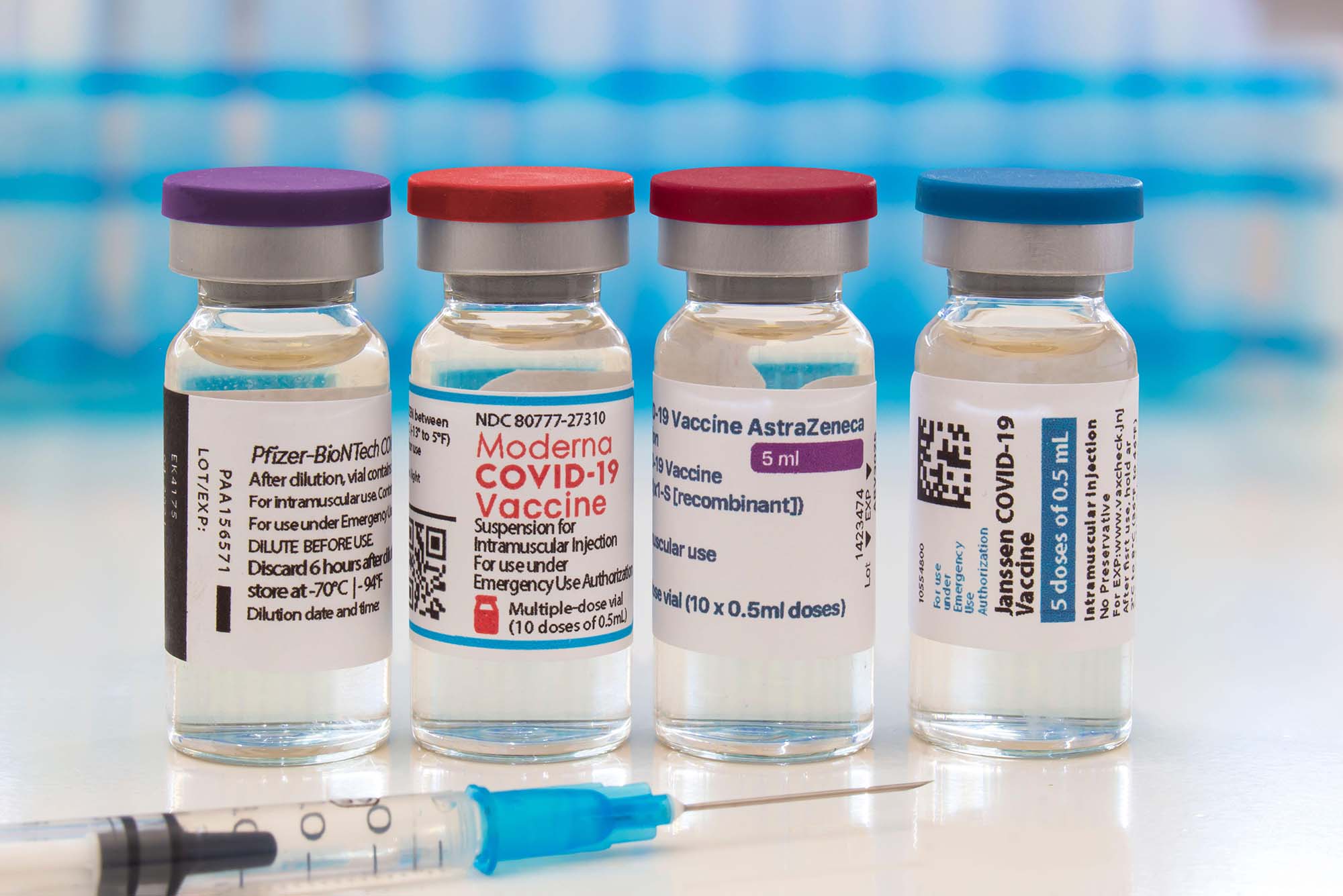 Booster Shots
Everything You Need to Know about COVID Booster Shots
BU epidemiologist explains why coronavirus vaccine boosters are necessary, whether they'll protect against the Delta variant, more
How do booster shots work? Am I eligible for a COVID-19 booster shot? Why are these booster shots needed? What is the difference between a booster shot and a "third dose" for immunocompromised people? Will members of the Boston University community be able to get additional shots through the University's vaccine clinic? People are looking for answers to these questions and to many more.
"Over time, even very effective vaccines wane in terms of how effective they are," said Judy Platt, chair of BU's Medical Advisory Group, cochair of the Vaccine Preparedness Group, and Student Health Services director, at the recent BU-wide town hall meeting August 19. "The same is true for our relatively new coronavirus vaccines."
The Centers for Disease Control and Prevention has recommended a booster dose to enhance the efficacy of the Pfizer and Moderna vaccines, starting as soon as September 20 for individuals at least eight months after their second vaccine dose (it has not been recommended yet for the Johnson & Johnson vaccine).
Does that mean BU will begin offering boosters? Not so fast. Platt says BU hopes to offer the booster this fall, but right now the priority in August for the University's vaccine clinics is to get people vaccinated who are not yet compliant with BU's vaccine mandate. Beyond that, she says, if BU can acquire more doses of vaccines, then booster doses to the broader community could be offered.
Whether getting a booster shot will be mandatory for BU students, faculty, and staff as part of the University's vaccine policy will be discussed, BU President Robert A. Brown said during the same August meeting. A booster mandate would be tricky because those shots have to be administered on a rolling basis, depending on when recipients completed their initial round of vaccination, he said.
To help answer common questions about the coronavirus booster shots, The Brink spoke with Cassandra Pierre, a Boston Medical Center associate hospital epidemiologist and medical director of public health programs. Pierre is also a BU School of Medicine assistant professor of medicine and chairs the school's Diversity and Inclusion Advisory Council.
The Brink:
Why is the booster shot recommendation coming out only for the Pfizer and Moderna vaccines right now?
Pierre: The reason why it's just coming out for the mRNA vaccines right now—both kinds made by Pfizer and Moderna—is because we have the greatest data for those mRNA vaccines, particularly regarding the waning of immunity of antibody levels after a period of six to eight months. We're also hearing the CDC is making these recommendations based on real-world data, from urban areas, hospitals, and long-term care facilities. They're really trying to align recommendations to evidence that's available, although we have heard information will come in the next few weeks about the Johnson & Johnson vaccine. I really welcome that, because from an anecdotal perspective as well as from some studies, we worry potentially more about the waning protection against infection for individuals vaccinated with the Johnson & Johnson shot.
The Brink:
We've heard that it is OK to mix and match Pfizer and Moderna vaccines to get the booster shot. But so far, the CDC has not recommended that it's OK for people who first received a Johnson & Johnson vaccine to now get a Pfizer or Moderna booster shot. Why is this the case?
Pierre: I hope that scientific reticence will dissipate in the next few weeks. We do have information to show a really potent boosting with mixing vaccination strategies. Most of the data, I will say, are from looking at people who first received the AstraZeneca vaccine—which is made from the same technology that created the J&J vaccine—that really does show important boosting of the protective effect with an mRNA vaccine given as a second dose. There's also potentially that benefit for J&J. Theoretically, I would love to give my patients who first got a J&J vaccine an mRNA booster shot. My prediction is that yes, we will soon be able to mix and match those vaccine strategies, but we need a little more data before we get to that guidance [from the CDC].
 
The other thing to keep in mind is that there is generally less robust data about J&J because there were far less people who got the J&J vaccine compared to people that received either Pfizer or Moderna. J&J was approved later in the game, so not only do we have fewer patients vaccinated, but by and large those people were vaccinated later.
The Brink:
Based on the Pfizer and Moderna data that's available, at what point do antibody levels seem to start diminishing?
Pierre: The data that I've seen, particularly for Pfizer, looked at antibody [levels] at six months after the second shot. They were declining at the six-month mark, but still seemed to be very good and elevated, and thought to still provide good protection against severe disease, hospitalization, and death.
The Brink:
So why is the CDC's recommendation to get vaccinated eight months after the second shot?
Pierre: It remains to be determined, and more data need to be distributed to all of us. We've heard [the CDC is factoring in] information about real-world protection, data coming from cities, hospitals, and long-term care centers. We're still not seeing severe disease, hospitalization, and death six to eight months after people completed the second dose of their Pfizer or Moderna vaccines. The CDC also have said that they want to get out in front of waning immunity, to get people a booster shot before there's a chance for immunity to falter enough to allow for severe infections. They want to get ahead of any declining immunity levels that might overwhelm our healthcare providers. 

Additionally, there is some unpublished data (which has been referenced by experts including Anthony Fauci) indicating that the [eight-month] interval in the spacing of the booster may actually lead to longer-lasting, more durable immunity. They suggest we may not need another booster in quite some time (i.e., a period of years)…but we'll have to wait and see.
The Brink:
How do the booster shots work? The vaccine formulation for the Pfizer and Moderna shots hasn't changed, so how much additional immunity does a booster shot give? Does it get people back up to the 90-plus percent effectiveness that was originally expected? Or does the immune system react less and less each time the vaccine is given?
Pierre: We know that the mRNA vaccines can give 94 or 95 percent protection after the first series of two shots, and a 98 percent reduction in severe complications. Both Pfizer and Moderna have done booster studies, and we know that Pfizer has submitted the results of the booster trial to the FDA, but we don't yet know what those results say, but we do know those studies were conducted in areas of the US where the Delta variant was gaining hold. I do think the results of that trial will provide some answers to the questions you've asked.

The hope, though, is that because of the priming effect [of receiving the first two shots], it will allow the body's immune system to react more aggressively to infection, to fight against any potential COVID infection. The immune-fighting cells have already been primed, so the theoretical concept—which we know happens with many other already FDA-approved vaccines like tetanus or whooping cough—is that the booster doses increase immunity over time.
The Brink:
Are these booster shots going to turn into a regularly scheduled occurrence in the future?
Pierre: Many people have been speculating that we will need annual boosters for the COVID vaccines, and we have good precedents of other types of vaccines that require an annual booster. There is some thought that maybe there is a necessity to build out new mRNA vaccines to protect against other, new variants. Looking ahead, building new boosters will help us evade variants that may be more transmissible or cause severe disease or are able to evade the current vaccine.
The Brink:
What's the difference between a third shot for immunocompromised people and a "booster shot"?
Pierre: The third dose is meant to connote giving another dose of vaccine to individuals believed not to be able to sustain or produce an adequate immune response to the first two shots in the series. For them, that third shot is not a booster, but is a needed additional shot in their primary vaccination series to allow them to develop an effective immune response against severe infection and death. People who are less likely to mount an appropriate immune response are people on steroids, who have received organ transplants, have severe HIV infections, or other conditions.
The Brink:
Have the majority of people who are immunocompromised received their third dose?
Pierre: No. Which is why—even though our phone lines are blowing up with calls from people interested in getting a booster shot—at this time we are prioritizing getting third doses to people who are immunocompromised, to give good practical and protective immunity to people who weren't able to fully benefit from those first two shots alone. The booster shots are not authorized to begin until September 20.
The Brink:
When you look at where this pandemic is going—with the Delta variant, we're hearing a lot more about breakthrough cases, indicating not that the vaccines aren't effective, but that instead Delta is highly contagious—do you think tweaks to vaccine formulations will be needed to protect against extremely infectious variants like Delta?
Pierre: The wonderful thing about mRNA vaccines in general is how quickly they can be deployed. We know Moderna, for example, is already looking at new coronavirus proteins to see if they can develop enhanced vaccines that further protect against variants. I hope this will continue, and we'll see building out of the vaccine options. It's also important to remember that all the data we're seeing are happening amongst the backdrop of a world that isn't fully vaccinated. As much as I want to shore up immunity with boosters, I recognize that no booster can protect us from evolving variants if we cannot distribute vaccines around the world, which allows the virus to keep spreading and evolving. I hope we do much better in the rollout and deployment of vaccines worldwide.
The Brink:
Anything else you want people to know about booster shots?
Pierre: One other thing important to talk about is that a few months ago people were talking about getting their COVID antibodies tested. I would just say, we don't have great information yet about how well commercial tests can tell us about protection based on the level of antibodies. So maybe save your time (and your money), because antibodies are only part of the immunity story. COVID infection or vaccination also provides T-cell activation, which can provide really good protection against severe infection and death, and an antibody test won't tell you about that.

Also, I think people would like to know that here at Boston Medical Center, the vast majority of people who are hospitalized with COVID infections are unvaccinated. And the breakthrough cases we see are by and large in the extremely elderly or people who are severely immunocompromised and were not able to achieve adequate protection from their first vaccine doses.
The Brink:
Why are booster shots necessary if the vaccines are working as well as scientists hoped?
Pierre: I really want to drive home the point that might be missed in the conversation about boosters: these vaccines have not failed us yet, to our knowledge. Breakthrough infections are expected, no vaccine is 100 percent effective. What we know is, here in the state of Massachusetts, 0.002 percent of fully vaccinated individuals have experienced severe disease. And so that's a really small number of people. We just want to make sure that in the talk about boosters, if people are saying, well why should I bother if fully vaccinated people already need a booster? But I want to be clear that waning immunity is not the same as saying these vaccines have failed, because in fact, we want to give vaccines to prevent severe disease and death, and that's what they're doing. They're working. This is what you want to see.