White Sharks Are Here to Stay in New England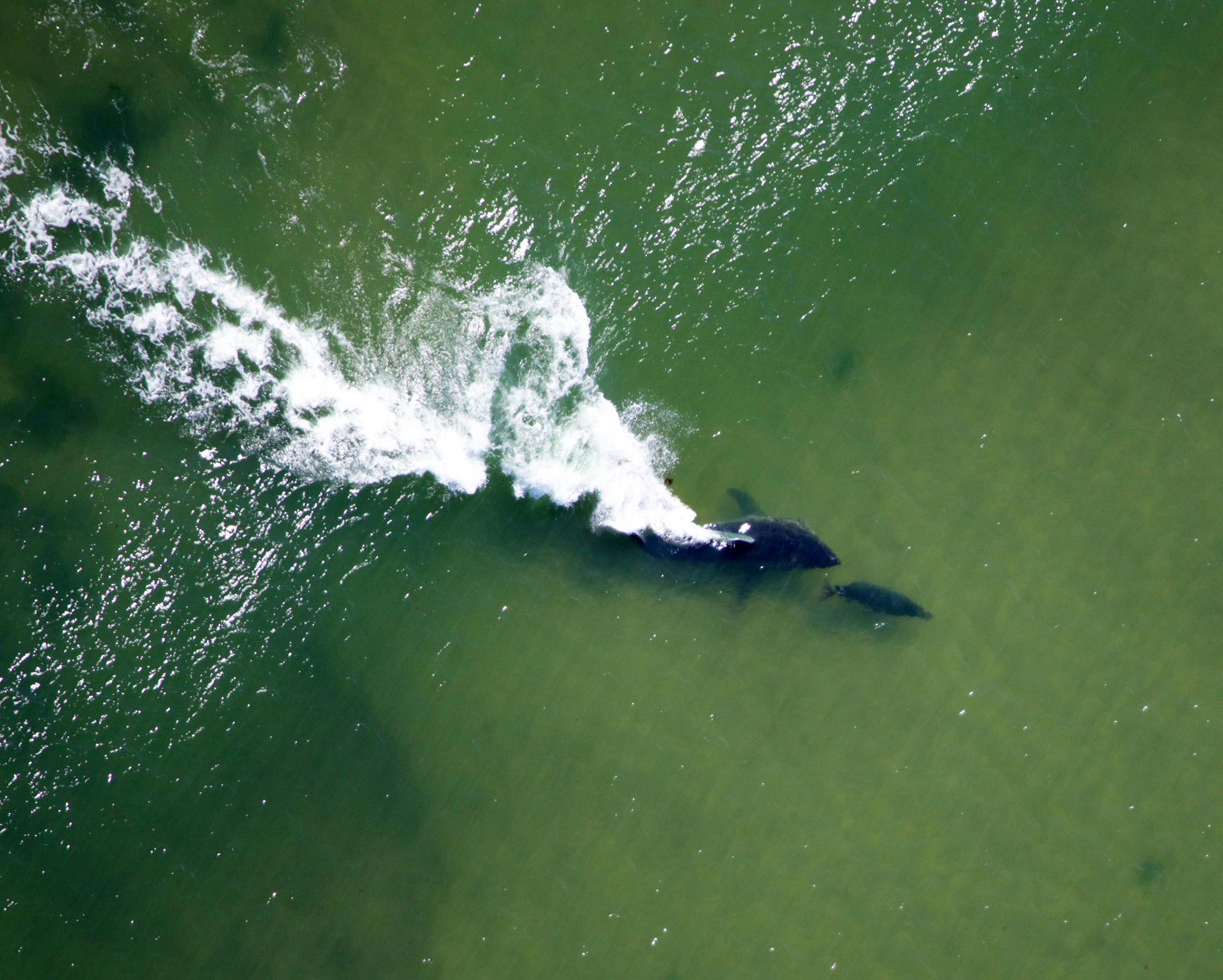 White Sharks
White Sharks Are Here to Stay in New England
From Cape Cod to Maine, their increasing number is both a conservation triumph and a risk for swimmers
Summer may have officially ended, but white shark season is in full swing in New England and will be until the end of October. The powerful marine predators are typically most active each year during August, September, and October. Recently, white sharks have been spotted as close as 10 feet from the shore near Provincetown on Cape Cod. All summer long, beaches in Massachusetts towns, including Wellfleet and Truro, have frequently had to close temporarily because of white shark sightings, a now-common occurrence.
But even though white shark sightings have been steadily increasing for years, this summer in New England was different. Maine, long considered to be too far north to attract white sharks, recorded its first fatal shark attack in July, when Julie Holowach of New York was killed by a shark while swimming off Bailey Island in Casco Bay. She was wearing a dark wetsuit, which may have caused the shark to mistake her for a seal. Now, beachgoers along the New England coastlines are wondering if white sharks are lurking everywhere, not just off Cape Cod beaches.
"What we're seeing now is the repopulating of a top-level predator—and they're becoming abundant," says marine expert Phillip Lobel, a Boston University College of Arts & Sciences professor of biology.
Images of a white shark off Race Point Beach in Provincetown over the weekend. This is a good example and reminder of how close to shore white sharks can get.
Photo credit: Kulis Cup friends and family pic.twitter.com/IahlBdJKoU

— Atlantic White Shark Conservancy (@A_WhiteShark) September 8, 2020
Although Lobel says white sharks have always gone as far north as Maine, their presence is now becoming more obvious as years of conservation efforts have caused them to multiply. Decades ago, the number of white sharks in the Atlantic Ocean dwindled from fishing and hunting, but the population has been increasing since 1997, when the National Marine Fisheries Service banned the killing of marine animals.
"There are two forces at play here," says local shark expert Greg Skomal, who earned a PhD in the BU Marine Program and is now a fisheries biologist at the Massachusetts Division of Marine Fisheries. "Seal populations are responding to conservation and showing up in areas where they used to be in the United States and Canada, which is good news…and the white shark population has been rebounding."
Last year, shark researchers tagged more white sharks off the New England coast than ever before, making it a landmark year for marine conservation success. According to Skomal—who worked alongside Lobel as a student studying gray reef sharks—the recent boom in gray seals is a major factor in why we're now seeing more white sharks in New England. He says that sharks will go wherever there is abundant prey for them to eat.
Seals, which have been protected under the Marine Mammal Protection Act since 1972, tend to aggregate in large colonies on rocky coasts, drawing white sharks in search of food close to the shore. Skomal says the seals' rebound has been more than 40 years in the making because of their long lifespan and slow reproduction cycle. (Some fishermen are not pleased with the rebound in seals, since they are thought to compete for many of the same fresh catches, like haddock and fluke, as fisherman do. And according to Skomal and Lobel, seals are known to sometimes eat fish straight off of fishing lines or break into lobster pots.)
What New England beachgoers should know about white sharks
Although it does happen, as it did this summer, white sharks attacking (and killing) a swimmer is very rare. According to the National Oceanic and Atmospheric Association, there were 64 unprovoked shark bites worldwide in 2019, 41 of those attacks occurring in the United States. Since 2012, there have been five shark attacks on Cape Cod. One of them was fatal, when Massachusetts surfer Arthur Medici was killed by a shark in 2018. But no matter how rare, Skomal says, it doesn't seem to ease people's underlying fears of being bitten.
"If we better understood where, when, and how white sharks attack and kill seals, and share that information with the general public, we think that would be very useful," he says. "You can avoid those time frames and locations where sharks tend to kill seals."
When white sharks do bite a human, it's a mistake, since people are not on the menu for the ocean's largest predator.
"The water is murky, an animal is hungry, and they're feeding on things that splash in the water," says Lobel. "Just think about how it is when you're really hungry. If you're really hungry at a buffet you might start eating the first thing, even though it's not your favorite. The hungrier you are, the less discriminating you are, and that's what happens to the sharks."
Suzanne Bagnera, a BU School of Hospitality Administration clinical assistant professor, worked in the hotel industry with InterContinental Hotels Group for a number of years, and she points out that the Cape is a great example of how towns and the hospitality industry can educate tourists and residents to be shark smart.
"My hospitality industry colleagues who run hotels on the Cape are in the know every day, paying attention to the news and alerts for what beaches have any issues, sightings, or closures," Bagnera says. Towns have tried improving WiFi on remote beaches so shark sightings can be rapidly reported, and in 2016 Skomal helped launch Sharktivity, a white shark tracking app run by the Atlantic White Shark Conservancy. The app has become essential in tracking these sharks for public safety and research purposes, an important factor in understanding white shark behavior since it's unclear how many are actually out there in the ocean.
New white shark tracking tech reveals unique individual behaviors
"The risk [of being bitten by a white shark] is low," Skomal says, "but if you're someone who is worried about it, be worried about it in areas where sharks are actively feeding on things that look like you," such as seals on the outer Cape.
Advancements in technology, like Sharktivity and other kinds of tracking devices such as acoustic tags and underwater cameras, enable ocean researchers like Lobel and Skomal to better put themselves in the sharks' world so they can learn about their habits, behavior, and quirks, and to elevate public awareness about these creatures we now more commonly share the ocean with.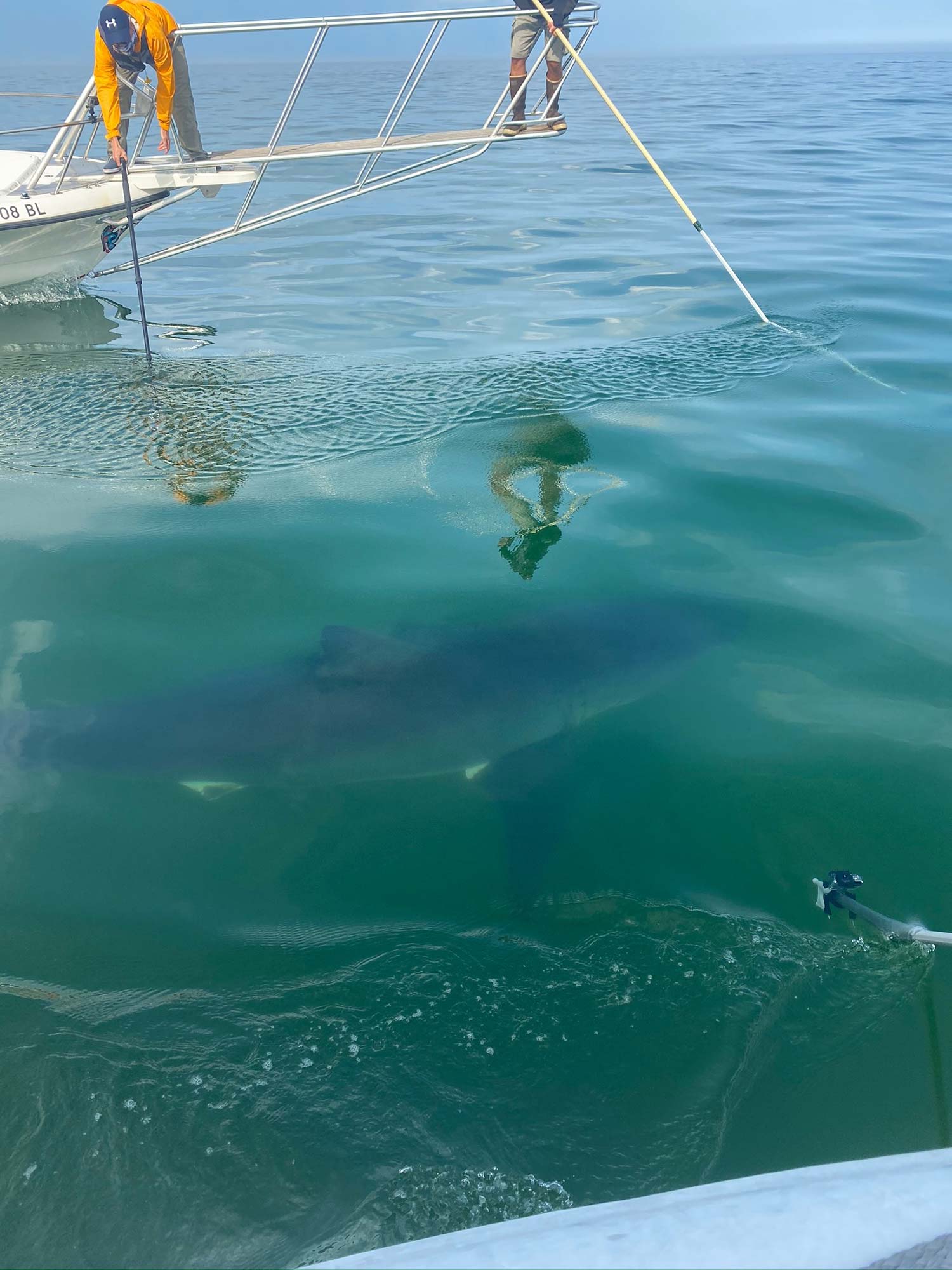 The increasing abundance of white sharks and new technologies to study them has helped Lobel, Skomal, and other researchers make new discoveries about this complex species that has roamed the seas for nearly 400 million years. It's also helped marine biologists predict how white sharks will be impacted by climate change.
"We're finding there is incredible diversity among individual white sharks," says Skomal, who has been tracking the animals around Cape Cod since 2009, when he successfully satellite-tagged the first ones in the region. "What might apply to one particular individual [white shark] might be very different for another."
For example, he has tracked and observed sharks that stick to the same three- or four-mile stretch for an entire summer and has also seen them choose different stretches from day to day to search for prey. Some white sharks choose to hunt during the day, he says, and some at night. Skomal believes this could be to weed out the competition for seals. White sharks are solo hunters, which is why we always see them alone, but they do cross paths with fellow sharks year after year, meeting up to feed in the same areas bountiful with prey, almost like an all-you-can-eat restaurant attracts hungry customers, he says.
"The customers might not know about each other, they might not care about each other, they may be sitting alone, but they're all basically in [the same] restaurant," he says.
Is climate change shifting white sharks' territories?
Once the waters of New England get too chilly, usually starting in November, white sharks travel solo thousands of miles down the Atlantic to winter in the warmer waters off of the southeastern United States and the Gulf of Mexico. Skomal and his research team found that some white sharks move into the open ocean as far as the mid-Atlantic Ridge, a massive underwater mountain range that runs down the middle of the Atlantic. Some even dive down to great depths on their migratory journeys.
"It's really quite odd, because it's behavior we had never seen before in this species until we started using new technologies," Skomal says.
Technology is not the only thing that has changed in the last couple of decades. The ocean itself is a starkly different place than when Lobel and Skomal were doing research together in the early 2000s. Oceans are warming at an even faster rate than scientists had previously expected, and this year's land and global ocean ocean temperatures are on track to be the second warmest on record, just shy of 2016.
"Most sharks are ectothermic, meaning they're cold-blooded, and really at the mercy of the temperature around them," says Skomal. There have already been signs of different tropical sharks, like hammerhead, blacktip, and bull sharks, responding to the changing water temperatures and swimming farther north than expected. But that's not the case for white sharks, which, unlike most other shark species, are endothermic—meaning they can raise their body temperature higher than the surrounding water temperature.
Skomal suspects that because of this biological difference, the effects of climate change are less likely to motivate white sharks to change their course, although they do migrate south when the north Atlantic water gets too cold for their liking. Seals, however, are cold water animals and more influenced by changing water temperatures, so rising ocean temperatures could cause them to move to different locations.
This delicate balance between predator and prey ripples through the entire marine food chain, which is under increasing stress from climate change and from other human impacts—like seals and sharks getting entangled in commercial fishing nets.
As long as there are a growing number of seals to eat, the presence of white sharks is expected to continue increasing, and their annual summer and fall visits to New England more and more noticeable to beachgoers. For New Englanders and vacationers to Rhode Island, Massachusetts, New Hampshire, and Maine beaches, that means continuing to act with "shark smarts" for the foreseeable future.