Why BU Environmental Researcher Nathan Phillips Is on a Hunger Strike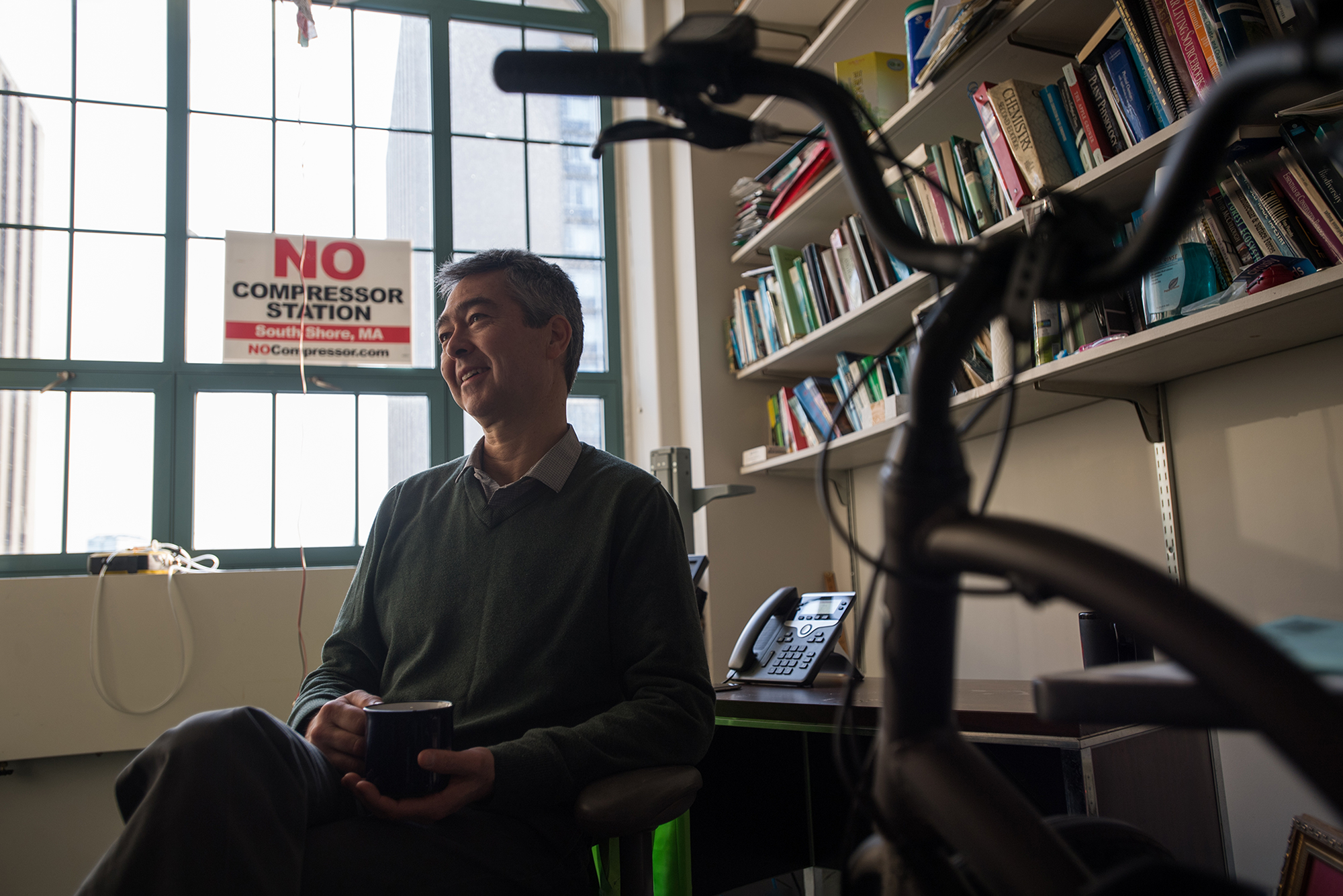 Scientist on Strike
Why BU Environmental Researcher Nathan Phillips Is on a Hunger Strike
The local activist wants to raise awareness of community health hazards at the Weymouth Compressor Station
Sitting in his dimly lit office Tuesday evening, Nathan Phillips sips tea from a dark green mug. An electric-powered bicycle leans on a kickstand next to his desk, and above the window hangs a big poster with bold black and red letters that reads "No Compressor Station." Phillips, a Boston University environmental researcher, is eight days into a hunger strike in protest of a planned compressor station in North Weymouth, Mass., and despite losing 10 pounds, he's feeling calm and alert.

"Hunger pangs went away for me after three days," says Phillips. The College of Arts & Sciences earth and environment professor hasn't eaten since January 29, when he began the hunger strike to call attention to public health and safety concerns related to the natural gas compressor station being constructed in North Weymouth—a situation he says is a public health emergency.

Phillips has three demands for ending his hunger strike: all of the dump trucks leaving the site must be properly decontaminated, the Massachusetts Department of Environmental Protection (MassDEP) must test for asbestos in the bricks and coal layers in the foundation of the land where the compressor is being built, and Governor Charlie Baker's administration must commit to installing and operating an air quality monitor.
On the floor of Phillips' office is a brick sealed in a plastic freezer bag—he took the brick from the ground where the facility is being built, and plans to have it tested for asbestos. He fears that these bricks mixed with coal ash—which were dumped during pre–Industrial Revolution times from a nearby coal plant—will further contaminate the surrounding area as they're being dug up during construction. His friend Alice Arena—leader of the local activist group spearheading the opposition to the compressor, Fore River Residents Against Compressor Station (FRRACS)—emphasized this issue to Weymouth local news in early December.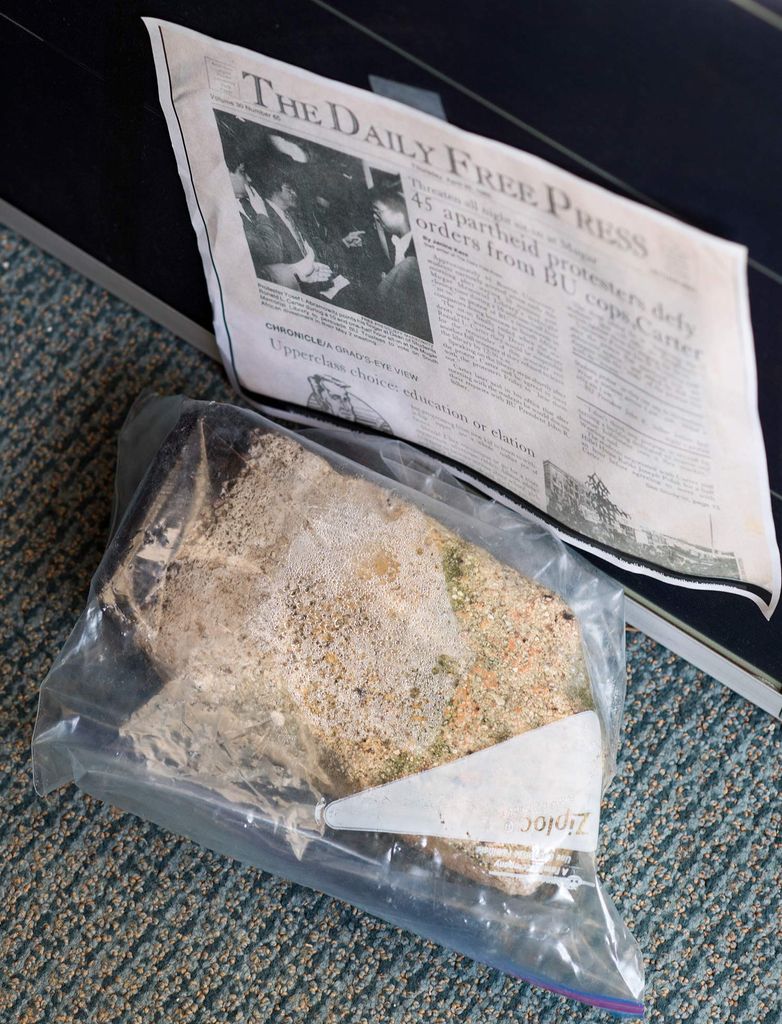 Phillips grabbed the brick during one of many visits to the zone. He was there just last week to test for methane emissions, his area of research expertise. He measured a large methane plume, but is unsure whether it's directly associated with the site. "It does go to show you, though, that our gas infrastructure has lots of problems," he says.

Once operational, the Weymouth compressor will be like turning on a gas stove to high with no flame, times 10,000, he says. "You sometimes can smell the odor of gas, right? That odor is a sulfur compound. But if you smell that, what that means is you're also breathing in things you can't smell, including over 100 volatile organic compounds, in addition to the methane." The compressor will vent periodically at high pressures, releasing fumes into the air and the neighborhoods that surround it.

"We know the meteorology of the area enough to know plumes can descend back down," he explains. These toxins raise the risk of cancer, neurological and respiratory diseases, and other health problems, he says.

Phillips is quick to point out that his hunger strike is not occurring in isolation, but instead is part of a long-sustained campaign of nonviolent civil disobedience taken against the compressor, which will be part of energy giant Enbridge's Atlantic Bridge Project. It will connect two existing pipelines to deliver natural gas from New England to Maine and Canada, according to the project description. Compressor stations are facilities designed to help keep the gas flowing as it's transported across long distances.

When the project was first proposed, area residents and environmental activists were quick to raise concerns about how it could affect their community's lives and health.

"The state basically rubber-stamped the project, so there was no [other way] to stop it," Phillips says, and "people starting to put their bodies on the line."

Here's all you need to know about my #Hunger4JusticeMA Hunger Strike, which I started on Wednesday, Jan 29, 2020. pic.twitter.com/XBVTWDsDSF

— [TW: Food] #Hunger4JusticeMA (@nathanpboston) February 2, 2020
Other protesters have blocked the road to the entrance to the construction site, banding together in outrage over the compressor.

"I'm putting my body on the line in a different kind of way," Phillips says.

The hunger strike is not the only form of protest he's taking. In October, just about a month before the final permits for construction of the compressor were approved, Phillips was arrested while participating in a sit-in at the MassDEP office to oppose granting the final permits. He was there with other protesters from FRRACS.

"No one thinks there's a good reason to put that compressor station in there," he says. "No one. Everyone is willing to say it's a bad idea, except for the governor." FRRACS and other activist groups protesting the compressor have been joined by a long list of local and state officials, including the mayors of Weymouth, Quincy, and Braintree, US Representative Joseph Kennedy (D-Mass.), US Senators Edward Markey (Hon.'04) (D-Mass.) and Elizabeth Warren (D-Mass.), and Attorney General Maura Healey, who have voiced their disapproval of the project.

Weymouth is already burdened by polluting industrial activity, yet is more densely populated than the other Massachusetts municipalities that already host a compressor station, according to WBUR.

---

No one thinks there's a good reason to put that compressor station in there. No one.

---
"There is a view I've heard, that if you're going to put something like [a compressor station] somewhere, this is where you put it. I think what this says is the land there is disposable, a sacrifice," says Phillips. Despite "the thousands of households that are right around, what they're really saying is that this is a disposable community."

That view, he says "is really a lack of vision. It's a vision of perpetuating the systems that we need to change and get away from. We should have leaders who are envisioning how we're going to actually wind down [fossil fuel use] and restore the landscape and restore the waterfront to a place that's healthy for people."

Phillips has not heard directly from the governor's office, despite emails and calls from him and those supporting his strike. Baker pledged his support for air quality measures while on the WGBH radio show Ask the Governor on January 23.

The day after beginning his hunger strike, Phillips received an email from MassDEP letting him know that the other two demands on his list would be considered in a public meeting scheduled for this Friday, February 7. The meeting with MassDEP officials was organized by FRRACS, which invited Phillips to join. Ideally, he will leave the meeting knowing where things stand on his demands and the other litany of health and safety concerns residents are expected to raise.

"They have every reason to comply with my three demands and state [that they will do so] publicly and unequivocally," Phillips says. If they don't, he is prepared to continue going hungry indefinitely.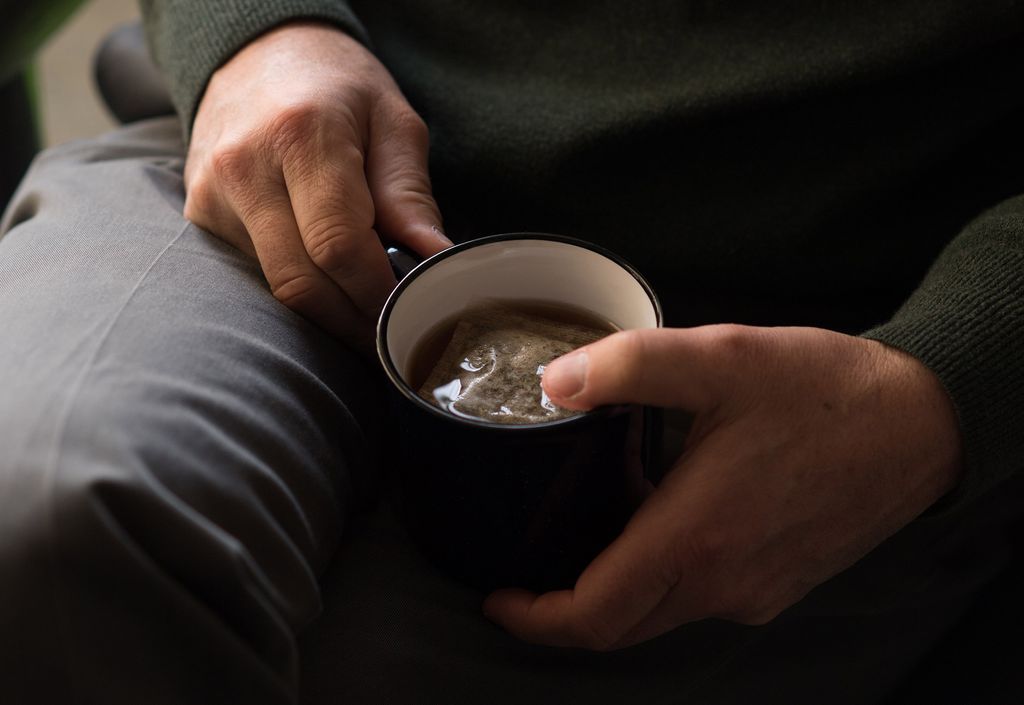 Other than going without food, it's business as usual for the research professor, between classes and meetings at BU. He checks his vital signs and consults with a medical professional daily, and remains on a diet of water, unsweetened tea, a daily multivitamin, and sea salt. He opted to ride his spouse's electric bike on day two of his strike to make the nine-mile commute from his Newton home less physically demanding.

"People have told me I look thinner," he says.

"I do feel an obligation to be very careful about bringing my political activity or my specific political campaigns into the classroom," Phillips says. On day five of the hunger strike, he taught a two and half hour class and did not mention it to his students.

"I want to respect that a classroom is a sacred space, in an academic sense," he says. "It's a place of learning. It's a place of an exchange of ideas. I want to create an atmosphere in which students feel and know there are many theories of change and there are many pathways by which a student or anyone can effect positive social change." 

The fate of Phillips' hunger strike will likely be determined at the Friday meeting. He plans to continue supporting the residents of Weymouth as much as he can and acknowledges the privilege he feels being able to engage safely in a hunger strike—with job security, access to quality food, and a supportive network of friends and family. He is not actively encouraging anyone else to participate in this action.

"There are so many ways to make a difference," he says.