Stephen M. Mindich (CFA'65) Shaped Alternative Culture
Colorful Boston Phoenix publisher dies at 74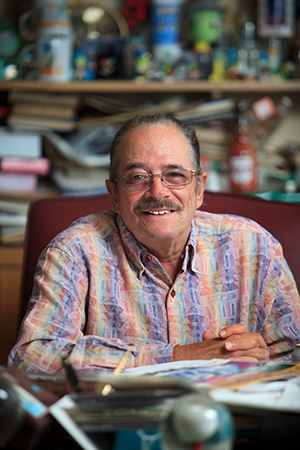 Stephen M. Mindich (CFA'65), whose alternative media empire influenced the cultural landscape in and around Boston for decades, died of cancer May 23 at age 74. His alternative weekly publication, the Boston Phoenix, and his radio station, WFNX-FM, helped define hipness in Boston from the late 1960s until the final issue of the Phoenix hit the newsstand in March 2013.
"Mindich was one of the most important figures, if not the most important figure, in the alternative press after Norman Mailer and the Village Voice," says former Phoenix media critic Dan Kennedy (MET'84), now a Northeastern University associate professor of journalism and a panelist on WGBH's Beat the Press. "He knew it was a very, very tough business, and he was brilliant at it for a long time."
While the Voice had set the template for alternative journalism in the 1950s, Mindich built a journalistic and business model at the Phoenix that was widely replicated, blending tough reportage and extensive arts criticism with a freewheeling countercultural style. Under his leadership, the Phoenix employed many young writers who went on to renown, among them Janet Maslin, Joe Klein, and Susan Orlean.
Kennedy points to major stories by Phoenix writers that would later—sometimes much later—get traction in the mainstream media, including reporting by Kristen Lombardi (COM'95) on the clergy sexual abuse scandal in the Boston Archdiocese, which preceded the Boston Globe's Pulitzer Prize–winning coverage of the scandal, and Bill Marx's work on sexual harassment allegations against playwright Israel Horovitz. Mindich was respected by his staff for standing by his reporters when powerful interests pushed back against their reporting.
"The guy was incredibly loyal," Kennedy says. "In that sense, he was the best kind of boss to work for."
Poet Lloyd Schwartz, the UMass Boston Frederick S. Troy Professor of English, who won the 1994 Pulitzer Prize in Criticism for his classical music writing in the Phoenix, says one of the pleasures of writing for the paper was the abundance of space available for editorial.
"The editing was really serious and illuminating and careful and interested in getting the best product into print," Schwartz says. "The space was unlimited. And you could cover anything you wanted. No one was telling you that you had to cover this week's BSO concert because we had a big ad from the BSO. You could cover anything you wanted and express whatever opinion you had."
Mindich "made a big impact in his time, and he was a real character, with his ponytail and his chain-smoking and his tough talk, right out of the 1970s," says Thomas Fiedler (COM'71), dean of the College of Communication, who sat on discussion panels with Mindich in recent years.
Mark Jurkowitz (COM'75), another former media critic for the Phoenix, is now publisher of the Outer Banks Sentinel, in Nag's Head, N.C. Jurkowitz says he now wishes he had some of Mindich's business savvy, but one thing he's tried to bring from his Phoenix days "is a level of enterprise reporting, of the deeper drive, of making one more phone call," he says. "In the Phoenix, there was always room if you got another good anecdote."
"I think we all miss the Phoenix every day," Kennedy says.
Bronx native Mindich got his start as a freelance arts critic for WBUR-FM after graduating from the College of Fine Arts. By 1967 he was working for the original alternative paper in the city, Boston After Dark, and within a few years became its sole owner, according to the online Phoenix archive hosted by Northeastern University.
Mindich bought the Cambridge Phoenix name in 1974, then closed it and renamed his new publication the Boston Phoenix. Cambridge Phoenix staffers left unemployed by that deal started the Real Paper. In 1981, after years of the two papers competing for ads, Mindich bought and closed that. He also expanded his business, opening the short-lived Miami Phoenix in 1974, and more successful Phoenix incarnations in Providence, R.I., Worcester, Mass., and Portland, Me. As media moved online, Mindich's properties, like most papers, lost readers and advertising dollars, and ultimately closed (although Portland still publishes under different ownership).
Former Real Paper film critic Gerald Peary, a COM lecturer and curator of BU Cinemathèque, recalls that when Mindich bought the Real Paper, "the locks were changed on the doors and we had one hour to get out of there. I actually tried to steal my manual typewriter and was caught by the sort of fascist managing editor." Peary, who later became a film critic for the Phoenix, says "the same thing happened the second time when the Phoenix shut down with no warning. Not very nice in either case.
"On the other hand," he says, "Mindich was the sort of person you bantered with, a cranky, combative guy. I think there was affection on both sides."
"There is no question that Stephen was a changemaker in Boston and beyond," says Susan Ryan-Vollmar (COM'93), who worked at the Phoenix from 1996 to 2004, finishing as one of two female news editors in the paper's history. "As the story about his decision in 1987 to distribute condoms in every issue of the Phoenix shows, he was fearless. And that decision was just one of many. When I edited One in Ten, the first stand-alone section of any newspaper in the country outside of the gay press that focused exclusively on gay and lesbian people, I was given full support to also cover transgender people."
Personal ads were a longtime staple revenue source for the paper; a separate "adult" advertising section was a controversial and lucrative feature of the paper's later years. "The Phoenix was very much a creature of the '60s and '70s—sex, drugs, and rock 'n' roll," says Kennedy. "The libertarian side of Stephen saw [the ads] as being part of people's right to live their lives the way they chose, which was something he believed very strongly in. I do think they look very different today, and I don't know what he would think about them today, but they do need to be seen in the context of his era."
Most "ex-Phoenicians" have a tale or two about their colorful boss. "If you go way back, there are stories about a much more combative Mindich," Kennedy says. "I think by the time I came along, he had toned it down quite a bit."
Mindich is survived by his wife, former state Superior Court judge Maria Lopez (LAW'78), his brother, Bruce Mindich, his son, Bradley Mindich (CAS'90), and daughter-in-law, Rachael Mindich, stepsons Michael Michaud and David Michaud and his wife, Christen, as well as grandchildren and step-grandchildren. A celebration of his life is set for 4 pm Wednesday, May 30, at Pine Brook Country Club in Weston, Mass. Donations in Mindich's memory may be made to the Anti-Defamation League, 40 Court St., #12, Boston, MA 02108.