Flying Rhino's Beef Wellington an Ideal Holiday Dish
Owners of popular Worcester restaurant met at Warren Towers
There's nothing boring, or even ordinary, about a meal at the Flying Rhino Café & Watering Hole in Worcester.
Its popular Philly cheesesteak sandwich features chicken, not beef. The Mediterranean fattoush salad? It comes spiked with banana peppers and feta cheese. The entrées are just as creative, like a Korean Beef Stew of braised short ribs with a suggested pairing of Soju, a traditional Korean spirit. Thirsty? How bout a Frisky Whiskey, a mash-up of whiskey, mango syrup, and lemonade. Even the décor is one of a kind. The tabletops are hand-painted in bold reds, peaches, and muted blacks. A red chandelier and an elaborate mosaic of a flying rhino on a magic carpet greets customers.
Sterile Olive Garden this is not. The Phantom Gourmet calls the restaurant "so wonderfully wacky you can't help but love it."
To know the Flying Rhino is to know Paul and Melina Barber, two BU alums who have spent the last 18 years welcoming guests to their restaurant vision.
Like its owners, the Flying Rhino is unpretentious, artsy, and fun. A weekday lunch rush sees a diverse crowd of businessmen, construction workers, and employees from nearby UMass Medical Center who come for the food and the vibe.
Keeping the concept fresh has meant the Barbers put their heart and soul into thinking up new and interesting ways to keep customers coming back. They change the menu twice a year, offering new dishes with seasonal ingredients. They also take care with time-honored favorites, like crab rangoon and wontons. Melina Barber (CFA'87) makes 1,000 of them by hand every week.
Restaurant industry veteran Paul Barber (MET'87) oversees the operation—and the fun. Every summer he trucks in enough sand to turn the parking lot into a weekend "beach party," with bands and food. Regular customers see familiar faces: many employees started working there when the restaurant opened in 2000.
"It makes it a fun place to be," Melina says, "because you're with friends."
The Barbers have been cooking together with friends since their undergraduate days at BU. They met as freshmen in the early '80s when they lived on the 12th floor of Warren Towers. By sophomore year, they were dating.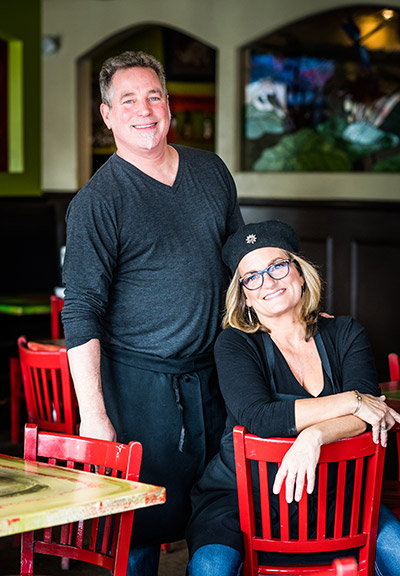 From a large Greek family in Worcester, the then Melina Capsalis came to BU on a full ride to study sculpture. Her father owned Art's Luncheonette, a well-known Worcester eatery, as well as Frosty's, a soft-serve spot next to the legendary bargain outlet Spag's. She'd waited tables for years, but at BU she learned from her future husband, who studied hospitality.
"I got a secondhand culinary degree from BU," she says. "I learned everything Paul and his friends were learning. They'd learn how to do things like debone a fish and come home and practice the techniques, and I'd watch and do the same thing."
Paul grew up in Pennsylvania and got his first restaurant job in high school as a dishwasher on the Jersey shore. Diagnosed at a young age with severe dyslexia, he loved the work and moved up the ranks.
"I knew instantly this was for me," he says. "I was so happy there."
By graduation, the two were already known for a mutual love of food and entertaining. While at BU, Paul had an internship at Polcari's Restaurant in the North End, and even appeared on the Today show with Julia Child (Hon.'76), who was teaching at BU at the time. Child cofounded BU's Gastronomy Program with Jacques Pepin (Hon.'11). Paul recalls standing on a box next to Child, who was six foot two.
Melina and Paul also entertained their BU friends, putting on large dinner parties, as well as scavenger hunts for the fun of it. One year they hosted an elaborate Thanksgiving dinner, setting up a dining room table in the bedroom of Paul's Allston apartment.
"We work perfectly together," Melina says. "He's the left side of the brain, more analytical, and I'm the right side, more creative."
After graduation, Paul put in stints operating various establishments, from the Oyster Club in Boston to restaurants that were part of American Hospitality. By 2000, the Barbers were ready to break out on their own with the Flying Rhino, a name inspired by a small rhino sculpture created by Melina's father.
It was a risk. They had three young children at the time, so Melina continued working as an art teacher so they'd have healthcare coverage. Also, they opened the Flying Rhino along Shrewsbury Street, a strip then known for bakeries, bocce, and traditional Italian fare, not a funky "new American bistro" with a quirky flying rhinoceros logo.
Yet today the 86-seat restaurant is a central Massachusetts dining staple. Paul is past chairman of the annual Taste of Shrewsbury Street, an event featuring food from the Flying Rhino and many nearby restaurants. In addition the restaurant hosts college night events geared to the city's large student population. The best-selling menu item, he says, is his own creation: the Ivory Tusk, his interpretation of a Philly cheesesteak sandwich, but made with chicken.
That may leave some people scratching their heads, but Paul has perfected the recipe and says it tastes as good as a beef cheesesteak hoagie. He knows that's a big claim, but the proof is in the sales. "It's our number-one seller, next to Bud Light," he says. "It paid for my daughter's college."
The Flying Rhino has seen lean years too. During the 2008 recession, the Barbers asked staff to take a 20 percent pay cut as the economy tanked and diners stayed home. Paul took 40 percent cut. And when his executive chef left for another job, he took over his duties.
"It's about having a passionate side, and having an understanding side," he says stroking the gray soul patch on his chin. "This is life and we're here to get through it. Let's do it together."
Melina nods in agreement, saying her husband has a way with people that makes everyone feel at good. "People he's fired," she says with a laugh, "he even drives them home afterwards."
The day will come when the Barbers retire, and they plan to pass the business on to their children. Their daughter Tory already works as a manager and bartender, overseeing the cocktail list, while their son, Myles, works in the kitchen as a sous chef. (Their third child, Madeline, isn't involved in the business.)
But for now, they're all enjoying what they've created.
"We love being together, working together," Melina says. "We even spend our free time together."
---
The Flying Rhino's Beef Wellington
This delicious beef tenderloin entrée, wrapped in puff pastry with a layer of mushroom duxelles, is a delicious way to celebrate Christmas or ring in the New Year.
INGREDIENTS
1 pound white mushrooms
1 onion
1 shallot
2 Tbl. butter
Splash of sherry
Chopped parsley and thyme
Salt and pepper
Beef tenderloin, silver skin removed
2 to 3 Tbl. olive oil
Dijon mustard
1 package frozen puff pastry
INSTRUCTIONS
Heat oven to 375 degrees.
Rough chop mushrooms with stems, onion, and shallot. Blend in food processor with butter and sherry until finely minced. Add chopped parsley, thyme, salt, and pepper. (This mixture, known as duxelles, can also be served as an appetizer spread on crackers or bread.) Spread mixture onto sheet pan and cook for 20 minutes or until lightly browned, stirring occasionally to ensure even cooking. Remove from oven, set aside to cool.
Remove silver skin on tenderloin, if needed.
Put a sauté pan big enough to fit the tenderloin on medium high heat to start getting hot. Add olive oil and let it get smoking hot. Salt and pepper the beef, then sear on all sides in the pan until caramelized, which will add flavor. Remove from pan and set to cool.
Defrost prepared puff pastry.
To assemble, lay out one sheet of pastry and put half of the duxelles mixture along the length of the pastry sheet in the center.
Coat entire tenderloin with Dijon mustard, then place on top of the duxelles mixture. Top the tenderloin with remaining duxelles and bring sides of pastry up to encase it. Tuck in ends and roll the tenderloin over so that the pastry seam is hidden.
Cut leaf shapes from a second sheet of pastry to decorate your Wellington with a vine motif (or create your own design). Beat one egg and use your hands or a pastry brush to coat the pastry top before baking.
Cook at 375 degrees for approximately 20 minutes, then check the internal temperature of the beef. When it reaches 125 degrees, remove the Wellington from the oven.
Set on a wire rack to rest. As it rests, the beef will continue to cook. When the internal temperature reaches 130 to 135 degrees, it will be a perfect medium rare and ready to serve with your favorite sides.
Download a printable version of this recipe.