Changing the Narrative on Opioids
BU Center for the Humanities forum examines crisis through history, culture, literature
To fight the opioid crisis plaguing America, we need to move beyond punishment and stigma to a deeper understanding, panelists said at the Boston University Center for the Humanities (BUCH) Fall Forum: Humanities Approaches to the Opioid Crisis, cohosted by the School of Public Health, October 12, 2018.
"We'll make strides much more quickly if we recognize that the epidemic is about us, not some 'them' out there," moderator Martha Bebinger (GRS'16), WBUR healthcare reporter, said during the opening panel. "My nephew Austin went into rehab a few weeks ago. My sister-in-law picked him up on the streets of Houston. He had become homeless after becoming addicted to pills."
She then asked the crowd assembled in the Trustees Ballroom at One Silber Way to raise their hands if they had personally been touched by the opioid crisis: many of the more than 100 in the audience did so.
The goal of the two-day forum was to bring together humanities scholars, medical professionals, municipal officers, and artists whose work centers on addiction to create bridges and identify common understandings and solutions.
With the opioid crisis, "we tend to see people in traumatic moments that lead to their being objectified," Susan Mizruchi, BUCH director and William Arrowsmith Professor in the Humanities, said before the panel began. The word "addict" itself is stigmatizing. The humanities can help us see them as human beings first, she said.
Mizruchi and Sandro Galea, Robert A. Knox Professor and dean of SPH, summed up the scope of the crisis in a preforum op-ed on the Thrive Global website: "With 64,000 annual deaths, it has surpassed the peak losses of all other epidemics, including HIV/AIDS. The financial toll is staggering: over $500 billion annually. Myriad solutions have been proposed, some implemented. And yet, the overall national response remains tepid," they wrote.
"Epidemics like this do not happen without the backdrop of a culture that was ripe for an epidemic to rage across the country," Galea said during the panel. "There's an enormously high correlation [with] issues of low employment and poverty. It was dry tinder, and it was really only a matter of time before the wildfire took."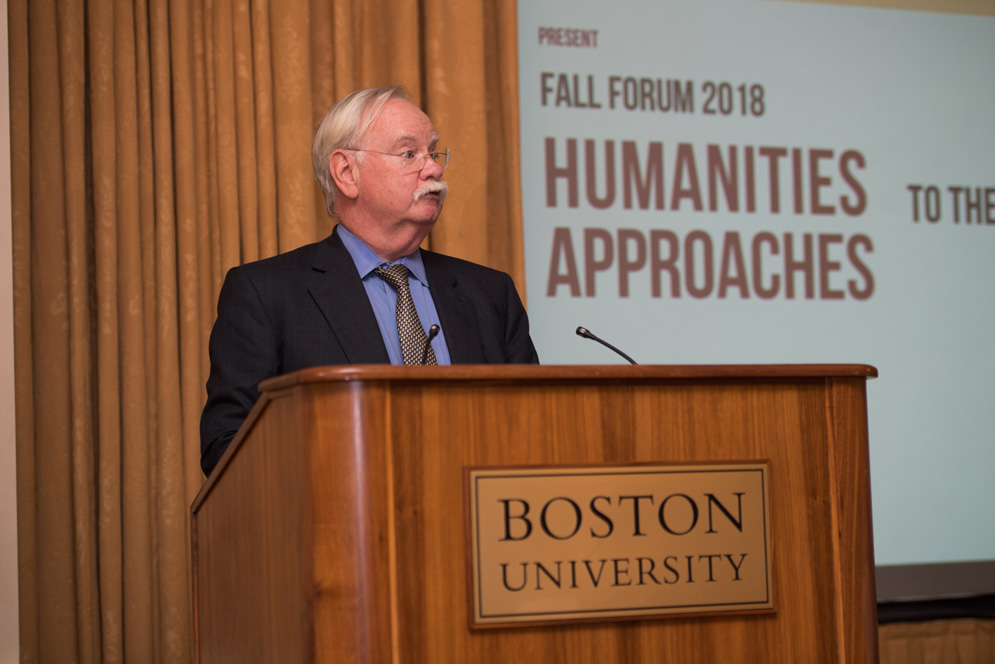 The opening panel, titled "The Public Face of the Crisis," touched on numerous issues, ranging from the crisis' proximate causes in pain management and pharmaceutical profiteering to deeper issues including the criminalization of addiction and fundamental societal inequalities.
Along with Galea, speakers included Samuel Kelton Roberts, associate professor of history and associate professor of sociomedical sciences at Columbia University; Elaine Scarry, Walter M. Cabot Professor of Aesthetics and General Theory of Value, Harvard University; and Nora Volkow, director of the National Institute on Drug Abuse.
Roberts challenged the race-based conventional wisdom about the current crisis. "In early 2017, there were two questions that were in the punditry's collective mind: One was 'How did this guy win? President Trump? How did that happen?' And the second question was 'How did we get all these white addicts?'
"Interestingly, the answer to both of them was white pain," he said. Earlier drug epidemics—heroin in the 1960s and '70s, crack cocaine in the 1980s—were also "diseases of despair," driven by economic and other social problems that affected African American communities. "But of course, we didn't treat them as such," he said. Instead, "we had mandatory minimum sentencing."
Volkow shared an anecdote that a doctor at a major hospital had told her to illuminate the devastating toll of the current crisis: "'For the first time, we do not have problems getting organ donors,' the doctor said, 'because so many people are dying from overdoses.'
"For me, that was chilling," she said.
One key difference from previous drug epidemics, she noted, is that "our healthcare system was responsible for (this) crisis." It began with good intentions to treat patients' chronic pain, but ended in massive overprescription of painkillers, which was easier and more profitable than comprehensive pain management. Patients who were eventually turned away from prescription care resorted to buying heroin on the street, often cut with extremely powerful synthetic opiates like fentanyl, increasing the death toll.
Panelists suggested a wide variety of new approaches and new attitudes, from avoiding the word "addict" to broader approaches to pain management to opening safe-injection sites like those that have worked to reduce the death toll in other countries. "We cannot continue doing things the way we have been. We've stigmatized addiction, we've stigmatized the treatment of addiction," Volkow said. All agreed we cannot get out of this crisis simply by incarcerating those in its grip.
"There is something that is making us vulnerable as a nation to addiction," Volkow said. "If we do not address it as a social system, we will be perhaps controlling the opioids, but we will have other drugs emerging."
"We need an idea of recovery that's about more than not using drugs," Roberts said.
The forum continued on October 13 at the School of Law, with scheduled panels and talks, including presentations by Eoin Cannon (GRS'03,'10), chief speechwriter for the city of Boston ("The Role of Storytelling in Addiction Recovery") and Rafael Campo (GRS'91), a professor of medicine at Beth Israel Deaconess Medical Center, associate professor at Harvard Medical School, and an award-winning poet who read some of his work during the panel, "Hurts So Good: Poetry in Response to the Opioid Crisis." Other speakers included Benjamin Siegel, a College of Arts & Sciences assistant professor of history, whose current project, Markets of Pain: American Bodies and Indian Drugs in an Age of Distress, is a global history of the American opioid crisis. Siegel led a panel titled "The International Origins of the US Opioid Crisis." Mizruchi led another discussion, "Democratizing Addiction: The Epic Ambitions of Infinite Jest and Breaking Bad."
"Country singer Keith Whitley who struggled and died as a result of addiction, had a great hit, 'I'm No Stranger to the Rain,' an allegorical title. Here in New England, we are not strangers to the R-E-I-G-N of addiction in many forms, including opioids," BU President Robert A. Brown said in his welcoming remarks. "Our colleagues here at Boston University have recognized that the humanities have knowledge and insight that can be applied to help turn the tide against addiction."