Kilachand Center Hosts Inaugural Symposium
Daylong event celebrates "nexus of life sciences and engineering"
When Ahmad "Mo" Khalil explains his work to an audience, he likes to play a movie. The 30-second bit of film—famous in some circles—shows a white blood cell chasing a bacterium, winding its way around obstacles, hunting its prey with what seems like relentless, single-minded purpose. Finally, it catches the bacterium and engulfs it.
Khalil, a Boston University College of Engineering (ENG) assistant professor of biomedical engineering, uses this real-life horror movie to demonstrate the "enviable engineering" of nature—a cell that can monitor its environment, make split-second decisions, and perform a complex task.
Researchers in Khalil's field of synthetic biology have "gotten really good at cataloging, gotten really good at disassembling" biological systems, he says, but not so good at the next step: assembling biological parts into functional tools or organisms. Khalil wants to do just that, solving, for instance, thorny health problems by reprogramming cells to deliver therapies or building biological circuits that can turn genes on and off. "That's really the goal," he said.
Khalil was a featured speaker at the daylong symposium The Nexus of Life Sciences and Engineering, held September 15, 2017, to mark the opening of the Rajen Kilachand Center for Integrated Life Sciences & Engineering. The Kilachand Center, a state-of-the-art research facility bringing together life scientists, engineers, and physicians, represents an investment of a quarter of a billion dollars—a $135 million construction commitment from BU and a $115 million gift from BU trustee Rajen Kilachand (Questrom'74, Hon.'14).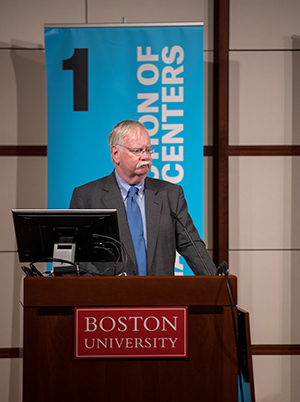 "This is a landmark day for Boston University," said President Robert A. Brown in his opening remarks at the symposium, emphasizing that interdisciplinary research is the key to solving many of the world's grand challenges, from human health to food security to climate change. Interdisciplinary research "affects the future of the human condition and our planet," Brown told the audience.
The symposium included experts in a wide range of fields, from synthetic biology to genomics to neuroscience, who spoke about the promise of their research: growing complex organs from scratch, programming individual cells to do our bidding, nimbly replacing damaged neurons, and creating a "Google map" of the human brain. While most speakers shared some details about their scientific work, questions and discussion often looped back to issues of collaboration and funding. Many who spoke emphasized the critical role of gifts like Kilachand's, which encourage and facilitate collaboration across disciplines.
"It all comes down to funding," said Xue Han, an ENG associate professor of biomedical engineering and a pioneer in the field of optogenetics. Han joined Khalil on the panel Interdisciplinary Biomedical Research at Boston University. She said that scientific research increasingly crosses disciplines, noting, for example, that many scientific papers often list multiple lead authors, a practice unheard of in the past. She cited seed money she's received from the University as vital to her work. "We have fantastic ideas, but if you go to ask for grants, they want preliminary results, and how do you get those?" she pointed out.
Many panel discussions emphasized the value of shared space. Renowned biotechnologist Robert Langer, Massachusetts Institute of Technology David H. Koch Institute Professor and the most cited engineer in history, spoke about the promise of tissue engineering and nanotechnology for drug delivery on the panel The Future of Biology and Engineering. He also spoke about the importance of having researchers from diverse backgrounds working in close proximity, a key goal of the Kilachand Center. "I think people really end up talking to the people who are next to them," said Langer, noting that over 25 different disciplines had been represented in his lab over the years. While he says that collaborations with distant labs are important and valuable, "proximity has ended up being really important…that's how friendships are made, and personal relationships are made."
On the panel The Future of Neuroscience, Eve Marder, a Brandeis University professor of neuroscience, echoed this sentiment. In her lab, split evenly between biologists and computational scientists, "it all works much better when those people are sitting desk to desk to desk," she said.
Darrell Kotton, David C. Seldin Professor of Medicine and director of BU's Center for Regenerative Medicine (CReM), another Interdisciplinary Biomedical Research panelist, agreed. "Virtual centers don't work," he said. Physical common spaces, where researchers work elbow to elbow and see each other in the hall, breed a culture of selflessness.
"If the students are eating lunch together," Kotton said, "good stuff is going to happen."
Watch a video of the September 14, 2017, dedication of the Rajen Kilachand Center for Integrated Life Sciences & Engineering here.